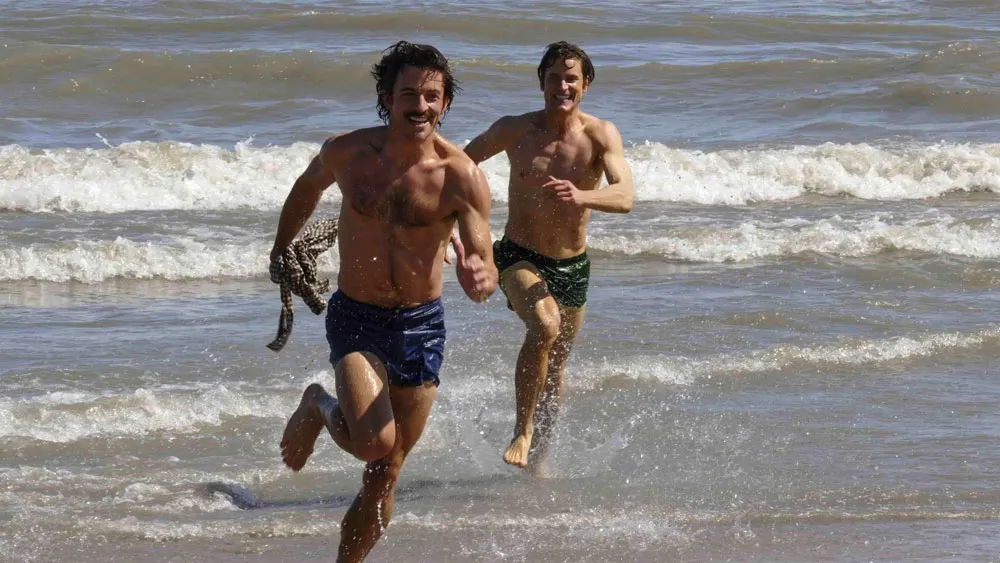 Streaming Queer: October 2023
This month sees the return of "Huluween," which offers a body horror film set in the fashion world and a new anthology in the "American Horror Story" universe.
We've got two Netflix shows about queer teens making plans to live boldly in the face of mental health struggles, while the horny "Élite" students finally confront the emotional impact of the insane amount of trauma they've experienced.
Fan-favorites "The Gilded Age" and "Our Flag Means Death" return to delight their audiences with shenanigans, and the haunted "Goosebumps" teen series drops on Friday the 13th. Happy streaming!
"Anne Rice's Interview with the Vampire" Season 1
If you missed out on the excellent, explicitly queer TV adaptation of Anne Rice's iconic novel, "Interview with the Vampire," when it dropped on AMC+, now is your chance to enjoy it as "IWTV" is streaming on Max until Oct 31. The series -which offers sublime exploration of racial and family dynamics, blood and gore, captivating unreliable narrators, and hot queer sex-showcases some of the greatest cast chemistry (Jacob Anderson and Sam Reid lead) of our time. It's magnificent, and already renewed for season two, so it's well worth the dive into.
"Anne Rice's Interview with the Vampire" Season 1 is now streaming on Max.
"Appendage"
"Appendage" is a body horror film set in the fashion industry. A young designer's (Hadley Robinson) self-doubt spirals into physical sickness and manifests as a "ferocious growth on her body" which affects every relationship in her life. This growth, the titular appendage, fuels her dark inner thoughts and anxieties further, and leads her to discover there are others experiencing the same terrifying parasitic phenomenon. Pansexual actor Emily Hampshire ("Schitt's Creek") and queer actor Kausar Mohammed ("4400") star in what looks like the perfect film for a really fun, creepy night in.
"Appendage" premieres October 2 on Hulu.
"Our Flag Means Death" Season 2
The delightfully queer, beloved pirate comedy based loosely on the true story of Stede Bonnet's escapades returns! Expect this season to be much larger in scope, while focusing on the reunion between lovers Stede (Rhys Darby) and Ed (Taika Waititi). We're thrilled to see more of Vico Ortiz as nonbinary pirate Jim, and especially look forward to Minnie Driver (playing real-life pirate Anne Bonny) and queer actor Madeleine Sami (most recently seen in lesbian murder mystery "Deadloch") joining the cast.
"Our Flag Means Death" Season 2 premieres October 5 on Max.
"Everything Now" Season 1
Sophie Wilde (unforgettable after her stunning performance in the A24 horror hit "Talk to Me") leads this coming-of-age story about a teenager determined to live life to the fullest after returning from months away for eating disorder treatment. She's made a list of experiences she wants ("party, first kiss, drink, sex, and love" among them), she's got a major crush on a girl, and she's still figuring out how to reconnect with her friends, whose lives did not stop just because she wasn't there. The show has heart, humor, and doesn't shy away from the emotional, chaotic, colorful journey Sophie goes on. Vivienne Acheampong (Lucienne in Netflix's "The Sandman") plays Mia's mother, and Stephen Fry plays Mia's doctor.
"Everything Now" premieres October 5 on Netflix.
"Loki" Season 2
Tom Hiddleston returns as the mischievous, canonically bisexual god Loki, who joins forces with TVA agent Mobius (Owen Wilson) to discover why he keeps timeslipping. Oscar-winner Ke Huy Quan ("Everything Everywhere All at Once") joins the cast as Ouroboros, who knows all about the timeslipping, but says he can't fix it; Sophia Di Martino returns as Sylvie, and Gugu Mbatha-Raw returns as Judge Renslayer. Per Disney, this season picks up in the aftermath of the first season's shocking finale, and sees Loki navigating "an ever-expanding and increasingly dangerous multiverse in search of Sylvie, Judge Renslayer, Miss Minutes and the truth of what it means to possess free will and glorious purpose."
"Loki" Season 2 premieres October 6 on Disney+.
"The Fall of the House of Usher" Season 1
Loosely inspired by Edgar Allan Poe's short story of the same name, adapted with modern flair by Mike Flanagan ("The Haunting of Hill House"), this limited series follows a family unraveling under both the weight of their pharmaceutical empire being investigated, and the sudden, gruesome deaths of their heirs. The family is forced to face their buried secrets in the form of mysterious, potentially-supernatural embodiment of consequence, Verna (Carla Gugino). The trailer gives us hints of the family's capacity for unhinged behavior, and the fun of having multiple queer characters on the show. Bisexual actor Kate Siegel (and Flanagan's wife) is among the host of cast members who will be familiar to fans of Flanagan's previous work. The seriesm which Gugino describes as "batshit crazy in the best possible way," is filled with depictions of self-destructive queer people deranged by privilege, spiraling dramatically while their world burns. We cannot wait.
"The Fall of the House of Usher" premieres October 12 on Netflix.
"Goosebumps" Season 1
The line "Oh my god, we're murder nepo-babies!" is honestly enough of a reason to tune into this show. But we'll give you a couple more: Mr Bratt (Justin Long) is possessed by the teenage ghost who lives in his new house, seeking revenge on a group of high schoolers for something dark that their parents did. Were their parents involved in the death of a teenager three decades ago? Nora (Rachael Harris) seems to know more than she's letting on, while Mr Bratt lurks around every corner, and a football star finds a haunted Polaroid camera. We're most excited to meet James (trans actor Miles McKenna) as the teens are led down a suspenseful path of uncovering why their world has been turned upside down.
"Goosebumps" premieres October 13 on Disney+ and Hulu.
"Neon" Season 1
This high-energy comedy series (from Executive Producer Daddy Yankee) follows three friends who move to Miami on a quest to make it big in the world of reggaeton. Tyler Dean Flores, Emma Ferreira, Jordan Mendoza, and Courtney Taylor lead this hilarious, endearing show from Shea Serrano and Max Searle. "Neon" is packed with cameos and epic music from real-life stars in the industry, as this quirky crew does their best to make "the biggest star in reggaeton -or at least pay their rent." The trailer features Jordana Brewster, bright neon lights, big parties, and evidence that these kids have a long way to go to prove themselves. It also shows a sapphic kiss, which we're hoping hints at one of these ambitious teens finding queer romance along the way to achieving their larger-than-life dreams.
"Neon" Season 1 premieres October 16 on Netflix.
"Élite" Season 7
"Élite" continues to be horny and gay and messy and deadly. Bisexual Brazilian pop star Anitta has joined the cast, so we will absolutely be seated. This season, the show leans into the lingering effects of the immense trauma these students have experienced. Season seven follows Omar's (played by out actor Omar Ayuso) mental health journey. Prompted by his struggle with moving to university away from Las Encinas, but not being able to escape the guilt and pain of Samuel's death, Omar seeks therapy. "Thanks to an internship, he decides to return to the school where everything happened to confront his demons face to face. Through Omar's journey we will discover that the rest of the students are also silently battling their own hells."
"Élite" Season 7 premieres October 20 on Netflix.
"American Horror Stories" Season 3
https://youtu.be/4JzRVdjnoNE?si=BgHVHCgsB7ELVKTn
We don't have much information about this, but we know that the anthology "Huluween event" from Ryan Murphy and Brad Falchuk will return for a third season with four episodes, each telling a different gruesome tale. We also know that "Real Housewives of Beverly Hills" icon Lisa Rinna will headline an episode titled "Tapeworm."
"American Horror Stories" Season 3 premieres October 26 on Hulu.
"Fellow Travelers" Season 1
This eight-episode limited series, based on Thomas Mallon's novel, stars out actors Matt Bomer and Jonathan Bailey. "Fellow Travelers'' is a political thriller, a historical drama, and an epic queer love story, "chronicling the volatile romance of two very different men who meet in the shadow of McCarthy-era Washington." We follow five main characters over forty years, exploring how their paths cross through the Vietnam War protests, the drug-fueled disco era, and the AIDS crisis.
"Fellow Travelers" premieres October 27 on Paramount+ with Showtime.
"Tore" Season 1
This Swedish "feel-good-and-bad dramedy" is about the experience of running away from everything that hurts, while navigating questions of identity and existence after the life-changing experience of a loved one dying. It follows 27-year-old Tore (William Spetz, who also created and wrote the show), who loses the most important person in his life, and cannot confront or suppress his grief. "During the day, he continues to work at his father's funeral home as if nothing has happened and starts flirting with the new florist, Erik. At night, he establishes himself on a party boat in the city and experiences alcohol, sex and drugs for the first time." Of course, these acts of desperation to outrun his heartache can't sustain him forever.
"Tore" Season 1 premieres October 27 on Netflix.
"The Gilded Age" Season 2
"Are you sure it's wise to start the war with New York society? Aren't you asking for trouble?" Ward McAllister asks Mrs Russell in the teaser trailer. "Yes," she casually replies, "and you'll need to pick a team." We simply cannot wait for the fallout. The extravagant period drama returns for another season of opulence, scandal, and Christine Baranski. We're expecting even more from the glamorous and fierce rivalry between old and new money. Queer actors Nathan Lane and Taylor Richardson return, and Tony award-winning actors Laura Benanti and Robert Sean Leonard are among those to join this season. Deadline reports that season two "begins on Easter morning 1883, with the news that Bertha Russell's (Carrie Coon) bid for a box at the Academy of Music has been rejected. Throughout the season, Bertha challenges Mrs. Astor (Donna Murphy) and the old system, and works to not only gain a foothold in Society but to potentially take a leading role in it."
"The Gilded Age" Season 2 premieres 29 October on Max.
---