Gay Palm Springs: The Latest
An Oklahoma man and his boyfriend allege that members of a church in Blackwell, Oklahoma, separated them, restrained one of them, and struck him in the face in an attempt to pray away the gay.
Love is in the air!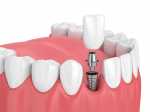 The Smiles for Everyone Foundation is launching a new program called Implanting Inspiration which will provide free dental implants for low income, underinsured individuals across the nation.
The leader of The Church of Jesus Christ of Latter-day Saints reaffirmed the religion's opposition to gay marriage, while explaining that leaders lifted a short-lived ban on baptisms for children of gay parents because they felt the "heartache" it caused.
Nepal seized the lead in equal rights for sexual minorities in South Asia four years ago with a new constitution that forbids all discrimination based on sexual orientation. Even citizenship certificates and passports now allow a "non-male, non-female" ca
Democratic presidential candidate Pete Buttigieg visited a South Carolina city ravaged by hurricanes twice in three years and pledged to improve the government response to disasters.
Comedian Sacha Baron Cohen asked a federal judge to dismiss Roy Moore's defamation lawsuit over a television segment that lampooned Moore in the wake of sexual misconduct allegations.
Actress Afton Williamson's claims of misconduct against her on the set of "The Rookie" weren't substantiated by an independent investigator, according to the ABC drama series' producer.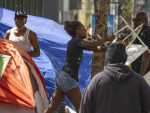 President Donald Trump began a California visit on Tuesday, saying he will do "something" about homelessness but offering no specifics beyond the mention of creating a task force.
In less than three years, Trump has named more former lobbyists to Cabinet-level posts than his most recent predecessors did in eight, putting a substantial amount of oversight in the hands of people with ties to the industries they're regulating.
Two Pulse nightclub shooting survivors organized a march last Saturday to connect so-called "overcomers" of homosexuality. This takes place shortly after a petition has gained thousands of signatures to ban conversion therapy.
This provocative film is also a film-within-a-film that seems to blur the lines of what's going on in the lives of the actors filming the film while they're filming the film.
The risk of Britain leaving the European Union without a divorce deal remains "very real," European Commission chief Jean-Claude Juncker declared Wednesday as EU lawmakers debated the ramifications of a no-deal Brexit.
A new venture backed by many of video gaming's biggest publishers is unveiling a network that hopes to be to esports what ESPN has been to traditional sports.

It's not too early to think about your holiday travel. Now is the time to save when booking flights.
Volkswagen has agreed to pay up to 127 million Australian dollars ($87 million) to settle an Australian class action stemming from the 2015 diesel emissions scandal, the German automaker and a lawyer said Monday.
The storied family-owned knitwear brand is seeking to make waves inside the world of Italian fashion under the artistic guidance of French designer Jean-Charles de Castelbajac.
"Jeopardy!" host Alex Trebek says he's had a setback in his battle with pancreatic cancer and is undergoing chemotherapy again.
Airline customer-service agents say they often get verbal threats from passengers, and sometimes they turn into physical confrontations.

The House of Blues may seem like too small a venue to have a wall of death to open up, but when the crowd respects a band as much as Wednesday's crowd did Babymetal, anything is possible. Read our EDGE review of the show, accompanied by Avatar, here.