Gay Palm Springs: The Latest
The swollen Pearl River appeared to have crested Monday in Mississippi's capital, but authorities warned the hundreds of evacuees in the Jackson area not to rush back home until they got the all clear.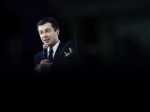 The former mayor of South Bend, Indiana, was asked at two consecutive town halls in Nevada on Monday about what he'd do should Trump refuse to leave the presidency after losing the election.
The database obtained by The Associated Press profiles the internment of 311 individuals with relatives abroad and lists information on more than 2,000 of their relatives, neighbors and friends.
Britain issued severe flood warnings Monday, advising of life-threatening danger after Storm Dennis dumped weeks' worth of rain in some places.
A white professor at an Indiana university who called police to his classroom after a black student refused to change seats will not be teaching for the remainder of the semester, the school said in a written statement.
The Daytona 500 was scheduled to resume Monday afternoon after "The Great American Race" was postponed for just the second time in 62 years.
Amazon founder Jeff Bezos said Monday that he plans to spend $10 billion of his own fortune to help fight climate change.
Nevada's Democratic Party says more than 26,000 people cast votes during the first two days of early voting in the state's presidential caucuses.
With the Nevada caucuses less than a week away, Democratic presidential candidates campaigning were fixated on a rival who wasn't contesting the state.
A Polish mayor on Monday deplored the decision by a sister town in France to suspend 25-year official ties with her town because it declared itself an area "free of LGBT ideology."
The president and the prime minister of Portugal added their voices to a national outcry Monday over racist abuse aimed at a black FC Porto soccer player who walked off the field after hearing monkey chants.
Thanks to modern technology and some expert detective work, a painting attributed to an unknown artist in Rembrandt's workshop has now been judged to have been a work of the Dutch master himself.
Several EU member states and the European Parliament have rejected for starkly opposing reasons the latest proposal to find a compromise on the European Union's budget.

Facebook CEO Mark Zuckerberg met top European Union officials on a visit to Brussels on Monday, days before the bloc is expected to release new proposals on regulating artificial intelligence.
When insurers revoke their decision to pay after the service is completed, patients are legally on the hook for the bill.
A German court has temporarily halted the site preparation for Tesla Inc.'s first electric car factory in Europe.
Ryan's Secret creative director and designer Myriam Chalek wants to bring awareness to young men who experience depression and commit suicide because of body shaming and bullying.
What you put into your body directly relates to recovery, Recovery Unplugged, a national addiction care organization with locations all over the country — and the importance of physical well-being shouldn't be minimized.
YouTube travel vlogger JustJoeyT highlights the best of Atlantis' recent Caribbean cruise.
The 21st Annual Glam Awards celebrates the best of New York City Nightlife, it is also an incredible display of creativity, talent and camaraderie.