Gay Palm Springs: The Latest
How the government and medical community responds to the crisis will be especially crucial for outcomes among black Americans, civil rights advocates and medical experts say.
Air raid sirens sounded across China and flags flew at half staff in tribute Saturday to victims of the coronavirus pandemic, including the health care "martyrs" who have died fighting to save others.
Is he a wartime president or a backup point man? President Donald Trump seems to go back and forth on that, or both ways at once, in responding to the pandemic that takes more lives by the hour.
The spreading global pandemic has tested the competing interests of public health and privacy, with thousands of individuals experiencing both physical illness and the less-visible stigma that can come with it.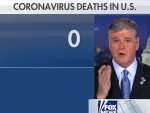 A little-known social action group out of Washington state has sued Fox News over their COVID-19 coverage.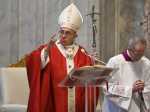 Pope Francis celebrated Palm Sunday Mass without the public because of the coronavirus pandemic, which he said should focus people's attention on what's most important: using one's life to serve others.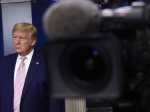 The coronavirus is projected to kill more than 100,000 Americans and has effectively shuttered the economy. But Trump and his advisers haven't lost sight of the opportunity to advance his agenda.
Thanks to an overwhelming response from people who suddenly found themselves stuck at home, shelters say they have placed record numbers of dogs, cats and other animals.
Church President Russell M. Nelson unveiled a new church logo that continued his push to rebrand how the faith is known and recognized around the world.
The Daily Show paid tribute to Fox News personalities and their coverage of COVID-19 over the past few weeks. Here are some lowlights.
Brazilian health officials grappling with the new coronavirus outbreak have issued a stark warning about a lack of hospital beds, masks, testing devices and trained staff across Latin America's largest nation.
Palm Springs, CA
Originally set to take place June 18-28, 2020, the film festival is now scheduled to take place in Fall 2020.
This is the Corona Community Chorus. Each Sunday, it meets on Zoom to unite voices in isolation during the coronavirus outbreak.
Americans are seeking unemployment benefits at unprecedented levels due to the coronavirus, but many are finding more frustration than relief.

For now, the only way Americans can get tested is at hospitals, clinics or drive-thru sites, with a doctor's order.
Travel to Provincetown during the COVID-19 crisis became an issue this past week when Select Board member Lise King "posted a Facebook message on Thursday that she found painful to write.
Since vehicle interiors are essentially small contained spaces, it is important to take steps to reduce the risk of contracting the virus while driving or riding inside.
You've got it stocked in your home bar, but what exactly is Cointreau? The orange-flavored liqueur dates back to 1885, but most of us aren't sure what to do with it besides using it as a component in a margarita. Until now.
Rubbing alcohol and alcohol swabs or wipes are the latest products swept up by the nation's demand for anything and everything seen as a disinfectant against the novel coronavirus.
For the first time since opening in 2012, The Mob Museum, The National Museum of Organized Crime and Law Enforcement, introduces virtual, guided tours highlighting its most popular exhibitions and artifacts.
The annual "One Magical Weekend" event that brings LGTBQ revelers to Orlando from around the world has been canceled for 2020, organizers of the event said in a release.