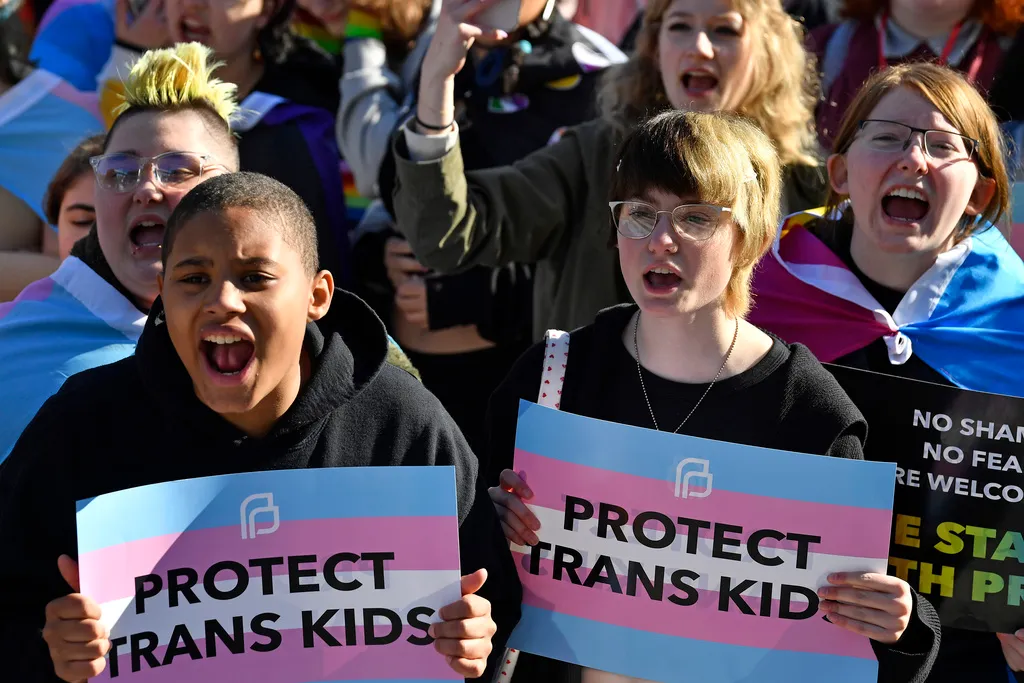 Judges Maintain Bans on Gender-Affirming Care for Youth in Tennessee and Kentucky
Jonathan Mattise
READ TIME: 4 MIN.
Tennessee and Kentucky can continue to ban gender-affirming care for young transgender people while legal challenges against those state laws proceed, federal appeals judges ruled.
In a 2-1 decision by a 6th U.S. Circuit Court of Appeals panel late Thursday, the majority wrote that elected lawmakers made "precise cost-benefit decisions" in instituting the bans and "did not trigger any reason for judges to second-guess them." The laws were passed by Republican majorities in both states.
"Prohibiting citizens and legislatures from offering their perspectives on high-stakes medical policies, in which compassion for the child points in both directions, is not something life-tenured federal judges should do without a clear warrant in the Constitution," Chief Judge Jeffrey Sutton wrote.
The laws had already kicked in under previous rulings by the appeals judges, despite decisions in lower courts that temporarily kept significant parts of the bans from taking effect. The new ruling overturns the preliminary injunctions that trial court judges had issued.
In dissent, Judge Helene White wrote that the laws "discriminate based on sex and gender conformity and intrude on the well-established province of parents to make medical decisions for their minor children."
At least 22 states have now enacted laws restricting or banning gender-affirming medical care for transgender minors, and most have faced lawsuits. While Tennessee and Kentucky can press on with their bans, the status of other states' laws is scattershot after judges left some of the prohibitions in place and elsewhere blocked others.
Supporters of trans kids having access to puberty blockers and hormone therapy have argued that it is safe, necessary health care backed by every major medical group.
"While it is disheartening that the panel believes it is constitutional for the government to prohibit transgender youth from accessing such necessary health care, this is only a temporary setback," said Corey Shapiro, legal director for the American Civil Liberties Union of Kentucky, one of the legal groups leading the lawsuit there. "We will continue fighting to restore that care permanently in the commonwealth."
Advocates of state-level bans on children seeking the care countered that these are experimental and life-altering procedures that young people shouldn't be exposed to.
"This is a big win for democracy," said Tennessee Attorney General Jonathan Skrmetti. "Decisions that are not clearly resolved by the Constitution should be resolved by the people through their elected representatives."
In initial rulings months ago in Kentucky and Tennessee, trial court judges had blocked portions of the laws that would have banned transgender youth from accessing puberty blockers and hormone therapy. Tennessee appealed and the 6th Circuit panel gave the state permission to begin enforcing the law. Seeing that decision, the federal district judge in Kentucky sided with state officials and let that law take effect, as well. The 6th Circuit panel then denied an early appeal by the plaintiffs in Kentucky.
Tennessee's law lets young transgender patients keep temporarily receiving treatments if those began before July 1, but they are required to end by March 31, 2024. Kentucky's law doesn't include a similar phaseout. The U.S. Department of Justice intervened to join the challenge of Tennessee's law by transgender children and their families.
A group of parents took aim at another portion of Kentucky's transgender law in a suit filed Friday that challenges rules about the use of transgender pronouns and bathroom assignment in schools. The lawsuit argues that education-related policies – including requiring school districts to prevent trans students from using their preferred restrooms – violate the state Constitution.
The families, all from the Lexington area, are asking a judge to block those provisions of Kentucky's transgender law.
The 6th Circuit panel's decision in the Kentucky and Tennessee cases this week comes amid mixed rulings from other courts across the country.
In Montana earlier this week, a state judge temporarily blocked a ban. In June, a federal judge in Arkansas struck down the state's prohibition, saying it was unconstitutional. That same month, federal judges in Indiana and Florida temporarily blocked bans in those states.
In May, Oklahoma agreed to not enforce its ban while opponents seek a temporary court order blocking it.
As in Kentucky and Tennessee, courts have issued various decisions on the ban in Alabama. Last month, a panel from the 11th U.S. Circuit Court of Appeals allowed the state's law to be enforced, vacating a judge's decision to block the restrictions temporarily. The 11th Circuit ruling led a federal judge who had temporarily blocked Georgia's ban to decide earlier this month that the state could resume enforcing its restriction.
Some other bans are also in place or are set to kick in, including in Nebraska, where a state judge rejected an effort to block it, clearing the way for it to take effect on Sunday.
A Missouri judge allowed that state's ban to take effect late last month. Also in August, the Texas Supreme Court lifted a state judge's previous injunction on the state's ban and allowed the law to take effect.
___
AP reporter Dylan Lovan contributed from Louisville, Kentucky.
---