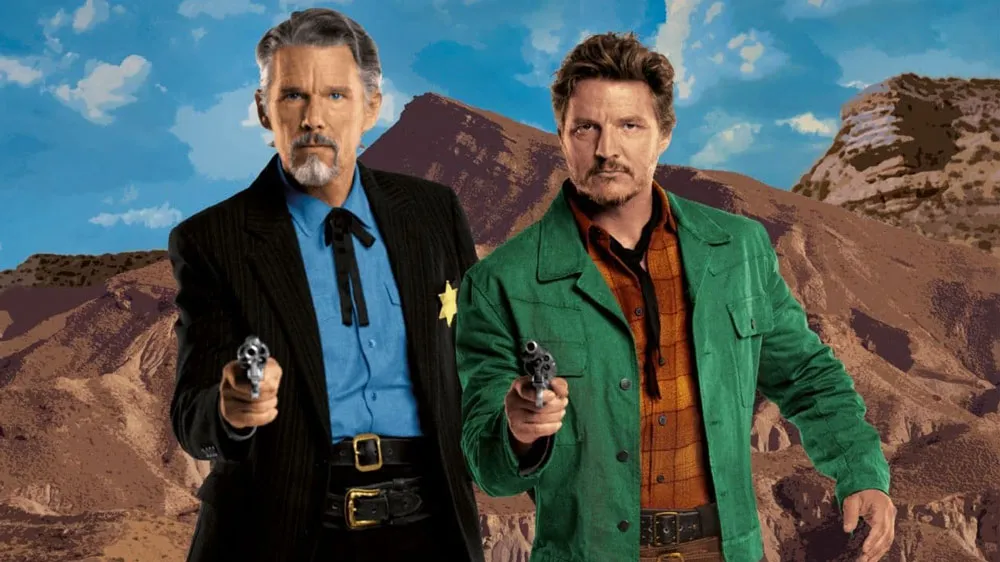 From 'Maestro' to 'Dicks' - Queer Fall Ahead with Slew of Mainstream, Indie Movies
It's looking to be a banner year for queer-themed/queer-friendly feature films–potentially record breaking, in fact. 
 
A slew of terrific LGBTQ+ titles has already been released including mega blockbusters like M. Night Shyamalan's best film to date, "Knock at the Cabin," starring out actors Jonathan Groff and Ben Aldridge; Matt Bettinelli-Olpin and Tyler Gillett's "Scream VI," boasting the franchise's first out queer character played by out actor Jasmin Savoy Brown and "M3gan," the diva doll film.
 
On the indie front, there are too many films to name but some of the stand outs this year were, quadruple-threat Todd Flaherty's stunning "Chrissy Judy," Sebastián Silva fab mind-fuck "Rotting in the Sun," Ira Sach's steamy "Passages," Roger Ross Williams's absorbing "Cassandro," Andrea Laura Parmet's elegiac, "The Starling Girl," and two hilarious comedies, Randall Park's "Shortcomings" and Emma Seligman's "Bottoms."
The international highlights include two Australian gems Goran Stoleviski's haunting, "Of an Age" and Craig Boreham's captivating, "Lonesome" as well as UK helmer Georgia Oakley's intense "Blue Jean," Pakistan's daring "Joyland, directed by Saim Sadiq, and Pasquale Marrazzo's disturbing, "The Neighbors," and Emanuele Crialese's deeply personal "L'immensità," both from Italy.
And the above doesn't even include the queer content currently streaming such as Netflix's amazing "Nimona," and Prime's immensely popular, "Red, White and Royal Blue."
 
Most of these titles feature out LGBTQ+ actors, which is pretty fab!
 
Moving forward, into Awards Season, the fall film schedule reveals a plethora of LGBTQ+ feature films coming our way. Here are highlights (in release order).
'Dicks: The Musical'

 

 
Larry Charles' irreverent, campy comedy, "Dicks: The Musical" played the Midnight Madness section at TIFF and reportedly brought the house down! The film is adapted from the off-Broadway musical, "Fucking Identical Twins" by out artists Josh Sharp and Aaron Jackson, who also star in the film and refer to the project as "The Parent Trap" if it happened to horrible, disgusting people." The film co-stars Nathan Lane, Bowen Yang, Megan Mullally and Megan Thee Stallion, which is a fabulous amount of gay! 
 
A24 will release "Dicks! The Musical" in select theaters Oct. 6 and nationwide Oct. 20.
 

'Strange Way of Life'

 

 
Rarely has a short film been given a major U.S. release, but Spanish auteur Pedro Almodóvar's "Strange Way of Life" caused a sensation when it premiered at Cannes back in May, so why not? The 31-minute western melodrama stars Pedro Pascal ("The Last of Us") and Ethan Hawke ("Before Sunrise") as former lovers who, after 25 years, reunite due to dire circumstances (I will not reveal here). Suffice to say, the homoeroticism is off the charts and a certain nude scene will have gay audiences excited (in more ways than one). Many who have seen it are calling on Almodóvar to adapt it into a feature–a fantastic idea.
 
"Strange Way of Life" is set for the Spotlight section of the New York Film Festival. It will open in theaters October 4 in NY and LA, expanding nationwide on Oct. 6 and will be seen alongside Almodóvar's terrific 2020 short, "The Human Voice," starring Tilda Swinton. Both represent the director's only English-language films to date.
 

'Eismayer'

 

 
Inspired by a true story, Austrian helmer David Wagner's harsh yet potent feature, "Eismayer," is a portrait of a ruthless military training officer (Gerhard Liebmann) who prides himself on his macho toughness. Oh, and he happens to be gay. His world is shaken to the core when an openly gay, unashamed and defiant recruit (an impressive Luka Dimic) refuses to be bullied by his fellow officer-wannabes. Wagner cleverly exposes the homophobic milieu while depicting how organically minds can change. In German, with English subtitles.
 
Dark Star Picture will release "Eismayer" on Oct. 6 in NY and LA.
 

'Rustin'

 

 
"On the day that I was born Black, I was also born a homosexual."
                     From the "Rustin" trailer
 
Bayard Rustin was a gay, African-American leader who, because of his sexual orientation, was forced to work behind the scenes to advocate for change in the civil rights movement. In the 1980s he stepped out front fighting for gay causes. Alas, few people have heard of this iconic figure. Director George C. Wolfe ("Ma Rainey's Black Bottom") sets about to right that wrong with "Rustin," starring Colman Domingo, who from Festival reviews is destined for an Academy Award nomination for embodying this titanic queer hero. The film is produced by none other than Barack and Michelle Obama, so expectations are high.
 
"Rustin" premiered at Telluride and will play the Toronto International Film Festival before its released in theaters on Nov. 3 and on Netflix, Nov. 17, the 60th anniversary of the March on Washington.
 

'Maestro'

 

 
The Venice Film Festival screening of Bradley Cooper's "Maestro," received a 7-minute standing ovation and had Leonard Bernstein's children in tears. It also had critics gushing. In his directorial follow-up to "A Star is Born," the 9-time Oscar nominee (4 for acting) takes on the public and private life of musical legend Bernstein ("West Side Story," "Candide") and apparently nails it. The film's focus is said to be on the intense relationship between Bernstein and his wife Felicia Montealegre (Carey Mulligan, brilliant in "Promising Young Woman" and "Shame") but never shies away from the composer's many same-sex liaisons. Despite early controversy from naysayers who hadn't seen the film, Bernstein's children have given the work their blessing and now so have critics and Festival audiences.
 
"Maestro' had its international debut at the Venice International Film Festival and will play in the Spotlight section of the New York Film Festival, then close the AFI Fest, before being released by Netflix in select theaters on Nov. 22, with streaming beginning Dec. 20.
 

'Saltburn'

 

 
"Promising Young Woman" director Emerald Fennell, who won the Best Screenplay Oscar for that gem, has created a sophomore effort which is just as controversial. Set at Oxford, this psychological thriller follows Oliver Quick (Oscar nominee Barry Keoghan) who becomes obsessed with a gorgeous aristocratic schoolmate ("Euphoria's" Jacob Elordi) and his family. Discussing the content of the film, Fennell stated in Vanity Fair: "If it feels like something you really might do alone in the grips of desire, then it doesn't feel too much for me." "Saltburn's" supporting cast includes Rosamund Pike, Richard E. Grant and Carey Mulligan. And, apparently, Keoghan has a naked dance sequence that is already being buzzed about incessantly.
 
'Saltburn" world premiered at Telluride and will open the BFI London Film Festival on Oct. 4, before its limited theatrical released by Amazon on Nov. 24, with wide expansion on Dec. 1st.
 

'Eileen'

 

 
One of the most audacious, divisive films to come out of Sundance this year was William Oldroyd's "Eileen," boasting a trio of fantastic female performances, Thomasin McKenzie, Anne Hathaway and Marin Ireland. The acclaimed novel by Ottessa Moshfegh is deliciously adapted by Moshfegh and Luke Goebel and centers on Eileen (McKenzie), a bored prison worker who becomes enamored with the glamorous prison psychologist, Rebecca (a divine Hathaway who should see awards attention). Eileen's infatuation leads to her exploring her repressed feelings, which begets a dramatic plot twist! 
 
"Eileen" will receive a limited release on Dec. 1, by Neon, before expanding wide on Dec. 8, 2023.
 

'Fireworks' ('Stranizza d'Amuri')

 

 
Showcased at Lincoln Center's Open Roads: New Italian Cinema, earlier in the year, Italian actor-turned-director Giuseppe Fiorello's hypnotic, disturbing film, "Fireworks" is based on a real-life hate crime that occurred in Sicily in 1980, where two young men were murdered (although it was quickly ruled a suicide). The crime shook the country and led to the establishment of Arcigay, the gay rights movement in Italy. From this tragedy, Fiorello creates an authentic gay teen romance starring two captivating young actors, Samuele Segreto and Gabriele Pizzurro. Fiorello captures the repressed Sicilian milieu (that has not changed that much) in this important work. In Sicilian with English subtitles.
 
"Fireworks" will be released by Cinephobia Releasing on Dec. 19.
 

'All of Us Strangers'

 

 
Directed by Andrew Haigh ("Weekend," "45 Year," "Lean on Pete"), "All of Us Strangers" tells a metaphysical queer love story between screenwriter Adam (Andrew Scott) and his mysterious neighbor Harry (Paul Mescal). Strangely, the building they live in is abandoned. Stranger still, Adam discovers that his dead parents (Jamie Bell and Claire Foy) are, indeed, alive and well and have not aged in 30 years. Loosely based on "Strangers" by Taichi Yamada, this film promises to be a unique and fascinating dive into desire and trauma with early buzz touting "Fleabag" priest, Scott as a Best Actor Oscar candidate. "I was amazed by the way that he fluctuates between being an adult and a child," Haigh gushed about Scott. 
 
"All of Us Strangers" had its world premiere at Telluride and will screen at the New York Film Festival on Oct. 1st. Theatrical release will follow via Searchlight Pictures on Dec. 22.
 

'The Color Purple'

 

 
After two incredible Broadway runs, the much-anticipated screen adaptation of Alice Walker's "The Color Purple" is a few months away. 

The 1985 Steven Spielberg film may have played it safe but still featured three solid Oscar-nominated turns by Whoopi Goldberg (in her first film) as Celie, Oprah Winfrey (in her debut) as Sofia and Margaret Avery as Shug. Blitz Bazawule's musical version stars Fantasia Barrino as Celie, Danielle Brooks as Sofia and Taraji P. Henson as Shug. In addition, the cast includes Colman Domingo (having quite a year), Halle Bailey, H.E.R. and Oscar-winner Louis Gossett, Jr. Rest assured, this version won't play the gay safe.
 
Warner Bros. releases "The Color Purple" on Dec. 25.
 

Here Are a Few Other Films Featuring Queer/Queer- Friendly Artists to Look Out For:
One of the most hotly anticipated titles is Martin Scorsese's "Killers of the Flower Moon," especially after it's rapturous reception at Cannes. Oscar buzz is surrounding performances by Leonardo DiCaprio, Robert DeNiro and, especially, Lily Gladstone, who is said to be a revelation. Oscars.org selected her as one of 15 LGBTQ+ Artists on the Rise in 2023. Oct. 20. 
 
Annette Bening and Jodie Foster's Oscar chances have increased since "Nyad" bowed at Telluride. Bening has 4 nominations and no wins while Foster has 4 nods and 2 victories. The film is a portrait of Diana Nyad who incredibly managed to swim from Cuba to Florida at the age of 64! Oct. 20/Netflix, Nov. 3. (The film will play at NewFest)
 
Out helmer of classic queer cinema ("Carol," "Velvet Goldmine") Todd Haynes' has fashioned a bracing dark comedy "May December" starring Julianne Moore, Natalie Portman and "Riverdale's" Charles Melton. Nov. 17 release/Netflix Dec. 1. (The film will play at NewFest)
 
Yorgos Lanthimos films have a tremendous gay sensibility ("The Favourite") and his latest, "Poor Things," may be his boldest. At Venice, it received a whopping 10-minute standing ovation and Emma Stone's risk-taking performance is said to warrant Oscar attention. Dec. 8th
 
Homoeroticism abounds in Sean Durkin's '80s-set "The Iron Claw," about the "cursed" Von Erich wrestling family, starring Zac Efron, Jeremy Allen White, Harris Dickinson and hot newcomer Stanley Simons, all buff and yummy. Dec. 22.
 

Three Still Seeking Distribution (and playing TIFF):
The great out actor Ian McKellen should have at least two Academy Awards on his mantle, but has none. Perhaps Anand Tucker's "The Critic" can change that. McKellen plays a gay theater critic who goes to great lengths to get his job back. Written by "Notes on a Scandal"'s Patrick Marber, the film features Mark Strong, Gemma Arterton and Oscar-nominee Lesley Manville. 
Luke Gilford's narrative debut, "National Anthem," examines his own research into the gay rodeo subculture in America and stars Charlie Plummer ("Lean on Pete"). The film has been selected for NewFest.
Oscar-winner Kate Winslet's passion project, "Lee," directed by Ellen Kuras, is a biopic of the groundbreaking war photographer Lee Miller. Featured actors include Marion Cotillard, Alexander Skarsgård, and Andrea Riseborough. 
---
Frank J. Avella is a proud EDGE and Awards Daily contributor. He serves as the GALECA Industry Liaison and is a Member of the New York Film Critics Online. His award-winning short film, FIG JAM, has shown in Festivals worldwide (figjamfilm.com). Frank's screenplays have won numerous awards in 17 countries. Recently produced plays include LURED & VATICAL FALLS, both O'Neill semifinalists. He is currently working on a highly personal project, FROCI, about the queer Italian/Italian-American experience. He is a proud member of the Dramatists Guild. https://filmfreeway.com/FrankAvella https://muckrack.com/fjaklute