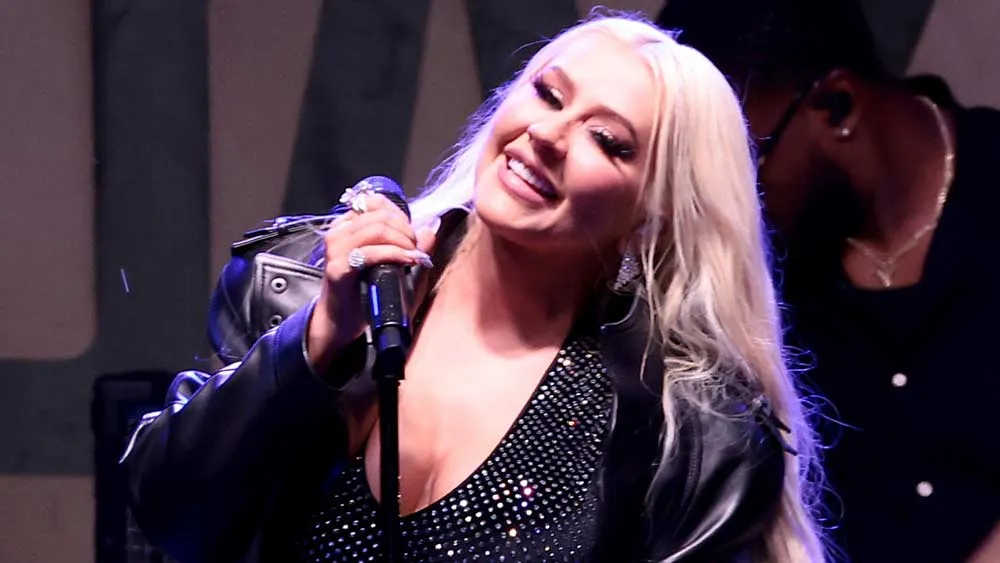 Christina Aguilera Bringing 'Burlesque' Back to Theaters – as a Stage Musical
Global pop legend Christina Aguilera is bringing the movie "Burlesque" back to theaters – not movie theaters, that is, but rather as a stage musical.
Aguilera is set to spearhead the project, acting as executive producer, Entertainment Weekly reports.
"Burlesque: The Musical" "was written by the film's director, Steven Antin," EW writes, "and includes songs written for the film by Aguilera, Diane Warren, and Sia, with additional tunes created by 'RuPaul's Drag Race' choreographer Todrick Hall and Jess Foley.
"It is expected to debut in the United Kingdom in the near future."
Antin confirmed to EW that "the stage musical adaptation is happening," and called the musical "very exciting."
There are no further details available about the stage musical as yet, but EW recalled Antin telling the outlet in 2020 that he was working on a "Burlesque"-related project that he called a "re-imagination," but that didn't sound much like a stage musical.
"It morphs what's best about TV, Broadway, film, and digital entertainment," Antin said. "It's a hybrid television event/series taking the movie to the next level."
Aguilera also spoke with the entertainment magazine about the film in 2020, saying that she had "poured her heart into penning songs for the film," EW recalled.
"In songwriting, I had to tackle both the tender moments of Ali falling in love with Jack, while also tackling the opposite energy of the up-tempo [songs] where I needed to embody and exude the powerful, sensual, and celebratory sides that encompass a woman," EW quoted Aguilera as saying. "In preparation of shooting, I worked with an acting coach. I'd never been taught or exposed to such a wide range of 'technical' dance and so many different styles and levels all at once while rehearsing and filming this movie."
Cher, too, looked back on the 2010 film, telling EW, "One of my favorite scenes is when I was helping Christina with her makeup.... It reminded me of when I was a young girl and my mom and all her friends would put on makeup together."
"Though the original movie – about a young woman, Ali (Aguilera), who bonds with the no-nonsense owner (Cher) of a burlesque club in Los Angeles – was a critical and box office disappointment upon its release 13 years ago, it has since built up a cult following, and amassed millions in sales on home video following its theatrical run," EW recounted. "It also scored three Golden Globe nominations and launched a successful accompanying soundtrack album."
Rumors have abounded about a stage musical adaptation since at least 2019, Theater Queen noted.
The musical was initially slated to open at the Papermill Theatre in 2022, the site reported, and star Todrick Hall.
"However, as excitement grew for the burlesque theatre adaptation, controversies arose, and producers decided to pull the production," Theater Queen recounted, before going on to say, "Given the situation in the US, many fans have looked across the pond for any news of a Burlesque Musical London production."
The idea's staying power – evidently about to be fulfilled with an actual production – comes down tot he power of burlesque, the sotre added.
"Combining sultry dance routines with powerful vocal performances, burlesque music and theatre can captivate and empower audiences," Theater Queen explained. "The vibrant world of burlesque theatre can create unforgettable experiences for both the performers and the spectators."
---
Kilian Melloy serves as EDGE Media Network's Associate Arts Editor and Staff Contributor. His professional memberships include the National Lesbian & Gay Journalists Association, the Boston Online Film Critics Association, The Gay and Lesbian Entertainment Critics Association, and the Boston Theater Critics Association's Elliot Norton Awards Committee.