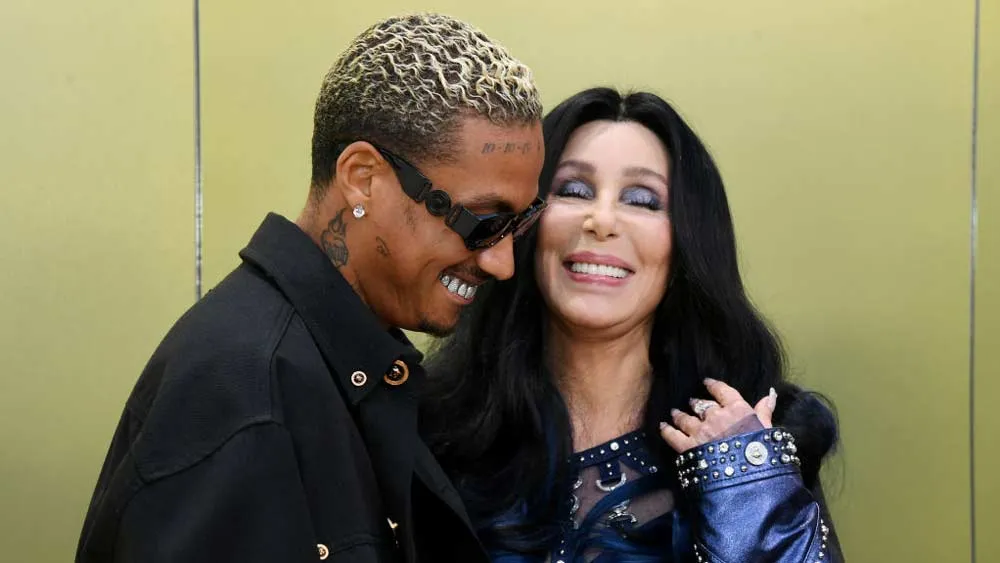 Cher and 40-Years-Younger BF Alexander Edwards Spotted Together at Balmain Fashion Show
Earlier reports of Cher's split from Alexander Edwards have been exaggerated, or at least are outdated, as the celebrity couple's latest sighting seems to confirm.
People magazine reports that "the Grammy-winning icon, 77, and the music executive, 36, cozied up to each other while sitting front row at the Balmain show during Paris Fashion Week, where the two first met last year."
They were dressed for the occasion.
"The 'Believe' superstar wore a long velvet white jacket with a black embroidered design over a black top and slacks," People noted. "She styled her signature, long, jet-black hair in soft waves.
"Edwards coordinated with his date by opting for a black suit with a white button-down and black sunglasses."
People recalled that "the music industry duo made headlines when they were spotted holding hands in November" of last year. "Cher addressed the 40-year age between herself and Edwards a few days later," the writeup added, referencing a since-deleted tweet in which the "If I Could Turn Back Time" singer posted, "LOVE DOESN'T KNOW MATH, IT SEES ❤️ ❤️".
"In December, Cher gushed about her beau on The Kelly Clarkson Show," People went on to recount.
"On paper, it's kind of ridiculous," the magazine quoted the singer and actor as saying. "But in real life, we get along great. He's fabulous. And I don't give men qualities that they don't deserve."
The pair had supposedly split last spring, after only five months as a couple. But the breakup was either not real, or was short-lived, as earlier this month reports began circulating that the two of them were an item once again.
The couple's outing took place not long after a drama came to light involving Cher's younger son, Elijah Blue Allman, UK newspaper the DailyMail noted, detailing that "Cher had her own son kidnapped from a hotel room just as he was trying to reconcile with his wife on their wedding anniversary," according to "court papers exclusively unearthed by DailyMail.com".
The report added: "The Oscar, Emmy and Grammy winner was worried about Elijah Blue Allman's health, her daughter-in-law, Marieangela King, said in a declaration to a Los Angeles court hearing the couple's divorce.
"And she has reason to be concerned," the Mail went on to say, "judging by pictures we have obtained showing him disheveled at a different hotel, LA's famed Chateau Marmont Hotel where he has been living for at least the past six months.
"He is now understood to be in rehab in Pasadena, California, after collapsing on the pavement leading up to the hotel's entrance."
---
Kilian Melloy serves as EDGE Media Network's Associate Arts Editor and Staff Contributor. His professional memberships include the National Lesbian & Gay Journalists Association, the Boston Online Film Critics Association, The Gay and Lesbian Entertainment Critics Association, and the Boston Theater Critics Association's Elliot Norton Awards Committee.