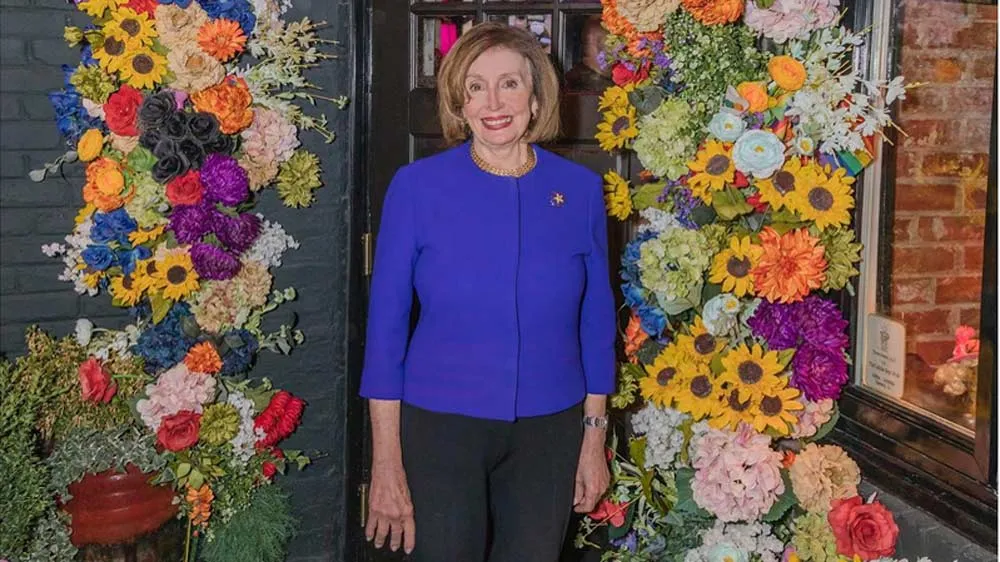 Nancy Pelosi Revels with LGBTQ+ Crowd at D.C. Gay Pub
Patrons of Washington, D.C. gay bar Little Gay Pub (LGP) were joined by one of America's foremost allies: Former Speaker of the House Nancy Pelosi.
The Advocate reported that the establishment, which is located "at the heart of Washington, D.C.'s Logan Circle community... has earned a reputation as a beloved and welcoming space" ever since its owners, "Dusty Martinez, Benjamin Gander, and Dito Sevilla opened the trendy bar in March."
"One of the distinctive features of LGP is its art-adorned bathrooms, which have become selfie spots," the article added. "Unbeknownst to the owners, an Instagram page dedicated to LGP bathroom selfies emerged, lending quirky fame to the pub."
The gay gathering spot also attracted Speaker Pelosi. "When we opened LGP, she was always on our little guest list of people who wanted to see it," Sevilla told The Advocate. It took "months of discussions with her staff," but the celebrated political leader made her visit on the evening of Sept. 26.
"We didn't advertise it at all," Sevilla disclosed. "I posted that she was five minutes out when they told me she was five minutes out, but that was the one piece of warning we gave," Sevilla noted.
"During her visit, Pelosi indulged in the unique LGP tradition of capturing a bathroom selfie," the Advocated said.
"Of course, [Pelosi] had been briefed on it and was extremely curious," Sevilla shared in his comments.
Also of interest is the bar's artfully decorated ceiling, "which traces the history of the LGBTQ+ rights movement," The Advocate noted, and which the former Speaker took time to admire. "Pelosi herself is featured a couple of times," the writeup detailed.
Martinez explained that the idea behind the bar was to fill in a conspicuous gap. There is no "dedicated museum or space to celebrate the queer community's shared experiences and history in D.C.," the article observed.
"We just wanted to create a space where you could meet new people; you can bring your old friends here; you can celebrate people in our community through all of our wall art, our ceiling art, all the hodge-podge of our history, not just Washington DC's queer history," Martinez explained.
"It's all of our history," the bar's co-owner added.
---
Kilian Melloy serves as EDGE Media Network's Associate Arts Editor and Staff Contributor. His professional memberships include the National Lesbian & Gay Journalists Association, the Boston Online Film Critics Association, The Gay and Lesbian Entertainment Critics Association, and the Boston Theater Critics Association's Elliot Norton Awards Committee.