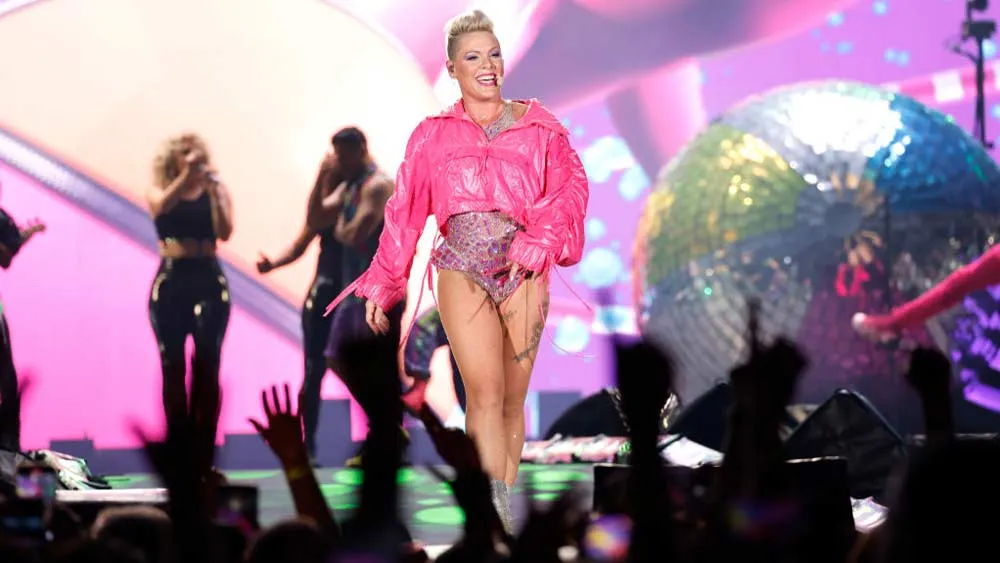 Watch: P!nk Takes Charge as Anti-Circumcision Activist Disrupts Concert
A viral video shows how P!nk shut down an anti-circumcision activist who sought to spread his message during her Sept. 25 concert in San Antonio, according to Billboard.
"In a fan-filmed TikTok clip, P!nk can be seen interacting with an attendee shouting about circumcision," the music magazine detailed. "When he held up his phone screen to show her an enlarged message displayed across it, the singer sarcastically laid into him."
"'Oh, you're making a whole point right now, aren't you?' she dryly responded. 'Do you feel good about yourself? Are you gonna be all right?'"
The confrontation continued, with P!nk asking the man, "You spent all this money to come here and do that?" Then, the pop icon served up even more take-charge energy, telling him, "I'm gonna have to buy a Birkin bag with that ticket money."
"Get that shit out of here," P!nk commanded.
As the man turned to the crowd with his message – "circumcision: cruel and harmful," Billboard reported text on his upraised phone reading – the singer also addressed the crowd, saying, "He wants all of you to read it. He came here tonight to talk about circumcision."
The singer then called for the man's removal, and security lost no time in carrying out her wishes.
"I feel bad that he wasted his time tonight," P!nk said as he was dragged away.
Singers in concert settings have had to deal with disruptive, and sometimes injurious, members of the crowd recently. A spate of incidents involving hurled objects earlier this year saw Kelsea Ballerini hit in the eye by a thrown bracelet. Bebe Rexha had been struck by a fan's cell phone only a couple of weeks earlier. Rexha required stitches. The fan who had thrown the phone was reportedly heard saying he threw the phone at her because he "thought it would be funny..."
P!nk herself dealt with a fan throwing cremated human remains onto the stage at a concert earlier this year. "Is this your mom?" the singer asked the person who had thrown the ashes. "I don't know how to feel about this."
Other fan interactions from the stage have posed less danger for singers, but still been a little inappropriate, as when Kelly Clarkson was propositioned by a female fan who claimed she's been given a "hall pass" by her girlfriend when it came to Clarkson.
Clarkson used humor to deal with that situation. "If I was into chicks, I'd take up the offer," a video of the moment posted online by another concert attendee captured Clarkson saying, as the audience hoots and cheers. "I just unfortunately like dicks," she added, prompting laughter. Watch her NSFW comment, embedded in the tweet below.
---
Kilian Melloy serves as EDGE Media Network's Associate Arts Editor and Staff Contributor. His professional memberships include the National Lesbian & Gay Journalists Association, the Boston Online Film Critics Association, The Gay and Lesbian Entertainment Critics Association, and the Boston Theater Critics Association's Elliot Norton Awards Committee.