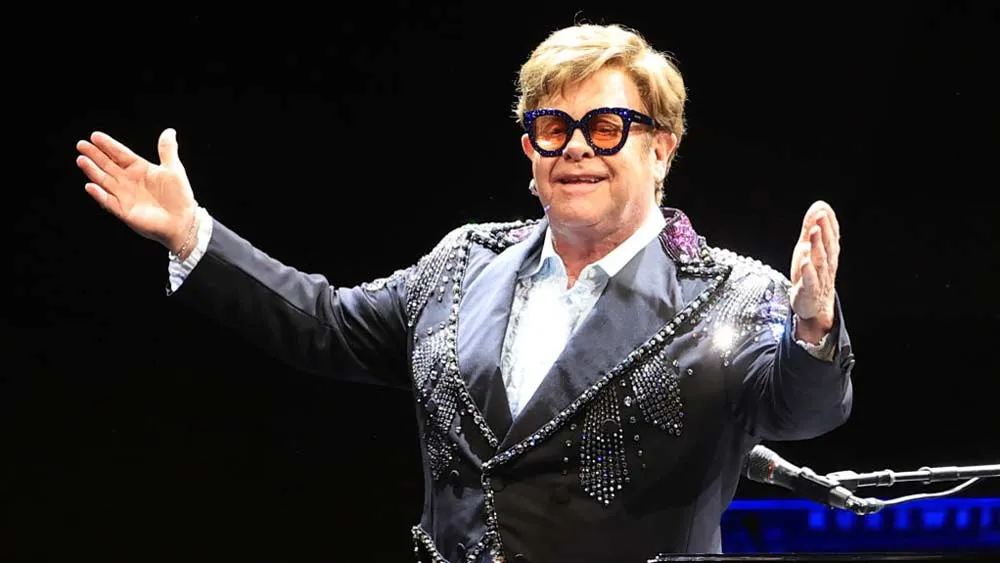 Sir Elton John and Ian McKellen Lead Pushback Against British Official's Gay Refugee Comments
Out entertainers Elton John and Ian McKellen are leading the charge as a furor grows after Britain's Home Secretary, Suella Braverman, told a right-wing American think tank that gay refugees don't merit asylum just because they're LGBTQ+.
John "accused Suella Braverman of comments which risk 'legitimizing hate and violence,'" UK newspaper the Independant reported.
John and McKellen are leading "a fierce backlash against her controversial remarks about gay asylum seekers," the newspaper account added.
John "and his long-term partner David Furnish released a statement saying they were 'very concerned' by her comments and calling for 'more compassion, support and acceptance for those seeking a safer future,'" the Independent relayed, while McKellen "told Channel 4 News Ms. Braverman's remarks were 'laced with a good dollop of prejudice' and part of a tilt at a Tory leadership bid," the Independent went on to say.
Elton John and David Furnish's statement, issued jointly with the Elton John AIDS Foundation, noted that "Nearly a third of all nations class LGBTQ+ people as criminals and homosexuality is still punishable by death in 11 countries."
"Dismissing the very real danger LGBTQ+ communities face risks further legitimizing hate and violence against them," the statement, which was shared on social media platforms, added.
"Ms Braverman was accused of 'picking on' gay people and 'throwing [them] under the bus,'" the Independent said, "with senior Tories warning that she had alienated the LGBT+ voters and revived the 'nasty party' reputation" that the Tories – Britain's conservative political party, which is currently in power – had earned decades ago, partly through anti-gay rhetoric and legislation.
As previously reported, Braverman had appeared before the right-wing American Institute during a trip to Washington, D.C. Media sources reported that the speech she was meant to give claimed that the 1951 Refugee Convention, which forms the basis of policy that UNHCR, the UN's Refugee Agency, follows, was outdated. Braverman's speech claimed that since 1951, "what we have seen in practice is an interpretive shift away from 'persecution,' in favor of something more akin to a definition of 'discrimination'.... And a similar shift away from a 'well-founded fear' toward a 'credible' or 'plausible fear' of anti-LGBTQ+ or gender-based persecution."
In her speech, Braverman "said 'simply being gay' should not be enough to gain protection under international law," the Independent noted. As outrage grew around her comments, Braverman doubled down: During a television appearance she insisted that heterosexual and cisgender refugees "purport to be homosexual in the effort to game our system, in the effort to get special treatment."
Braverman added: "I'm afraid we do see many instances when people purport to be gay when they're not actually gay."
The article added that Braverman "was challenged to provide evidence after Home Office statistics showed sexual orientation formed part of the basis of just 1 per cent of all asylum claims in 2021."
The UNHCR fired back, stating, "Where individuals are at risk of persecution on the basis of their sexual orientation or gender identity, it is crucial that they are able to seek safety and protection."
Braverman's fellow Tories also joined in on lambasting her remarks, even as the liberal Labour Party called her out.
David Gauke, a former Justice Secretary, echoed those concerns, telling the media, "This is the type of rhetoric that will only further damage its reputation with large parts of the electorate."
The newspaper reported that "Andrew Boff – a leading Tory London Assembly member who is patron of the LGBT+ Conservatives group – told The Independent that Ms Braverman was indulging in 'dog whistle' politics to appeal to the right," and he added that Braverman's "comments are not helpful or accurate."
Another source, a "former cabinet minister," told the Independent that Braverman "has cut off the gay vote to the Conservative Party," fretting that Britain's LGBTQ+ populace "is a constituency which has been in one swoop alienated."
The official went on to add: "The damage to the party is one thing; but the international trashing of Britain as a fair and humane place for those who are persecuted has taken a horrendous backward step."
A former Tory government advisor on LGBTQ+ issues, Jayne Ozanne, told the news outlet that she was "appalled that Braverman [is] picking on a small minority of claims from LGBT refugees," and declared that the Home Secretary "is scapegoating a community."
Going on to decry "The silence from so many LGBT Tory MPs," or Ministers of Parliament, Ozanne predicted: "The Tories will pay a price for this. The government has shown it no longer cares about the pink vote. They've undermined all trust from the LGBT community – and their friends and allies."
"It's no longer a small minority group," Ozanne warned. "Millions of voters care about these issues."
---
Kilian Melloy serves as EDGE Media Network's Associate Arts Editor and Staff Contributor. His professional memberships include the National Lesbian & Gay Journalists Association, the Boston Online Film Critics Association, The Gay and Lesbian Entertainment Critics Association, and the Boston Theater Critics Association's Elliot Norton Awards Committee.