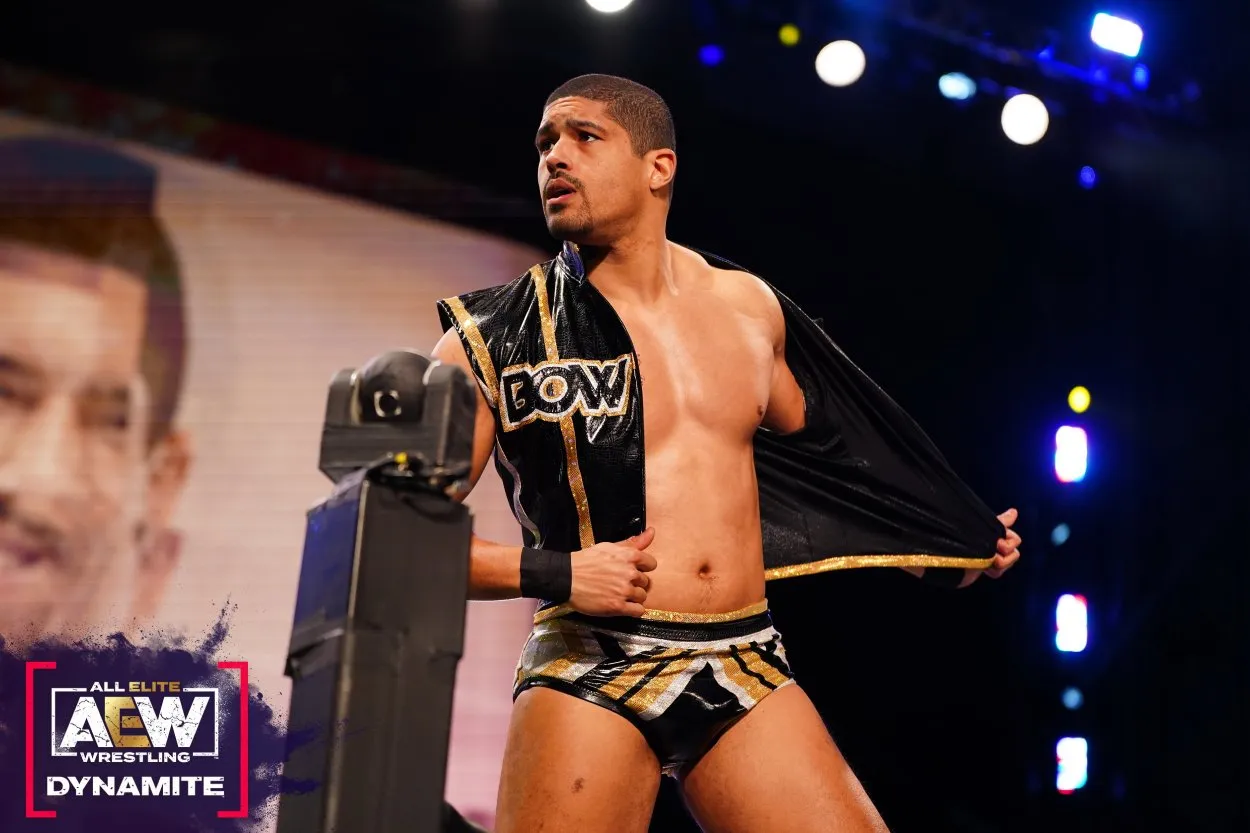 Anthony Bowens Thanks Fans for Helping him 'Succeed... as a Gay Black Man'
Out wrestling champion Anthony Bowens put pen to paper to express his thanks to fans for their role in his success as an openly gay star in the sport.
Blavity detailed that Bowens "was recently presented with the opportunity to pen a letter published in The Players' Tribune," but rather than addressing his own younger self in the missive, as is often the case with such letters, he shifted focus from himself to the fans who have remained in his corner as his career has burgeoned.
"Because when I think about where I've gotten to over these last several years, and over this last year in particular, one thing I keep coming back to is that I've been able to get there while staying true to myself," Bowens said in the letter, Blavity relayed.
"I've been able to succeed in wrestling as a Black gay man while still being me," Bowens continued. "And I don't take for granted the role you've all played in making that possible."
"The openly gay athlete has been wrestling for a decade and is currently one-third of 'The Acclaimed' with Max Caster and Billy Gunn," Blavity backgrounded. "He has had significant triumphs like holding the title of the organization's World Trios Champions and becoming a one-time AEW World Tag Team Champion since he signed a five-year deal in 2020 with the professional wrestling promo company."
As previously reported, Bowens has all but conquered All Elite Wrestling with his signature scissor move and charismatic appeal. He recently spoke about his ambition to be a world champion in an interview that was published only a couple of weeks after The Acclaimed, together with wrestling icon Billy Gunn, triumphed at the AEW World Trios Championships.
Bowens gave credit in that interview to higher-ups in the wrestling world who stood out of the way to allow him and other LGBTQ+ stars the freedom to bring their authentic selves to the ring.
It was a lack of authenticity while he was still in the closet that Bowens now believes prevented him from getting a contract with WWE when he first auditioned for them in 2014, Blavity detailed. Even at the time, Bowens said he knew that, "As long as I was closeted as a wrestler, I wasn't going to reach my full potential. Because I wasn't going to be able to tap into everything that makes me me."
Bowens came out to people in his immediate circle, but, he recounted, "a few years later, I met my boyfriend, Michael Pavano, which changed everything."
"With Michael, I felt I had all that I needed and wanted," Bowens continued. "And it made me realize that I had this unique chance: To help make wrestling a better place for future performers who might be struggling like I'd been."
Bowens publicly said he was bisexual in 2017, the article recalled, but five years later, in 2022, he came out as gay. "I got so much support when I came out," the wrestling star said. "But I also didn't just want to be known as 'the wrestler who came out,' or 'the gay wrestler.' I wanted to be known as this successful wrestler ... who happens to be gay and out and proud. And the history of wrestling (and sports in general) isn't exactly filled with people who've been able to have that."
Bowens lavished thanks on his fans for a list of ways in which they have supported him, before summing up: "Thanks for letting a queer Black kid from New Jersey live out his wrestling dream. Thanks for coming to this party just as you are. We're glad you're here."
---
Kilian Melloy serves as EDGE Media Network's Associate Arts Editor and Staff Contributor. His professional memberships include the National Lesbian & Gay Journalists Association, the Boston Online Film Critics Association, The Gay and Lesbian Entertainment Critics Association, and the Boston Theater Critics Association's Elliot Norton Awards Committee.