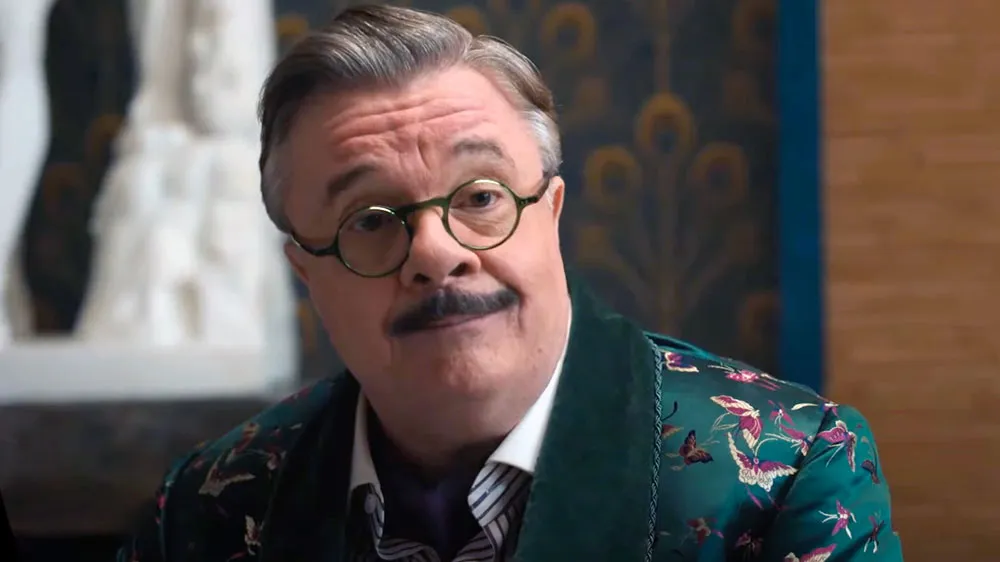 Watch: Nathan Lane Sings About His 'Gay Old Life' for 'Dicks: The Musical
It's a song we didn't know we needed, sung by someone we didn't know we needed it from, but he kills it nonetheless.
In a new clip released exclusively through Entertainment Weekly, Nathan Lane sings about his "gay old life" in an upbeat, jazzy number for "Dicks: The Musical."
The A24 film, which hits theaters Oct. 6, follows two long lost twins who discover that they are brothers and plot to reunite their divorced parents. It's very à la "The Parent Trap" but with twist, song and dance.
Lane's lament comes as his character, Harris, reflects on his colorful life to his son, who is not his son because he has switched places with his twin brother.
"I'm gay. Queer as a three-dollar bill and just as thin," explains in the clip, prompting a few puzzled reactions. "I wake up, drink my coffee, have brunch around eleven / Walk my bichon-frisé, then nap till half-past seven," Lane sings, then goes into his evening routine, which includes a night with the "Sewer Boys," some mysterious creatures living in a cage in his office.
Lane explains that he found the "Sewer Boys" taking a bath in the corpse of a swine," and he also adds that they drink blood and read minds. According to Lane, the creatures tried to "bite off my dick," but he ultimately "stole the two creatures who'd stolen my heart."
"The answer is perfectly clear / It's a gay old life being queer," Lane sings. The whole number makes for a curious and queer clip, and we can't wait to see what else is in store for the film.
See below for a surprise appearance by gay-fave Megan Mullaly as Lane's ex-wife.
---