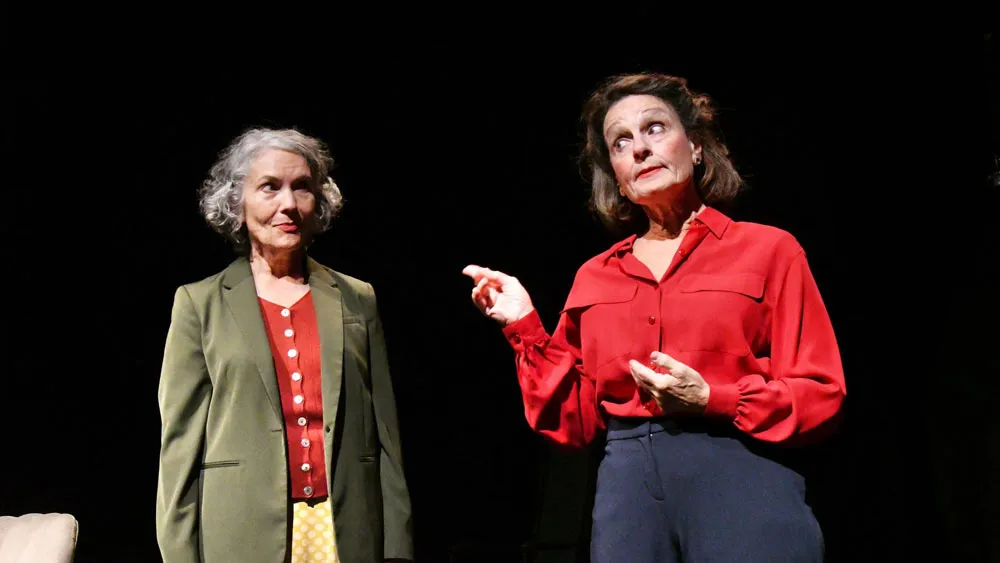 Review: 'Into The Breeches' Is a Genial WWII Home Front Comedy
"Into The Breeches," the first production in The Players' 115th season, is a genial, good-natured comedy set during the Second World War.
The women of the Oberon Play House in Providence take it upon themselves to put on a show while their husbands and fiancées are off fighting in the war.
And not just any old show either: Shakespeare's "Henry IV, Parts 1 and 2," as well as "Henry V" in a four-hour saga.
Under the expert guidance of Director Vince Petronio ("The Wickhams: Christmas at Pemberley"), the ensemble cast shines in their roles.
Becky Minard ("Night, Mother") plays Maggie, who takes the directing reins in her husband's absence. The chauvinistic manager of the playhouse, Ellsworth (W. Grant Willis), scoffs at the notion of women performing Shakespeare, although Maggie insists the show go on.
With the assistance of stage manager Stuart (Ray Fournier) and costume designer Ida (Victoria Wilson), Maggie casts June (Emma Dunlop), Grace (Marije Thomas), and Ellsworth's wife Winifred (Mary Paolino) in the show.
Minard is fantastic here, steadfast yet sympathetic, as Maggie battles to put on a difficult production with a limited number of performers.
Paula Faber ("Ripcord") is a blast as the egocentric diva Celeste, an aging actress who laments not being able to play Juliet any longer.
"You're old enough to be her nurse," someone jokes.
Celeste balks when Maggie asks her to trade roles with Grace, a neophyte looking for acting instruction. When Celeste bails out to do a children's theater production instead, Maggie makes some unusual casting choices.
Stuart was disqualified from military service for being a gay man. He volunteers to play one of the female characters and dons a dress. The women in the troupe are accepting of him, although Maggie is initially reluctant.
Ida is black, which is a reason for hesitation on Maggie's part. Ida proves herself a highly talented thespian, and a valuable member of the cast.
Playwright George Brant pays tribute to the resilience of the women who stayed behind and maintained the homeland in a time of war. "Into The Breeches" shows how theater ultimately brings very different people together for a common purpose.
Maggie is a heroine for the ages, a fighter who stands up for what she believes in and never backs down. She demands Ellsworth pay the actresses for their work. He explains the male actors get paid because they have families to support. So do the women, Maggie notes.
Ellsworth is similar to today's conservative politicians. They want to deny people's fundamental rights while claiming they are the ones being oppressed.
"Into The Breeches" revels in the power to create societal change. In the 1940s, American women were expected to stay home, cook and clean, and watch over the children. They were not expected to be in positions of authority.
Some people want to return to that more innocent time, when women knew their place, LGBTQ+ people stayed invisible, and people of color were strictly second-class citizens.
We have made so much progress, yet obstacles to equality are still being put up every day. The fight goes on, and Maggie and her fellow performers remind us how important it is to keep looking forward and never backward.
"Into the Breeches" runs through October 1. The Players at Barker Playhouse. 400 Benefit St., Providence, RI. For tickets, visit playersri.org or e-mail: [email protected]
---
Joe Siegel has written for a number of other GLBT publications, including In newsweekly and Options.