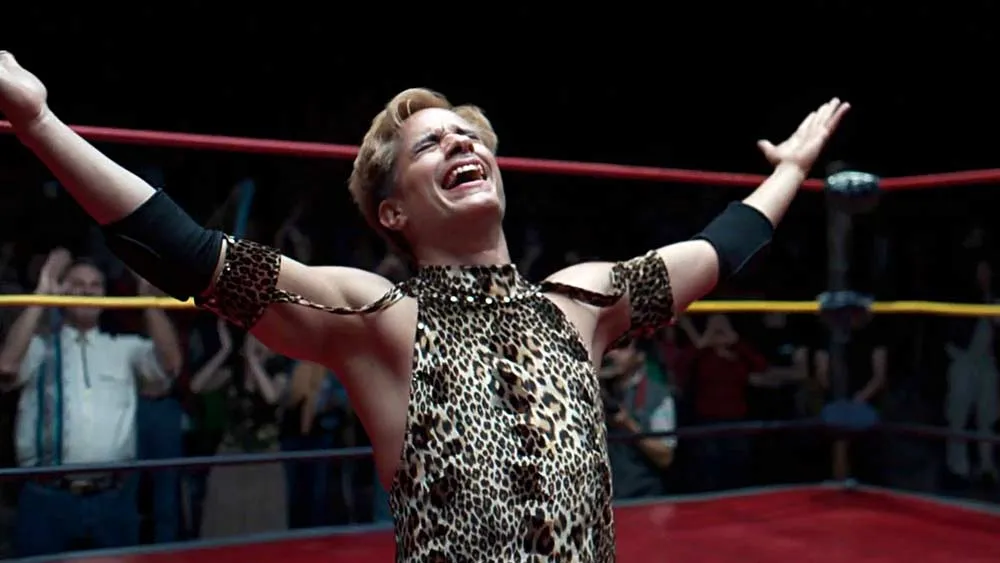 Review: 'Cassandro' Tells the Story of the Real-Life Gay Luchador We Adore
Being queer in sports is a hot button issue in the United States today. But in the early '80s, one Mexican luchador named Cassandro decided to use being gay to his advantage and became a great success. Although his fame is forged upon a cultural view that gay men are villainous, Cassandro exploited that machismo to his advantage and retired a Latinx gay hero.
His life is the basis of the heartfelt movie "Cassandro," which streams on Amazon Prime beginning September 22.
Gael Garcia Bernal plays real life athlete Saúl Armendáriz, a.k.a. Cassandro, a man from El Paso, Texas who travels across the border into Mexico to participate as a luchador (wrestler) in a sport that's equal parts theatrics and stunt show. It's like if drag was a contact sport, but all the men are masked and straight. Or are they?
"Exoticos," or fanciful cross-dressing personas, were usually berated by both the burly macho wrestlers and the spectators. In other words, they were used as bait in the ring in order to antagonize the other wrestlers, who always took them down. Exoticos never won.
For Cassandro, this homophobia played as sport becomes a challenge to usurp tradition and take his place among the big ranks as an exotico. He wants to be the hero, and not a victim. His first taste of that is during an early match where he improvises his stunt choreography and becomes the aggressor, to cheers from the crowd. Thus, his alter-ego Cassandro is born, and with it, an arduous rise to the top with his closeted boyfriend (Raúl Castillo) in tow. Gerardo is also a luchador, but he's terrified of being outed.
Since most of the movie is set in Mexico, a lot of the dialogue is in Spanish with subtitles, but thanks to the engaging story and the unapologetic performances by its stars, "Cassandro" isn't a bore to read.
Currently, the Fédération Internationale de Footbal Association (FIFA) is under international scrutiny because soccer fans continue to chant gay slurs in stadiums as a form of intimidation. For Cassandro to have survived such prejudice in the '80s was unprecedented.
As America struggles to include even one gay person in their movies, "Cassandro" is a triumph for the LGBTQ+ community, even though Bernal himself is straight. Honestly, this could be a Disney story, sans the sex, drugs, and swearing. "Cassandro" is kind of a figurative princess, anyway. America should be more open to exploring these stories in the mainstream.
All of the main characters are flawed, which makes them relatable. Cassandro's mother is struggling with depression, his down-low boyfriend is married, and even the more macho luchadores act out under the weight of their own culture.
Raúl Castillo as Cassandro's boyfriend Gerardo is a standout. He gives his character a strength that crumbles because of his love for Cassandro, thus providing some added conflict to the story. Other significant performances come from Perla De La Rosa as Cassandro's distraught mother Yocasta, and Roberta Colindrez as the over-achieving trainer Sabrina.
A special appearance by musician Bad Bunny, who plays a questioning drug dealer named Filipe, is also fresh; hopefully, a casting agent will take notice and give him a chance to do more challenging roles. He is a movie star in the making.
As for Bernal, he plays Cassandro with an ever-present pall. In interviews, the real Armendáriz seems more energetic and slightly more flamboyant. Even the music score is devoid of any spirit; a melancholic five-note trumpet solo plays throughout the film. And an edge-of-your-seat finale, which would normally be overlaid with a punched-up musical score, is minimized (yet still oddly effective). This is not a ticker tape-and-confetti sports movie. Conversely, the climax isn't meant to be a festive moment, as much as it is an enlightened one. Bring tissues only for emotional support.
"Cassandro" uses the wrestling ring as a metaphor for the violence and bigotry that faces gay people in the world today. Director Roger Ross Williams leavens that action with heaping chunks of character development outside the arena, but it feels unfaithful to the time period. Surely hate crimes and epithets were around in the '80s, especially in Texas and Mexico. In "Cassandro," our hero isn't subjected to such things unless he is in the ring or the locker room.

That said, the ending, although grossly derivative, isn't filled with solipsism (like those of "Rocky" or 'The Karate Kid"); instead, it drives home just how much Cassandro's celebrity as an out gay Mexican luchador inspired other gay Latinx kids to unmask themselves and find their own exotico.
Well-acted and unpretentious, "Cassandro" gets high marks for telling Saúl Armendáriz's inspiring story. But what is supposed to be veridical feels like only half the story when all is said and done.
"Cassandro" opened in theaters Sept. 15 and streams on Amazon Prime staring Sept. 22.
---