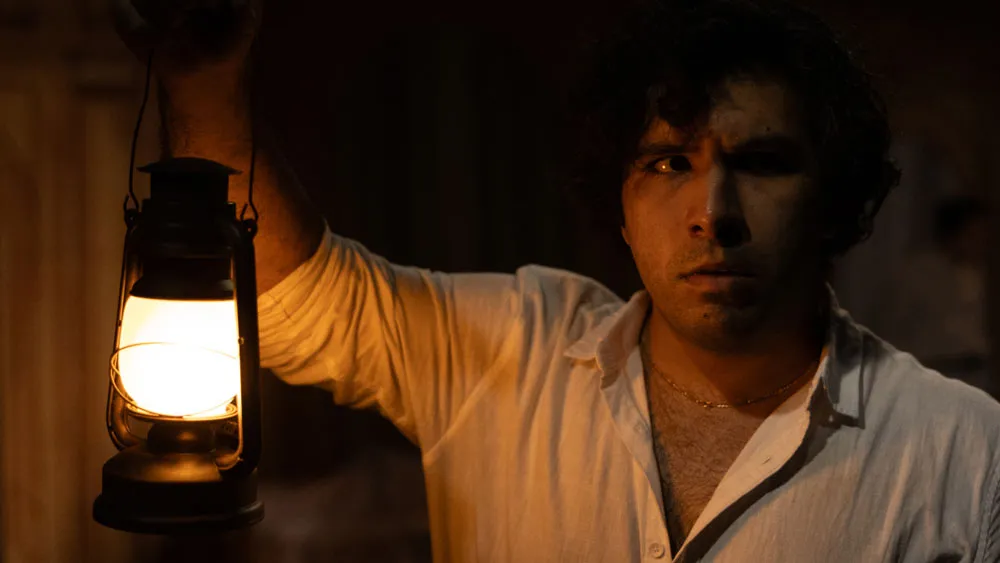 Review: Burbage Offers Exquisite 'Romeo and Juliet'
William Shakespeare's "Romeo and Juliet" is one of his most famous tragedies, a tale of love in a time of war. Burbage Theatre Company's production, which leads off their 2023-2024 season, features spellbinding performances and exquisite staging, courtesy of director Jeff Church.
Ben Pereira's Romeo is the son of Lord Montague (Aaron Morris), Lord Capulet's (Andy Stigler) most hated enemy. The Montagues and Capulets are the wealthiest families in Verona, yet instead of enjoying their lives of luxury, they engage in petty hostilities.
When Romeo attends a lavish costume ball hosted by Lord Capulet, he becomes infatuated with Juliet (Maggie Papa), a ravishing young beauty. One of the most dramatic scenes in the play features Romeo professing his devotion to Juliet as she stands on a balcony.
"Parting is such sweet sorrow," Juliet says as her handsome suitor disappears into the night.
Romeo's friend Mercutio (Victor Machado) meets a gruesome fate while defending his honor, which results in even more bloodshed.
Meanwhile, Capulet and his wife (Francesca Hansen-Dibello) plan to marry Juliet off to Count Paris (Jared Nobrega). Juliet refuses and reveals her love for Romeo, which leaves Capulet incensed. He lashes out at his daughter for daring to defy his wishes.
Shakespeare focuses on human frailties such as greed, lust, betrayal, and the thirst for revenge. When Romeo avenges Mercutio by slaying Tybalt (Eddy Tavares), his own life is effectively destroyed because of his rage.
Capulet's refusal to see outside his own narrow-minded worldview drives Juliet to resorting to desperate measures to be with Romeo.
Montague's refusal to bury the hatchet with his enemy only adds to the growing sense of doom surrounding Romeo and Juliet.
The double suicide isn't the main tragedy of this story, but rather, the realization of Romeo and Juliet believing they had no other choice but to end their own lives. Suicide isn't a solution to pain.
The ensemble cast work hard to bring this story to life.
Pereira and Papa create vivid and believable portraits of two teenagers struggling to stay together despite a growing mountain of obstacles placed in their way.
Tavares, Machado, and Omar Laguerre-Lewis as Benvolio, exhibit plenty of reckless machismo from the men torn apart by mutual animosity.
Another terrific performance is by Amie Lytle as Juliet's nurse, who serves as a confidante to the vulnerable girl.
David Sackal ("Red Velvet") is also mesmerizing as Friar Lawrence, whose plan to aid Romeo and Juliet goes disastrously awry.
The numerous sword fights are all expertly choreographed by Teddy Lytle. Thomas Edwards' lighting design and Trevor Elliott's set design serve to heighten the intensity of the emotions on display.
"Romeo and Juliet" has endured on theater stages all over the world for centuries in part due to its theme of forbidden love. When people are allowed to live their lives freely and love those who they want without fear of retribution or condemnation, the world can be a beautiful place. If only the Montagues and Capulets had learned that lesson sooner.
"Romeo and Juliet" runs through September 24. Burbage Theatre Company. 59 Blackstone Avenue. Pawtucket, RI. For tickets, call 401-484-0355 or visit burbagetheatre.org.
---
Joe Siegel has written for a number of other GLBT publications, including In newsweekly and Options.