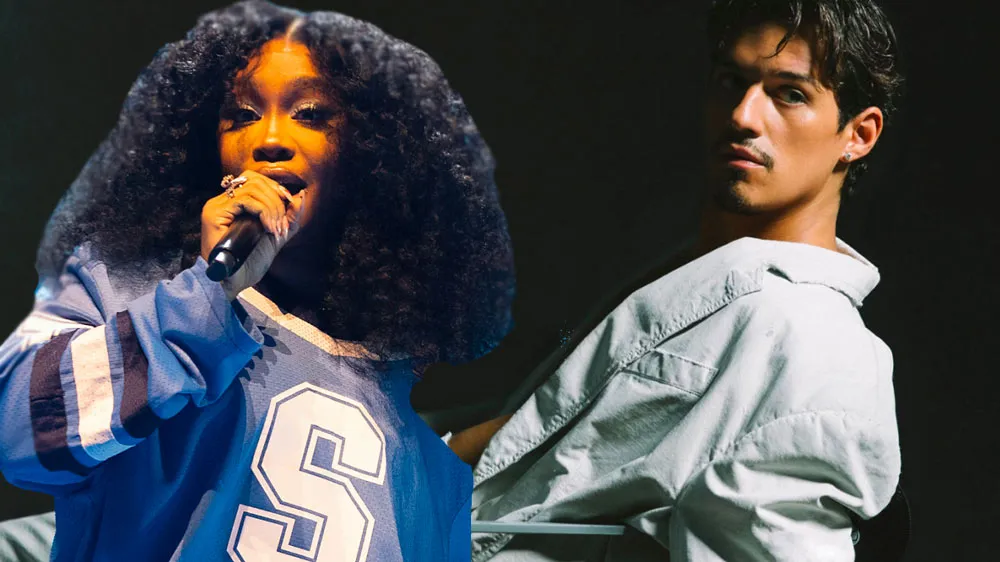 Our Favorite Queer Music Videos from August 2023
We have some absolute bangers – both sonically and visually – to round out this summer of extreme heat and restless energy. The girls really came together to give us capital-C Choreography! Queer artists served up videos that pack a sweet emotional punch, will have you dancing along, and tell stories exploring the magic of gender-bending outfits. We've got it all: Sexy, imaginative concepts, special guest stars, and queer cheerleaders. Let's dive right in!
Tinashe - "Needs"
There's something undeniably fun about turning a grocery store visit into a dance party. Tinashe and her dancers deliver the vibes – they're twerking on top of a food stand; she lies inside the meat counter, naked but for a bikini made of shaved ham – while she sings this flirtatious song about how her "body is a buffet" and we've all got needs.
Jungle - "Back on 74"
The gorgeous "Back on 74" video will get you up and dancing! There's so much movement and joy – in everything from the costumes to the direction – that it's an absolute delight to watch, over and over again. The extraordinarily compelling dance performance is made even better because it feels deeply queer.
Victoria Monét - "On My Mama"
Saying that Victoria Monét slayed this homage to her roots would be an understatement. She is the mood, the vibe, the inspiration, and the Moment with this celebration of her hometown. The costume changes, the choreography (one of which references this meme), the community spirit! Look out for Monét's mom and daughter, who both appear in the video.
Ashnikko - "Cheerleader"
This video is "Bring it On" meets "Yellowjackets," complete with displays of the twisted, raw, brutality in girlhood that Ashnikko has mastered. Cheerleaders in white dresses are deep in the forest, performing an increasingly disturbing synchronized cheer routine while Ashnikko's song expresses their rage and rebellion against the expected.
Chappell Roan - "HOT TO GO!"
Chappell Roan created a dance to correspond with her performances of this cheer-inspired song about wanting to hook up with someone very urgently. In the music video, she teaches those moves to drag queens, her fans on tour, and even to her grandparents. "HOT TO GO!" is a wholesome, vibrant, charming hit of a video.
Lauv - "Love U Like That"
"Love U Like That" is the first single from the upcoming Lauv era dedicated to music about the artist embracing and leaning into his curiosity about queerness. At the end of this video we see Lauv trying on multiple outfits that don't feel right... until he tries on a dress, which he pairs with a sparkling helmet to ride off into the sunset, dress blowing along in the wind. It's radiant and emotional to see him dance in the rain, sing about this love realization, and experience a new kind of freedom here.
Usher - "Boyfriend"
In her post about starring in this music video, Keke Palmer wrote to Usher: "I know I'm a gUrL but when I watched your videos, I never wanted to be the girl in them, I wanted to be YOU. Thank you for making a dream come true." In this clapback to her baby-daddy's ridiculous attempt at calling out the outfit she wore to an Usher concert, Keke serves style and edge in both her Usher-inspired scenes and her "hotel with the girls" moments.
METTE - "Van Gogh"
Fierce choreography and dramatic styling shine boldly to tell this video's story. METTE serves so many stunning looks, each time embodying a different muse of varying genders. The joyful, colorful, experimental energy of the video perfectly mirrors the uplifting spirit of the song celebrating the muses within each of us.
Omar Apollo - "Ice Slippin"
"Ice Slippin'" is about Omar Apollo almost getting into a car accident driving home after the winter he came out to his family. The video beautifully conveys all the conflicting emotions about that moment, including home videos from his childhood and reenactments of medical scans and crash test dummies.
Miley Cyrus - "Used To Be Young"
The "Used To Be Young" video is emotional, focused completely on Miley's face as she sings to the camera about how much she's been through and how much she's grown up since her Disney days. It's simple but powerful, the spotlight shifting slowly as Cyrus' voice booms into our souls.
Rita Ora - "You & I"
"You & I" offers a really touching, intimate look into Rita Ora and Taika Waititi's wedding day, released on the day of their first wedding anniversary. It's a delicate and tender peak into their special day, set to a song about Ora finding herself in the kind of timeless romantic relationship she used to dreamed about.
UMI - "happy im"
The "happy i'm" video has a soft, sun-drenched home video vibe to it. It's a summer of sapphic love, a day spent soaking up the sun and all the love you're feeling. This is a dreamy look into two queer people in love, as it would feel to the couple. It's a lovely, comforting, hopeful thing that feels precious right now.
Maddie Zahm - "Eightball Girl"
Maddie Zahm is out in the wilderness with a bunch of women as she sings this song to her "Eightball Girl," asking for clarity on their relationship. The video's got kind of an earthy, low key "New Rules" style going, as Zahm cozies up with a few different girls who confidently express interest in her.
Kylie Minogue - "Tension"
Kylie Minogue's giving us a playful futuristic concept here, and she looks incredible in the sparkling neon sci-world where she plays all the starring roles. We see Minogue dancing up on a huge screen, then stepping out of it like some kind of holographic giant puppeted version of herself, all while the "Touch me right there" lyrics hit and the bizarre fun escalates exponentially.
SZA - "Snooze"
Justin Bieber, "Beef" actor Young Mazino, producer Benny Blanco, and "Power Book II: Ghost" star Woody McClain feature as video bois in this sultry song. Each of them hang out with SZA in their own world, alternating between wooing, admiring, and arguing with her as she sings. She's in the bedroom with Justin, in a barn with Young Mazino, and Benny Blanco is eating fries and ketchup directly off of her body. The men look great, but the star of the show is the way SZA's body is bodyingggg.
---