Out With Dr. Bill – Exploring Tucson's Culinary Treasures
Hello, EDGE readers! Dr. Bill here, taking a brief hiatus from New York's electric nightlife to unwind at our family's desert retreat in Tucson, Arizona. I'll be back in the Big Apple next week, but for now, let's explore Tucson's rich culinary landscape. Once honored by the United Nations Educational, Scientific, and Cultural Organization (UNESCO), the city's food isn't just delectable–it's a 4,000-year-old tapestry of Mexican and Native American traditions. Join me on this special culinary journey, where each bite is a historical experience, and every meal turns into a warm community gathering.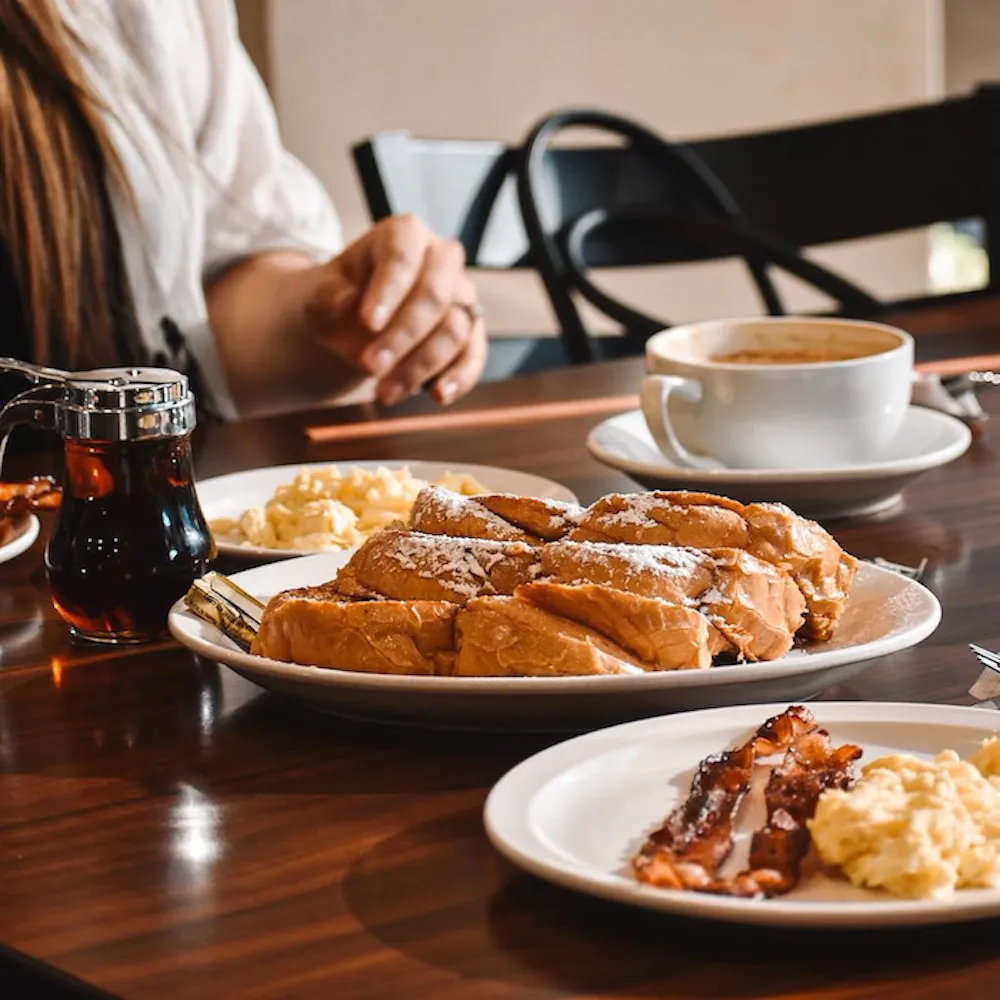 Bisbee Breakfast Club
Living just a stone's throw away from the restaurant, I've long considered the Bisbee Breakfast Club on Broadway and Country Club to be my breakfast sanctuary. Recently, I had the pleasure of introducing my mother to this Tucson gem for the first time. Her eyes widened in delight as she took in the cozy, retro atmosphere, perfectly balancing vintage charm and modern comfort.
From the moment we walked through the door, we felt enveloped in an atmosphere of genuine warmth. The staff, who recognized me from previous visits, greeted us with hearty hugs and cheerful "welcome backs," ushering us to our seats. This level of personalized treatment is a hallmark of the Bisbee Breakfast Club experience, making each visit feel like a joyful homecoming.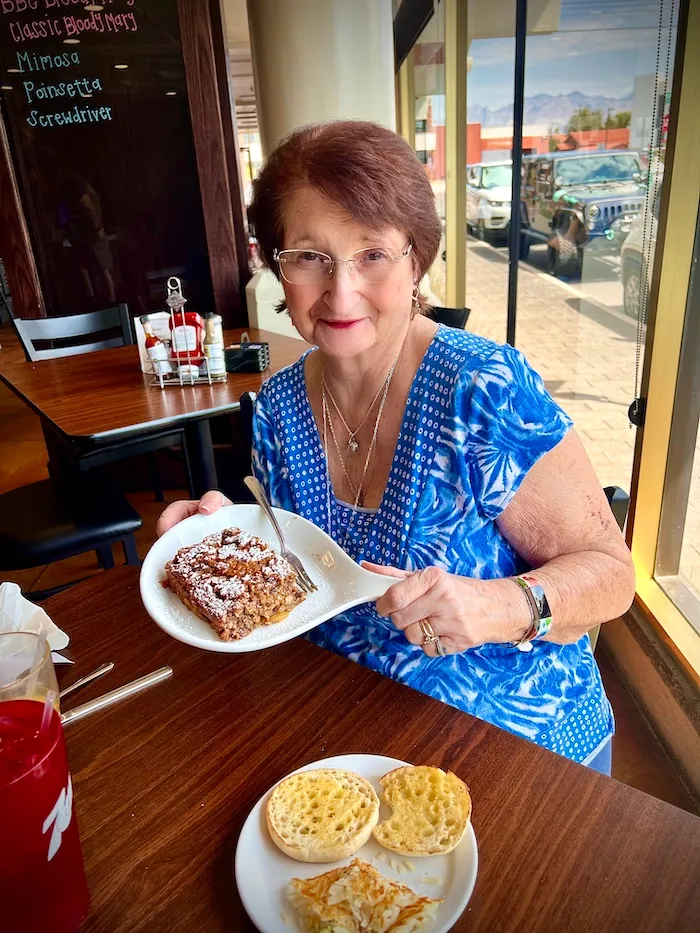 Adding to the restaurant's charm is Ombre Coffee, a quaint café tucked away at the back. As you step inside, the café welcomes you with walls adorned in soothing, earthy tones that seamlessly blend into each other, creating a serene backdrop ideal for savoring your coffee.
What truly distinguishes Ombre Coffee, however, is its dedication to local produce and talent. Almost everything you enjoy here–from the freshly ground coffee beans to the scrumptious pastries–reflects Tucson's homegrown offerings. More than just a café, Ombre Coffee serves as a vibrant community hub, hosting regular events like open mic nights, art exhibitions, and even mini farmers' markets.
On to the menu: my mom, a breakfast aficionado, chose the baked oatmeal and couldn't have been happier with her selection. The dish came as a generous portion, filled with apples, raisins, and cinnamon, and crowned with walnuts and a sprinkle of powdered sugar. It looked–and felt–like a delicious oatmeal brick.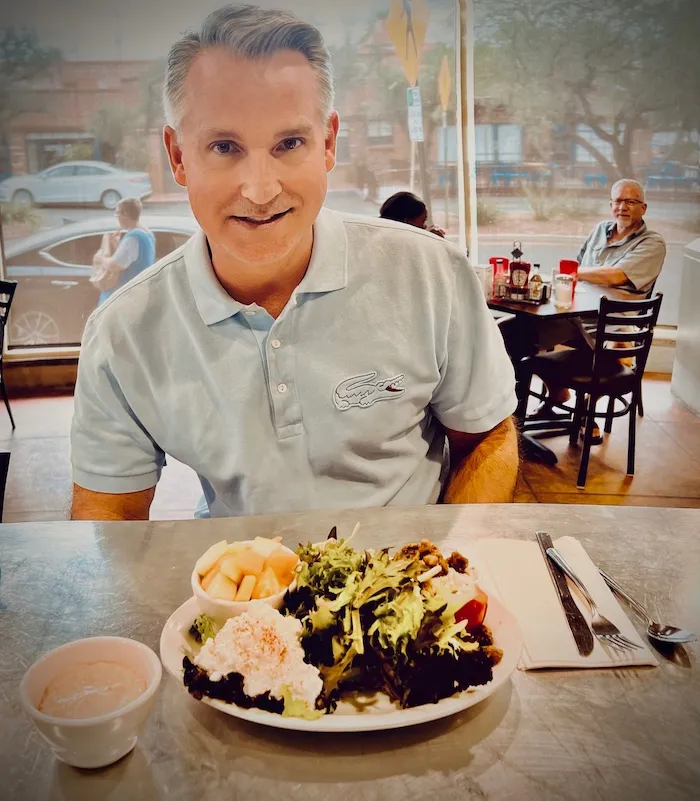 As for me, I opted for the Crazy Burro. This hefty dish featured a large flour tortilla brimming with scrambled eggs, onions, potatoes, and black beans. A blend of melted cheddar-jack cheese and green sauce adorned the top, along with slices of fresh avocado. Served with a side of hash browns that I shared with my mom,the Crazy Burro transformed from a meal into a meaningful experience that enriched my morning.
If you're ever in Tucson and yearning for a breakfast experience that blends sumptuous food, warm service, and a comforting ambiance, make sure to put Bisbee Breakfast Club at the top of your must-visit list. For my mother and me, it was more than just a meal–it was an enriching experience that deepened our appreciation for the simple, yet skillfully executed, joys of life.
When my mom announced that the Bisbee Breakfast Club would become one of her new regular hangouts, I was overjoyed. The restaurant didn't just meet its stellar reputation; it exceeded it, winning over my mom and reaffirming its place as my favorite breakfast spot in Tucson.
So whether you come for the mouthwatering breakfast offerings or decide to linger for artisan coffee at Ombre Coffee, prepare yourself for more than just sustenance. You're in for an experience that nourishes both body and soul.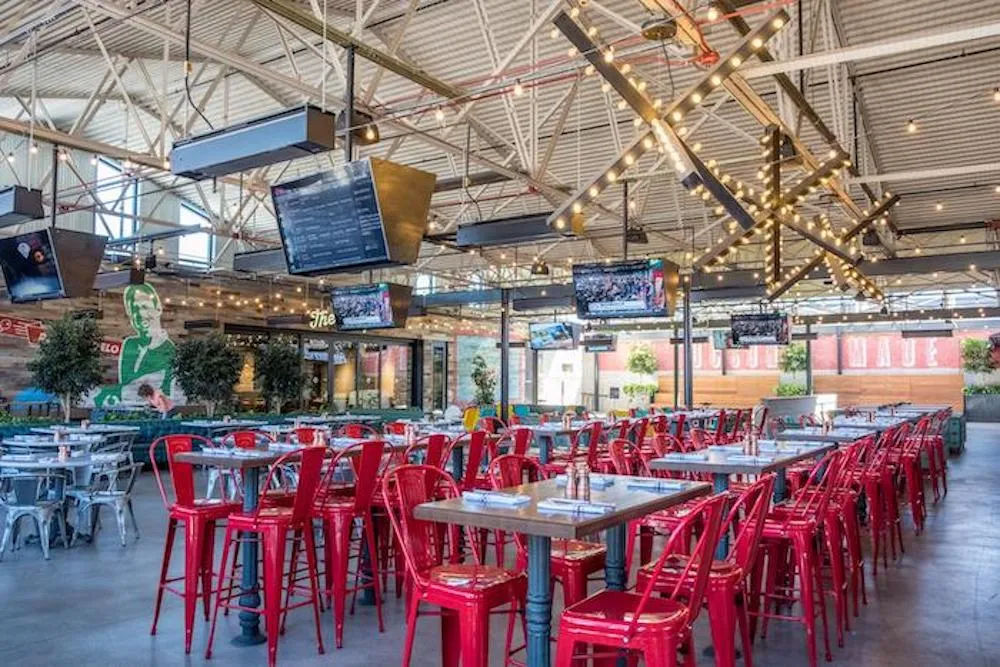 Culinary Dropout
Whenever I escape to Tucson for a desert weekend getaway, dining transforms from a simple leisure activity into a sacred ritual. Having been raised in the Southwest, I've long been an aficionado of Sam Fox's eateries.
When Culinary Dropout hit the Tucson scene in 2019, it was like the missing link in a culinary chain, finally completing the city's vibrant food landscape.
My inaugural visit to Culinary Dropout was like encountering an old friend freshly returned from a global adventure–familiar, yet exhilaratingly fresh. Imagine a gastropub melding with the quintessential backyard party: cornhole, ping-pong, and shuffleboard, all housed within an industrial-chic, rustic setting that could be Tucson's answer to urban sophistication.
Last week, I introduced my brother-in-law Jon to this Tucson gem. Jon, the CEO of the Pima County Fair, is to comfort food what a sommelier is to wine. Both carnival eats and comfort food possess the magical ability to transport us to simpler, happier times.
Speaking of carnival classics, consider the Sonoran Fire Dog. This isn't your run-of-the-mill hot dog; think of it as the James Bond of frankfurters–elegant, spicy, and cosmopolitan. Originating in Hermosillo, Sonora, it's a quarter-pound, all-beef hot dog wrapped in hickory-smoked bacon and adorned with a fiesta of toppings. It's the kind of delicacy you'd find at events like Jon's Pima County Fair.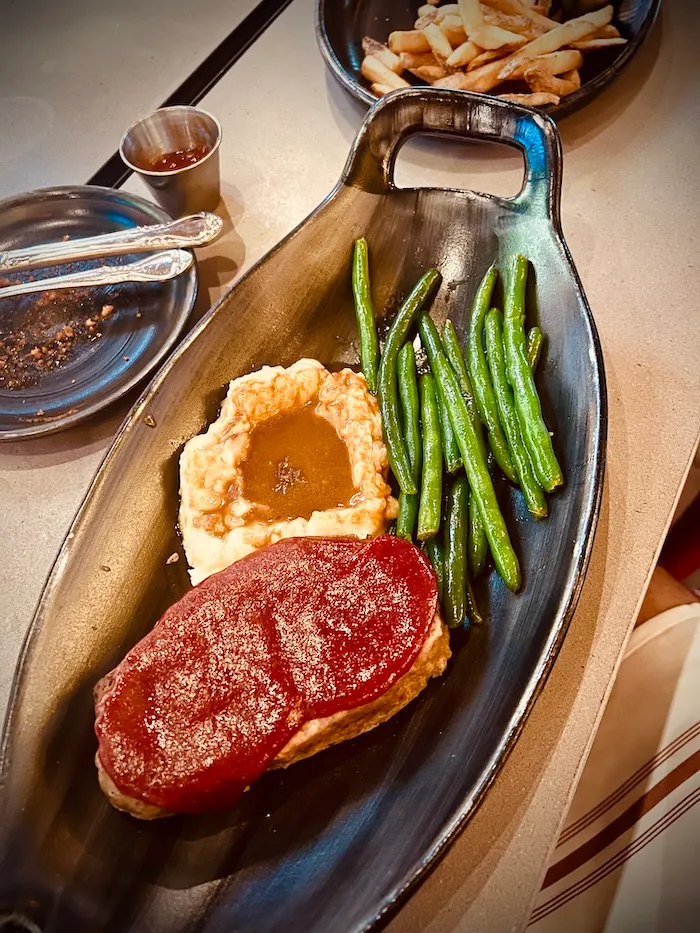 For some culinary context, my sister-in-law Lisa Baker is a notable figure in the carnival food world. She once guest-starred on the Cooking Channel's "Carnival Eats," showcasing a bacon-wrapped jalapeño stuffed with cream cheese–an undeniable show-stopper.
Back at Culinary Dropout, Jon and I secured bar seats, prime real estate for people-watching and casual conversation. With the University of Arizona back in session, the atmosphere was electric, filled with students forging friendships destined to last a lifetime.
But here's the ultimate selling point: regardless of whether you're a college freshman or a Tucson veteran like myself, the staff treat you as the evening's VIP. That's no small feat, especially given the horror stories I heard from my sister's waitressing days.
My personal favorite dish? The meatloaf, hands down. Complemented by velvety mashed potatoes and crisp green beans, it's elevated soul food. And don't even get me started on their onion rings–crispy golden rings served with a bacon BBQ sauce so divine you'll wish it was sold by the gallon.
To sum it up, Culinary Dropout isn't merely a place to eat; it's a quintessentially Tucson experience, compelling you to return for seconds, thirds, and countless more servings.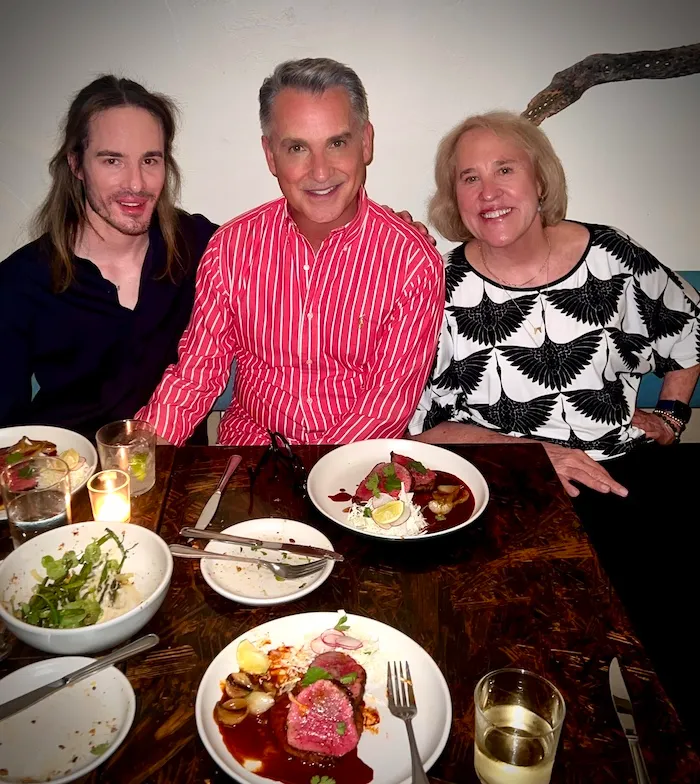 Tito & Pep
This past Saturday, I had the pleasure of dining at Tito & Pep, a revelation for any connoisseur of culinary artistry and distinctive atmospheres. Situated in midtown Tucson, this exceptional restaurant seamlessly marries the whimsical aesthetic charm of Wes Anderson with the urbane elegance of Palm Springs. All of this is punctuated by a dash of art deco sophistication. Far from existing solely as a whimsical gastronomic daydream, Tito & Pep manifests as a tangible and extraordinary reality.

Allow me to introduce my dinner companions for the evening: Melissa and Anthony Vito-Bollong. Melissa serves as the Vice Provost of Academic Innovation at UTSA, and previously held the role of Senior Vice President for Student Affairs at the University of Arizona–my own alma mater. Her son, Anthony, is a real estate agent with Roy Long Realty, the trusted firm that facilitated our Tucson home purchase.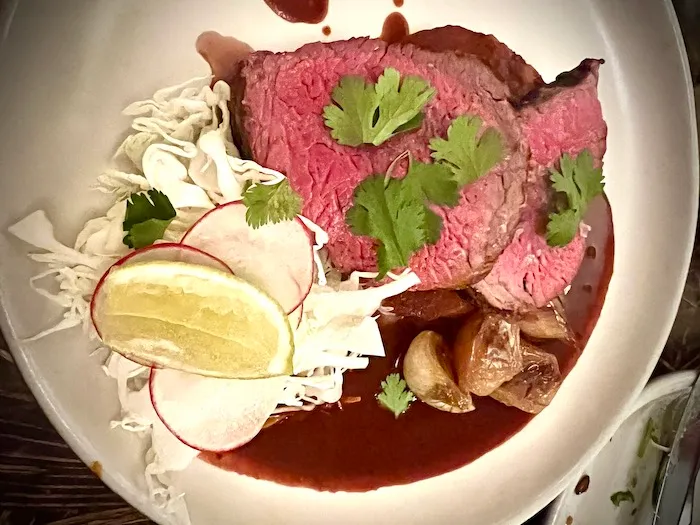 When the three of us got together, it was an unspoken agreement that we had set sail on a culinary odyssey. And what was an epicurean escapade without specialty cocktails? For me, the voyage hadn't been complete without a Saguaro Blossom in hand–a sublime blend of reposado tequila, Combier elixir, elderflower, and lemon.

This past weekend, our unanimous culinary choice was the daily steak special. In the context of dining out, such specials can be likened to the chef's curated playlist for the evening; missing even one track would be a missed opportunity.
Interestingly, Melissa, who usually has a penchant for seafood, enthusiastically joined us on this meat-centric adventure. She savored her steak as though it were a premium fillet of the finest Dover sole.
The steak itself was exceptional, but what made it even more remarkable was the masa, a corn-flour pancake, in which a variety of herbs and a special cheese were incorporated. This cheese, known as "Mennonite," but locally called Chihuahua cheese, is soft and can be made from either raw or pasteurized cow's milk.
The masa was drenched in a sauce known as Chile Colorado, made from dried red peppers. Initially, I thought the name "Chile Colorado" implied a connection to the state of Colorado. However, when I pronounced it in my best Spanish accent as "Chile color-ado," the true meaning became clear: in Spanish, "Colorado" translates to "colored red." So, Chile Colorado is essentially a Mexican-style stew featuring a red Chile sauce.

In addition to the steak, our table was graced with two standout salads. The Summer Squash Salad consisted of charred squash garnished with queso fresco, cress, pepitas, and cilantro.
Equally delightful was the Radicchio & Little Gem Salad–a tapestry of snap peas, radishes, and manchego, topped with a pepita crisp and enlivened by a lemon-soy vinaigrette. Not only was it a gustatory delight, but it also offered a vegan and gluten-free pairing option that complemented any main course perfectly.

Stepping into Tito & Pep, one gets the sense of having discovered Tucson's best-kept culinary secret. The ambiance buzzes with palpable excitement, an experience you'll undoubtedly want to share. Situated on bustling Speedway, the restaurant manages to exude an unexpected tranquility, making you forget you're mere yards from the road. Our choices–steak specials, family-style salads, and an array of vegetables–were an unmitigated triumph. The steak presented a kaleidoscope of flavors so exquisite that even Melissa, our habitual seafood aficionado, was utterly captivated.

Let's not overlook the exceptional service. Our waiter blended laid-back, Hispanic surfer-dude ease with Michelin-starred expertise, guiding us through the menu like a gastronomic GPS.

And for those with specific dietary preferences? Rest assured, Tito & Pep has it all: Paleo? Yes. Gluten-free? Absolutely. Low-carb yet flavor-packed? A resounding yes. It's hardly surprising that this gem, owned by a third-generation Tucsonan Chef John Martinez, has been honored among the New York Times' Top 50 restaurants. Chef Martinez brings a blend of innovative culinary techniques and deep-rooted local heritage to the table, embodying the essence of Tucson's vibrant food scene. If you haven't yet had the pleasure, do yourself a favor and visit. If you've already experienced it, what's holding you back? Return!

In my humble, metropolitan opinion, Tito & Pep transcends the conventional dining experience. It encapsulates an ambiance, a vibe, and a unique "Tucson state of mind." Whether you're a New Yorker keen on boasting about your desert finds, or a local in search of a venue where each morsel enhances friendships, this establishment beckons you. So, Melissa, Anthony, when shall we regroup for another culinary sojourn? My spirit and appetite are already primed for the occasion. Cheers!
Tucson's Food Scene: Serving Community One Bite at a Time
In Tucson, our food scene is a vibrant blend of flavors and experiences, from cozy breakfast spots to chic eateries like Culinary Dropout and Tito & Pep. Each restaurant serves up not just a meal, but a slice of community. Whether you're a foodie hunting for your next culinary discovery or just someone who loves a good plate, every bite you take adds to the rich, tasty tapestry that is Tucson's dining landscape.
---