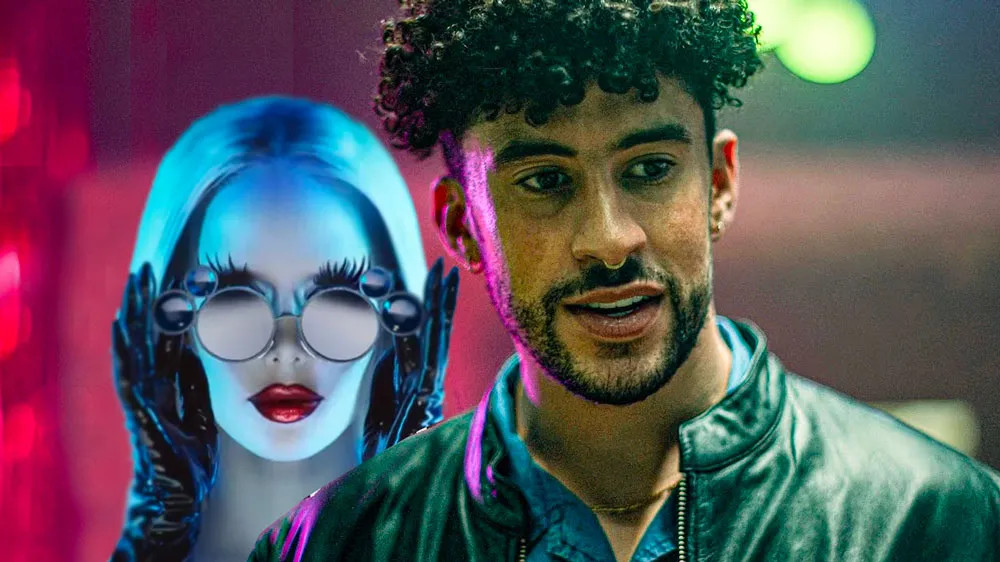 Streaming Queer: September 2023
As the Fall creeps close, we usher in a season of increasingly eerie shows. We've got all the blood and gore that you'd expect from a spin-off of "The Boys," and whatever mischief Ryan Murphy has cooked up for his latest season of "American Horror Story," in which Kim Kardashian stars.
We've also got one last hurrah with the cast of "Sex Education," and lots to learn from a biopic of a queer hero played by Gael García Bernal. September offers dark magic, motherhood at its most haunting (and haunted), and queer relationships shining even at the heart of a world falling apart.
"Bad Things"
Stewart Thorndike describes her latest film, a queering of "The Shining," as "a tale of female rage." The haunting film (in which Hari Nef, Gayle Rankin, Molly Ringwald, Annabelle Dexter-Jones, and Rad Pereira star) follows a group of queer and trans friends on a weekend getaway at a wintery hotel where many women have died, which of course spirals into a dark, psychological, bloody mess. With this film, Thorndike "wanted to create a world of women and non-binary people who shake off polite conditionings and finally roar." She describes the heart of "Bad Things" as a "dark celebration of motherhood and all its splendid viscera."
"Bad Things" is available to stream now on AMC+.
"How to Blow Up a Pipeline"
This action-thriller was directed by Daniel Goldhaber, who co-wrote the screenplay with queer "Marvel's Runaways" actor Ariela Barer and Jordan Sjol. The story follows a group of environmental activists and their audacious plan to, as one may expect from the title, blow up an oil pipeline as a form of protest action. The film is based on a literary work of nonfiction of the same title which, rather than providing the instructions to do so, discusses the moral and societal arguments that more disruptive action is required to achieve real climate justice. We're excited to see queer actors Sasha Lane and Lukas Gage in this alongside Barer.
"How to Blow Up a Pipeline" is available to stream now on Hulu.
"The Wheel of Time" Season 2
The second season of the hit fantasy series, based on Robert Jordan's best-selling novels, returns for more big-budget magic and rich adventure. The trailer features Halsey's "Control" and opens with the lead character, Moiraine (Rosamund Pike), who was revealed in season one to be one of many queer characters on this show. This season focuses heavily on Rand al'Thor (Josha Stradowski), who must reckon with developing powers of the reincarnated hero known as the Dragon Reborn. Moiraine believes this means he would have the power to either save the world or destroy it. "The Wheel of Time" is filled with breathtaking visual effects, magnificent landscapes, and multilayered lore we can't wait to dive into.
"The Wheel of Time" Season 2 premieres 1 September on Prime Video.
"Disenchantment" Part 5
Queer actor Abbi Jacobson voices Bean, the lead of this playful animated fantasy series, who "just wants to kill [her] mom and get on with [her] life" in its final season. Bean's mom is the evil Queen Dagmar (Sharon Horgan, "Bad Sisters"), wicked ruler of Dreamland. The official description for this final dose of "Disenchantment" tells us that "It all endeth here. The misadventures of hard-hitting, hard-drinking Queen Bean, her feisty elf companion Elfo, and her personal demon Luci (Eric Andre) culminate in an epic battle for Dreamland." This high-stakes quest means Bean must master her magical powers while outrunning a prophecy that says she will kill someone she loves.
"Disenchantment" Part 5 premieres September 1 on Netflix.
"Star Trek: Lower Decks" Season 4
This animated spin-off of the "Star Trek" franchise follows the missions of the ship's "lower deckers," who are typically seen as less important, while the senior staff we're used to seeing (Captains, Commanders, etc) only act as supporting characters. This season's delightful synopsis reads: "In season four of Star Trek: Lower Decks, an unknown force is destroying starships and threatening galactic peace. Luckily, the crew of the U.S.S. Cerritos isn't important enough for stuff like that! Instead, Ensigns Mariner, Boimler, Tendi, Rutherford and Provisional Ensign T'Lyn are keeping up with their Starfleet duties, avoiding malevolent computers, and getting stuck in a couple caves – all while encountering new and classic aliens along the way." We're also hoping for more queer shenanigans along the way, particularly as its lead Beckett Mariner (Tawny Newsome) is casually, enthusiastically queer.
"Star Trek: Lower Decks" Season 4 premieres September 7 on Paramount+.
"The Morning Show" Season 3
"Unexpected alliances form, private truths are weaponized, and everyone is forced to confront their core values both in and out of the newsroom" this season on "The Morning Show." The series delivers incredible high-stakes media industry drama as the staff of this fictional network must face the consequences of a cyber attack on their workplace. There's some fierce tension brewing in the trailer between queer characters Bradley (Reese Witherspoon) and Laura (Julianna Margulies). Jon Hamm and Nicole Beharie join this season's cast, and so do queer actors Tig Notaro, Natalie Morales, and Stephen Fry.
"The Morning Show" Season 3 premieres September 13 on AppleTV+.
"Theater Camp"
This mockumentary is a hilarious and heart-filled love letter to the theater, and to everyone who makes the community that "turns cardboard into gold" the special place that it is. "Theater Camp" follows a summer-long quest to put on a show so spectacular that it saves their camp from bankruptcy. Talented young actors charm and entertain alongside trans comedian Patti Harrison, out actor Nathan Lee Graham, and star of the summer Ayo Edebiri. There's so much queerness, and tons of queer characters –campers and counselors alike– in this film, which stars real-life friends Ben Platt and Molly Gordon as best friends and drama instructors, and Platt's fiancé Noah Galvin as "an underestimated production manager turned show-stopping musical lead." Platt and Galvin also co-wrote the screenplay with Molly Gordon and Nick Lieberman, who then co-Directed this film.
"Theater Camp" premieres September 14 on Hulu.
"Wilderness" Season 1
Jenna Coleman, Oliver Jackson-Cohen, and Eric Balfour star in this thriller alongside queer actor Ashley Benson. When Liv (Coleman) learns that her husband, Will (Jackson-Cohen), is having an affair, her emotions quickly turn from heartbreak to a fury that inspires a calculated plan. As per Prime Video: "The couple embark on an American road trip Liv's fantasized about since she was little, from the Grand Canyon on through Yosemite, before ending up with a hedonistic weekend in Las Vegas. For Will, it's a chance to make amends; for Liv, it's a very different prospect–a landscape where accidents happen all the time. The perfect place to get revenge." As the perfectly-placed Taylor Swift song in the teaser tells us: "Look what he made her do..."
"Wilderness" premieres 15 September on Prime Video.
"The Super Models" Season 1
"How do you define the word 'Supermodel'?" This four-part documentary follows the careers and cultural impact that Naomi Campbell, Cindy Crawford, Linda Evangelista, and Christy Turlington had on the 90s' fashion world, and beyond. The iconic supermodels gave interviews for this series, sharing details about their careers as far back as the 1980s, but they also executive produced it, and we appreciate that we'll be gaining these fascinating insights on their own terms. The series is also co-Directed by openly gay Oscar-winning Director Roger Ross Williams.
"The Super Models" premieres 20 September on Apple TV+.
"Sex Education" Season 4
When Otis (Asa Butterfield) arrives at his new school with a plan to start an ethical sex therapy clinic, he not only absolutely fumbles his introduction as local sex therapist to a new group of peers by implying that he's in a sexual relationship with his mother (Gillian Anderson, who returns this season), but learns that there's already a talented sex therapist on campus. The existence of this therapist, named O (Thaddea Graham), and the much more progressive, inclusive school environment at this new school, is the catalyst for Otis' journey this season. Ncuti Gatwa and Emma Mackey also return for this final season of the beloved queer sex-positive show, while Jodie Turner-Smith, trans newcomer Anthony Lexa, and Dan Levy join the cast.
"Sex Education" Season 4 premieres September 21 on Netflix.
"American Horror Story: Delicate" Part 1
This is the first "American Horror Story" season to be based the pregnancy horror novel "Delicate Condition" by Danielle Valentine and it's giving strong doses of: body horror in Hollywood, the gruesome unspoken details of pregnancy, and the trauma of medical gaslighting through the lens of privilege. Actress Anna Victoria Alcott (Emma Roberts) finally gets pregnant after multiple rounds of IVF, but then she is informed by her doctor that she's had a miscarriage. Except... her body continues developing as if the pregnancy is ongoing. As the buzz around her new film grows, the actress is terrified that something may be targeting her, and her desire for motherhood. Kim Kardashian and queer actor Cara Delevingne lead the series with "AHS" album Roberts. Queer actors Michaela Jaé Rodriguez and Zachary Quinto have recurring roles alongside Matt Czuchry, Annabelle Dexter-Jones, and Odessa A'zion.
"American Horror Story: Delicate" premieres September 21 on Hulu.
"Cassandro"
"Cassandro" is the electrifying, emotional true story of gay Mexican wrestler and icon Saúl Armendáriz (Gael García Bernal). The film explores Armendáriz's journey from young amateur wrestler who struggled to make his mark and find his place in the sport, to international stardom after becoming an exótico and creating the character of Cassandro, the "Liberace of Lucha Libre." "In the process, he upends not just the macho wrestling world, but also his own life." We're looking forward to seeing queer actor Roberta Colindrez ("A League of Their Own," "Vida"), Raúl Castillo ("Looking"), and Bad Bunny, whose appearance in the trailer hints at a romantic arc between his character and Cassandro. "Cassandro" is the narrative directorial debut for openly gay Oscar-winning Director Roger Ross Williams.
"Cassandro" premieres September 22 on Prime Video.
"Survivor" Season 45
"Survivor" Season 45 continues the trend of a reduced-to-26 days of survival games, like all of the seasons since the COVID-19 pandemic began. This season features 18 contestants on three different tribes and will have 90 minute episodes. We don't know much about the castaways –yet– but we do know that one man wants the million-dollar win so that he can move out of the house where he lives with his grandmother, while another is inspired by his great-grandfather's bank-robbing past. Bruce Perreault, the contestant who was medically evacuated after an injury very early in the Season 44, returns as a castaway this season.
"Survivor" Season 45 premieres September 28 on CBS and Paramount+.
"Gen V" Season 1
Jaz Sinclair leads this "savage" spin-off of gory superhero show "The Boys." Sinclair plays Marie Moreau, an incoming freshman at Vought-run Godolkin University for young supes, the first generation to know about Compund V. Marie is highly motivated to become the first Black woman to join the Seven, but her determination is sidetracked by fellow students who see her as a threat, and a mystery she begins to unravel. Chance Perdomo ("Chilling Adventures of Sabrina"), Shelley Conn ("Good Omens"), Maddie Phillips ("Teenage Bounty Hunters"), Patrick Schwarzenegger, and out actor Marco Pigossi are among the ensemble cast. We're most intrigued to see how the show portrays its local gender-shifter Jordan Li (played by both Derek Luh and London Thor).
"Gen V" Season 1 premieres September 29 on Prime Video.
---