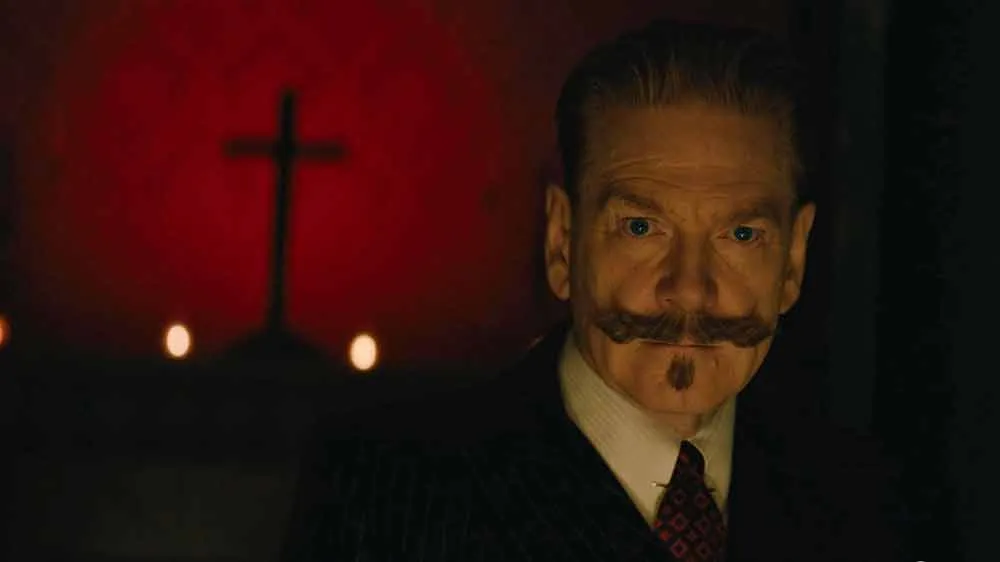 Review: 'A Haunting in Venice' Spooky, Funny as Branagh Returns to Poirot
In the third Kenneth Branagh-as-Hercule-Poirot installment of the actor/director's Agatha Christie cinematic treatments, "A Haunting in Venice," we are treated to a dark and spooky tale that toys with the supernatural and is often quite funny (thanks mostly to a terrific Tina Fey as an amped-up Christie type, by way of Peggy Guggenheim).
This mysterious thriller is adapted by Michael Green from Christie's novel "Hallowe'en Party," but the setting has been changed from a country house in England to a haunted palazzo in Venice, Italy. The switch works magnificently. Branagh perspicaciously makes this gorgeous city a vital part of the story, much like Nicolas Roeg did in his eerie psychological thriller "Don't Look Now." Not only is Venice one of the most stunning locales on Earth, it's also one of the creepiest and most frightening, especially at night.
The plot picks up in 1947, post-"Death on the Nile," where a traumatized Poirot (Branagh) has permanently retired to Venice (or so he thought), but is soon visited by an old writer friend, Ariadne Oliver (Fey). Her career has thrived on her penning works of fiction based on Poirot's mystery-solving. Ariadne insists Poirot attend a Halloween-night séance at a palazzo owned by former opera singer, Rowena Drake (a deeply affecting Kelly Reilly), to try and contact her dead daughter. The medium, Joyce Reynolds (Michelle Yeoh), may be a charlatan, and Ariadne wants Poirot to expose her. Also in attendance are the tormented Dr. Leslie Ferrier (Jamie Dornan) and his son (Jude Hill), as well as a slew of others.
Surprising to no one, a murder is committed and Poirot, like Michael Corleone in "The Godfather Part III," is "pulled back in" to solve the new case.
Casting is usually key to the success of these films ("Knives Out" anyone?), and Branagh has, once again, assembled terrific talent, reuniting Jamie Dornan and Jude Hill, both so good in his film "Belfast" as a different kind of father and son. Dornan brings a welcome intensity to his role.
The wonderful Italian actor Riccardo Scamarcio is Poirot's bodyguard, and Kyle Allen has a few impactful scenes as the dead girl's former boyfriend.
"Haunting" has some chillingly macabre moments, period perfect costumes by Sammy Differ, stunning camerawork via Paris Zambarloukos ("Belfast"), a fantastic score courtesy of Hildur Gudnadóttir, and keen production design by John Paul Kelly.
This may be the best of the Branagh/Christie cinematic treatments since the previous two, "Murder on the Orient Express" and "Death on the Nile," set the groundwork for a complex, deeply damaged Poirot and that element gifts these films their raison d'etre.
One complaint: In the best Christie adaptations (Lumet's "Murder on the Orient Express" set the extremely high bar), Poirot's resolution makes sense because you've seen most of the clues in the preceding narrative, so if you go back and rewatch the film or, as murder-mystery aficionados do, pay special attention to detail as the narrative unfolds, you can solve the crime(s) on your own. But here that's not exactly the case. Some of Poirot's deductions seem to come out of nowhere. Still, using reverse psychology, amateur sleuths may have this one figured out in the first reel.
"A Haunting in Venice" opens in theaters on Friday, September 15.
---
Frank J. Avella is a proud EDGE and Awards Daily contributor. He serves as the GALECA Industry Liaison and is a Member of the New York Film Critics Online. His award-winning short film, FIG JAM, has shown in Festivals worldwide (figjamfilm.com). Frank's screenplays have won numerous awards in 17 countries. Recently produced plays include LURED & VATICAL FALLS, both O'Neill semifinalists. He is currently working on a highly personal project, FROCI, about the queer Italian/Italian-American experience. He is a proud member of the Dramatists Guild. https://filmfreeway.com/FrankAvella https://muckrack.com/fjaklute