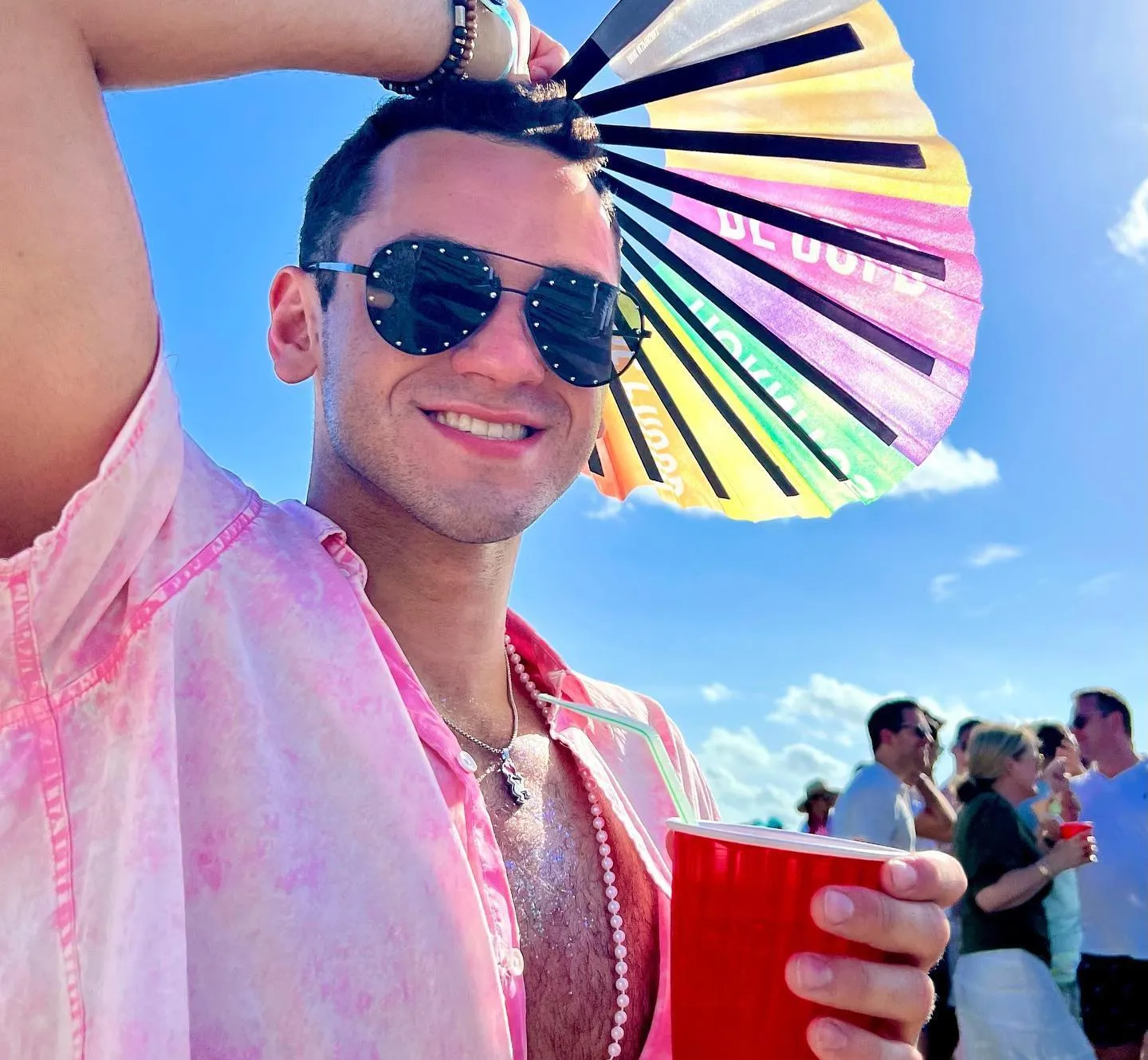 Meet Nick Albiero, Out Swimmer Headed to 2024 Olympics
When it comes to swimming, there aren't a lot of LGBTQ+ athletes for young people to look up to. Trans swimmer Lia Thomas has been the biggest name in the world in this arena, forging discussions around the country about the ability of transgender women to compete with other cisgender women at the national and even potentially the Olympic level. Focusing on the men's side of things, Nick Albiero now gets to take the baton as the subject of inspiration for gay male swimmers. Albiero is a multi-time NCAA championship swimmer who announced that he will attempt to participate with the Brazilian national team in the Paris 2024 Olympics.
Albiero has been swimming for the University of Louisville throughout his college career and has been an Olympic hopeful with the American team. He is leveraging his dual citizenship with the United States and Brazil (thanks to his father's Brazilian heritage) to switch sides and go international. It's always a great time to celebrate openly gay athletes such as Albiero, so let's peruse his Instagram and find out about this sexy swimmer's journey through life and sports so far!
Our favorite handsome LGBTQ+ celebrities can look even cuter next to a puppy or a kitten. These animals are certainly adorable, but what about something a little more exotic? Albiero looks like he's having an excellent time next to the capybara, a furry happy-looking Australian furball who exudes positive vibes and enhances any scene it's in. The rodent is illegal to own in Brazil, but it doesn't hurt to pet one while visiting!
As Albiero has become more open about his sexuality, he's decided to share all of the fun he has celebrating his Pride at events during the month of June. Here he has an awesome rainbow shirt on, some swagged-out shades, and he receives many compliments in the comments section for his fire ensemble. We agree that he looks absolutely incredible!
Albiero may no longer be competing at the collegiate level now that he graduated from Louisville, but he remains very relevant as a professional swimmer for the international club MTC Natação. Here he celebrates some of his recent achievements on the swimming team and thanks those who have helped him to improve and work towards his goal of appearing in the Olympics.
Albiero looks like he enjoyed a return weekend to Louisville with friends and family. Commenters loved seeing the swimmer look happy and shredded in nothing but his one-piece underwear, with just a hint of chest and stomach hair to add to the sex appeal of the out-and-proud athlete!
Albiero publicly came out on Instagram following a Pride event in June of 2022. According to an article on TeamUSA.com, he was planning on writing an elaborate, heartfelt explanation of his coming out to the world in the caption. After deliberation, Albiero decided that a blunt, to-the-point coming out would be even better! Sometimes letting the joy of the moment speak for itself is all the people around you need to see. If that isn't good enough, it's better to find new friends and family. Comments from other athletes and coaches talking about what an inspiration Albiero is to the sporting world surely let him know that he made the right choice.
It looks like talent runs in the family! Albiero's sexy meter just went up tenfold after this post, demonstrating his love and support for his sister, a fellow swimmer for Louisville. He congratulated the entire Lady Cards team and posted a picture of him with his father and sister on the first slide.
Seeing someone's origin story really gives a good perspective regarding how hard they worked to get where they are now. This throwback from 2016 shows when Albiero got his acceptance into Louisville to swim at the collegiate level, and he turned that chance into medals, trophies, and much more to come.
Fans were ready and willing to thirst over Albiero in this montage of photos with the swimmer and his friends featured on the beach. Once again, we agree that he looks fantastic with a little bit of a rug on his chest, something swimmers don't get to have because hair slows you down in the pool. Albiero looks to be taking advantage of his off time from the sport by growing out his chest hair, and we very much appreciate it!
More chest carpet, as Albiero calls it, in this photo of Albiero with presumably a teammate to his right. The Brazilian has no right to be that sexy and that good at swimming, right?
Albiero bids adieu to the University of Louisville in this graduation post from May 2021. He says the four years spent there were the best of his life, a sentiment many college students hopefully agree with.
To show you how successful Albiero was at Louisville, this post coronates a fifth straight ACC Championship with the Cardinals. Now that's a lot of trophies on the nightstand and a decorated resume for the future!
---