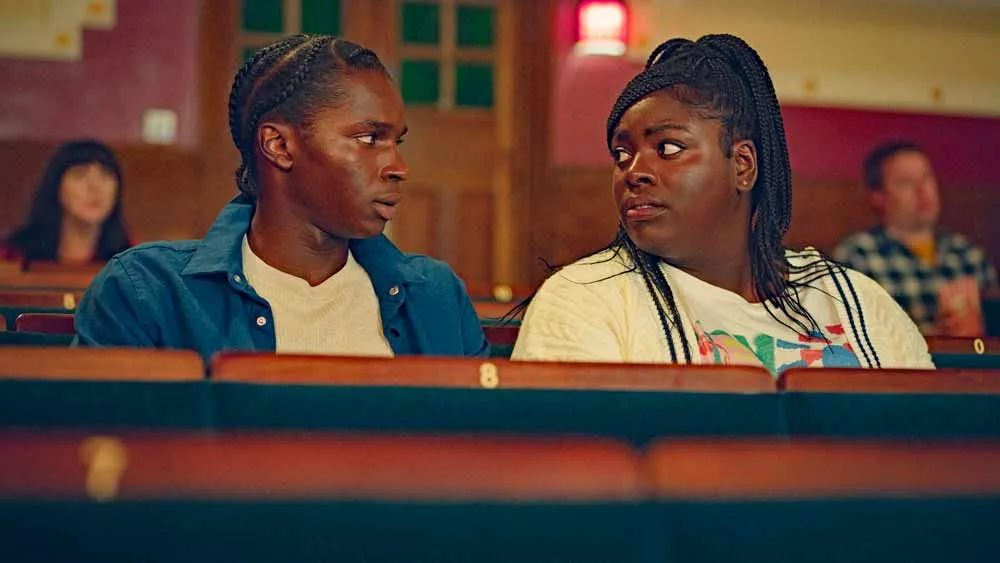 Review: 'Sex Education' Stays Fresh and Funny in the Fourth and Final Season
The timely, edgy, and always irreverent British comedy series "Sex Education" returns for Season 4 on Netflix on September 21. The showrunners were met with a sad sigh from longtime fans when it was announced that this season would be the last. Series creator Laurie Nunn shared in an open letter her excitement to bring these last episodes to the fans, especially after Season 3 saw many of the characters venturing into the uncharted landscape of college and a whole new school.
Otis (Asa Butterfield) and Eric (Ncuti Gatwa) navigate the college hierarchy at a brand-new school as the new season opens. Cavendish is completely unlike Moordale Secondary, where the pair felt largely marginalized. At Cavendish they have a great opportunity to fit in. Otis follows in his mother Jean's (Gillian Anderson) footsteps, wanting to provide the campus with some proper sex-positive sex therapy. Unfortunately for him, someone else on campus has established a clinic as well, and they are ready to go head-to-head.
Meanwhile, Eric is maneuvering himself into the popular clique. He finds that Cavendish is full of layers after befriending Abbi (Anthony Lexa), the school's Queen Bee, who is trans, incredibly confident, and very loyal to her friends. It's a very exciting turnabout – the most popular person at school is trans and makes everyone feel welcome. Otis sees an opportunity to capitalize on Eric's emerging friendship to push his sex therapy clinic to the head of the class, all the while worrying about his own relationship with Maeve (Emma Mackey) now that they are "long-distance."
Otis feels threatened when Maeve starts to make new friends – one in particular whom he feels may be competing for her attention and sexual appetite. This only adds to his own awkwardness, except when it comes to providing his unique perspective and sex advice. These are among the sweetest moments of the series.
The show is at its most endearing in moments like the one where Otis sits down with Cal (Dua Saleh), a non-binary young person who has started taking testosterone and is particularly overwhelmed by the effects it's having on their physiology – basically re-experiencing puberty. Otis advises that the sensitively heightened and intense arousal is perfectly normal, and nothing to be frightened or worried about – it's part of the experience. It's an extremely tender moment that we can only hope would enlighten that segment of society that is uncomfortable or ignorant in discussing these issues.
Otis shows incredible sensitivity to his fellow humans, choosing to be supportive rather than judgmental. Much of the series' charm lies with its characters' honest expressions of their sex lives and sexual identities, especially as they make profound discoveries along their journeys. It's an important and necessary alternative to the current hostile climate. "Sex Education" provides an incredibly refreshing perspective and is the sort of television series that only comes along once in a generation.
The gorgeously written, profoundly well-acted series is worth diving into from the beginning, in anticipation of a conclusion that will undoubtedly resonate on a very large scale, especially given the current strikes, which will impact the fall premieres. Get your education!
"Sex Education" Season 4 premieres on Netflix on September 21.
---
Native New Yorker JC Alvarez is a pop-culture enthusiast and the nightlife chronicler of the club scene and its celebrity denizens from coast-to-coast. He is the on-air host of the nationally syndicated radio show "Out Loud & Live!" and is also on the panel of the local-access talk show "Talking About".