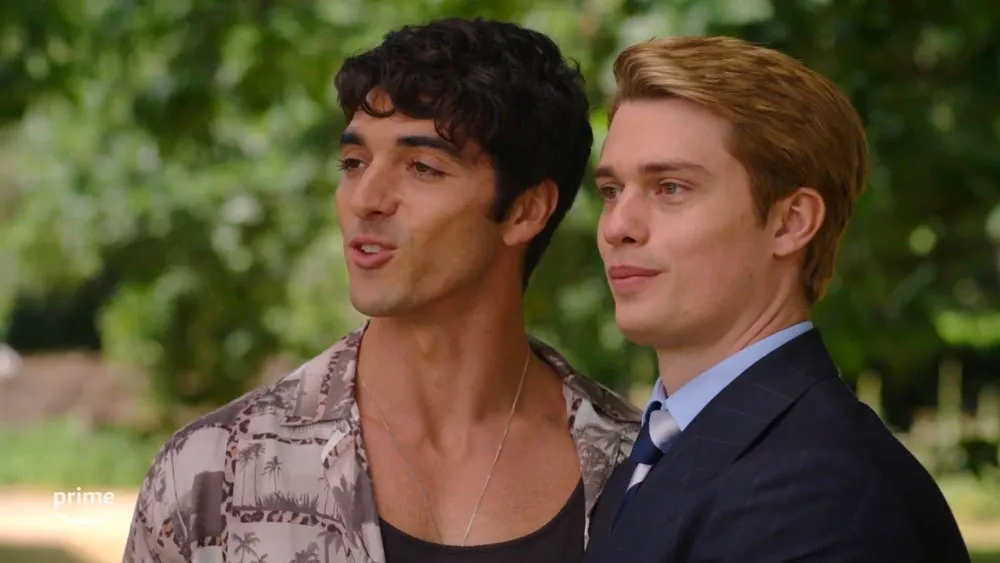 5 Queer-tacular Films You Must See This Summer
It's been a banner year for queer film already. Releases in cinemas and/or on VOD in the first half of 2023 include Rosy McEwen's potent "Blue Jean," Todd Flaherty's exquisite "Chrissy Judy," Maryam Touzani's affecting "The Blue Caftan," Saim Sadiq's groundbreaking "Joyland," Goran Stelevski gut-wrenching "Of an Age," Craig Boreham's intense and super-sexy "Lonesome" (starring smoldering Josh Lavery), and Emanuele Crialese's masterful "L'Immensità," to cite just a few.
The LGBTQ+ Festivals have been brimming with diverse and eclectic storytelling. Fest highlights, currently without official distribution, include: French helmer Christophe Honoré's stunning "Winter Boy" ("Le Lycéen"), Zeno Graton's bold "The Lost Boys" ("Le Paradis"), German actor-turned-director Fabian Stumm's captivating "Bones and Names" ("Knochen und Namen"), 78-year-old Italian master Gianni Amelio's powerful biopic "The Lord of the Ants" ("Il signore delle formiche"), Argentinian director Matias De Leis Correa's hypnotic "Since Last Time We Met," and Olivier Peyon's heartbreaking "Lie With Me." (And that's not even mentioning the wonderful docs.)
Queer-themed and queer-friendly content can be found on almost every streaming service. Just click an app for "Glamorous," "Queen Charlotte," "The Last of Us," "Yellowjackets," the final season of "The Other Two," "Taylor Mac's 24-Decade History of Popular Music," and Season Two of "Heartstopper," which is on the horizon.
Later this year, look for Giuseppe Fiorello's "Fireworks" and William Oldroyd's "Eileen," two extraordinary works that are certain to make indelible impressions as well as year-end best lists.
At EDGE we've selected five of the most hotly anticipated queer-tastic films you will want to see this summer.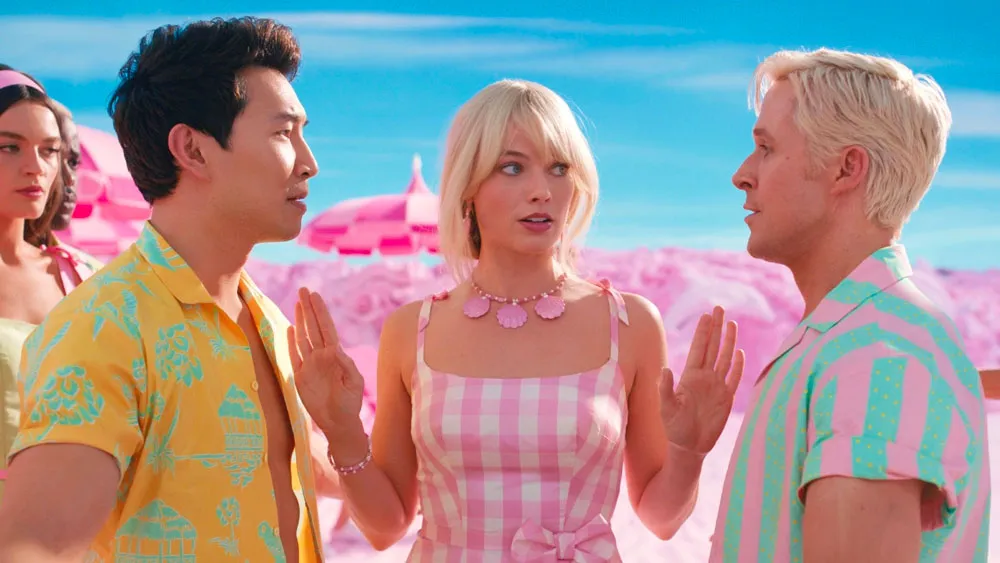 'Barbie'
What's arguably the gayest film of the summer involves characters with no sexual orientation because they have no sex organs (and star Margot Robbie confirmed this concept), yet the gay sensibility stamp is all over Greta Gerwig's bold and subversive "Barbie," where we enter the pastel-and-plastic world of the empowered Barbie characters, allowing for a keen examination of the treatment of women in our society, as well as a lot of hilarious scenes, many of which involve Weird Barbie, played to the hilt by Kate McKinnon. The film's colors explode and expand before our eyes.
And then there are the Kens – specifically, one Ken, wholly inhabited by a brilliantly dim Ryan Gosling (until he becomes obsessed with toxic masculinity, i.e., The Patriachy). This Ken, along with a host of other living boy dolls, steals the show with the musical number, "I'm Just Ken," which is destined to go down in queer history alongside other classic homoerotic movie musical moments like "The Aggie Song" from "The Best Little Whorehouse in Texas," and "Take Off with Us" from "All That Jazz."
Dame Helen Mirren provides witty narration. Finally, the glory of Margot Robbie with perfectly-modulated confidence and self-awareness, but also confusion and desire, is sure to have LGBTQ+ audiences enamored and enraptured.
"Barbie" opens in theaters nationwide July 21, 2023.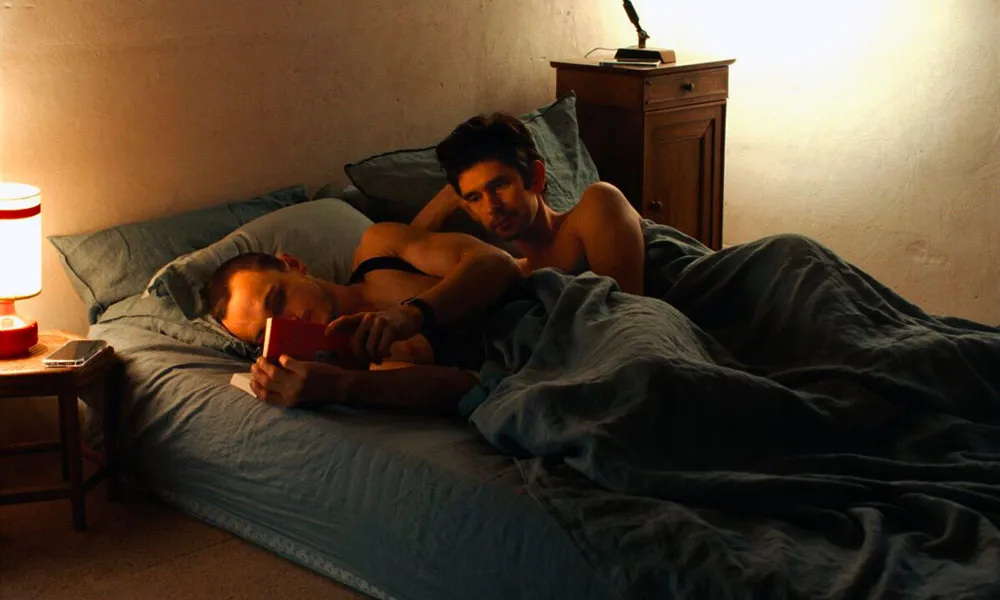 'Passages'
Ira Sachs has always found non-traditional ways of exploring same-sex relationships, from "Keep the Lights On" to "Love is Strange." His new film, "Passages" (co-written by longtime collaborator, Mauricio Zacharias), might just be his most ambitious. The movie focuses on three lonely, deeply damaged people: An egotistical film director, Tomas (Franz Rogowski); his somewhat aloof husband, Martin (Ben Whishaw); and Tomas's new love, Agathe (Adèle Exarchopoulos). Early in the narrative the Fassbinder-esque Tomas boastfully announces to Martin, "I had sex with a woman." All hell (kind of) breaks loose as Sachs delves into the psyches of these complex characters.
The film triumphs, in large part, because the actors fully commit to their roles. The mesmeric Rogowski, never one to shy away from playing queer as he did so brilliantly in "Great Freedom," dives headfirst into the mind, body, and soul of Tomas, never courting audience sympathy, but winning over empathy with his honest fragility. Whishaw perfectly balances his love/lust for Tomas with his own self-preservation instincts. Exarchopoulos stuns in in the difficult role of interloper. Interesting to note, "Passages" contains one of the most realistic, tantalizing gay sex scenes in recent memory.
"Passages" opens in theaters August 4, 2023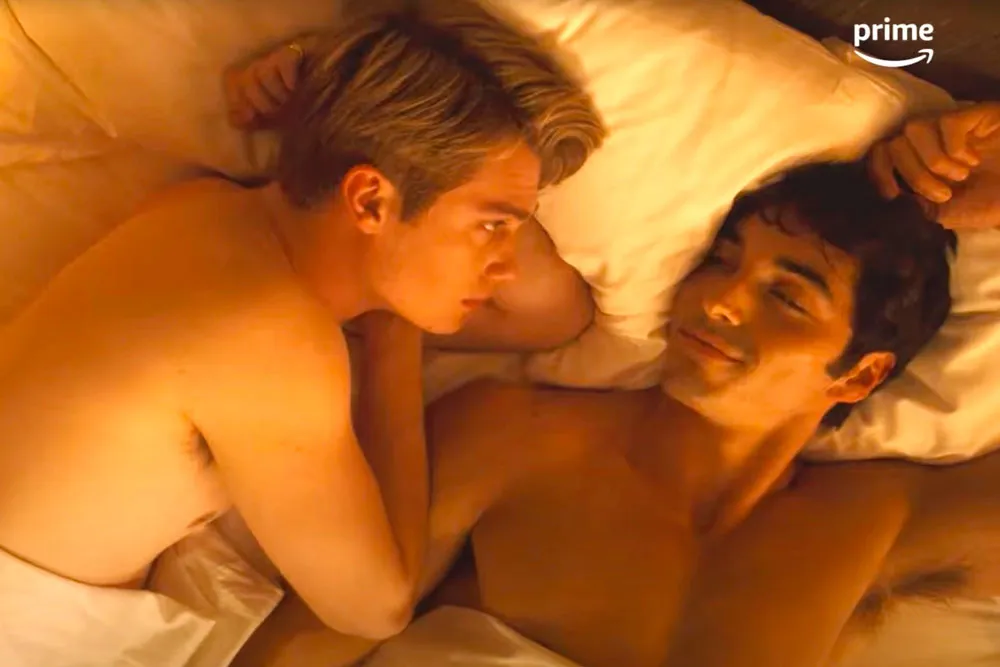 'Red, White & Royal Blue'
Nicholas Galitzine is that dangerous combination" Crazy gorgeous and wildly gifted. John Butler's "Handsome Devil" introduced Galitzine to the film world, and his legion of gay fans, in 2016. (He was also in the uber-campy "High Strung" the same year.) In "Devil," he played a closeted rugby player and gave his character endless layers of complexity. In Prime's upcoming film, "Red, White & Royal Blue," based on the critically acclaimed novel by Casey McQuiston, Galitzine may surprise everyone all over again with his depth and range. He is paired with the gifted Taylor Zakhar Perez ("Minx," "The Kissing Booth") and, just based on the trailer, the two actors' chemistry is off the charts. I cannot elaborate, as an embargo is in effect.
The film's plot might make you think of the Netflix series "Young Royals" – with good reason. England's Prince Henry (Galitzine) and son of POTUS Alex Claremont-Diaz (Perez) intensely dislike each other. Both are ridiculously pretty; both have charisma to spare; and both are quite popular. As is often the case in these stories, that dislike quickly turns to something quite (unsurprisingly) palpable. The film is the co-writing and directorial debut of Tony-winning playwright Matthew López ("The Inheritance"), and could very well be the queer sleeper of the season.
"Red, White & Royal Blue" premieres exclusively and globally on Prime, August 11, 2023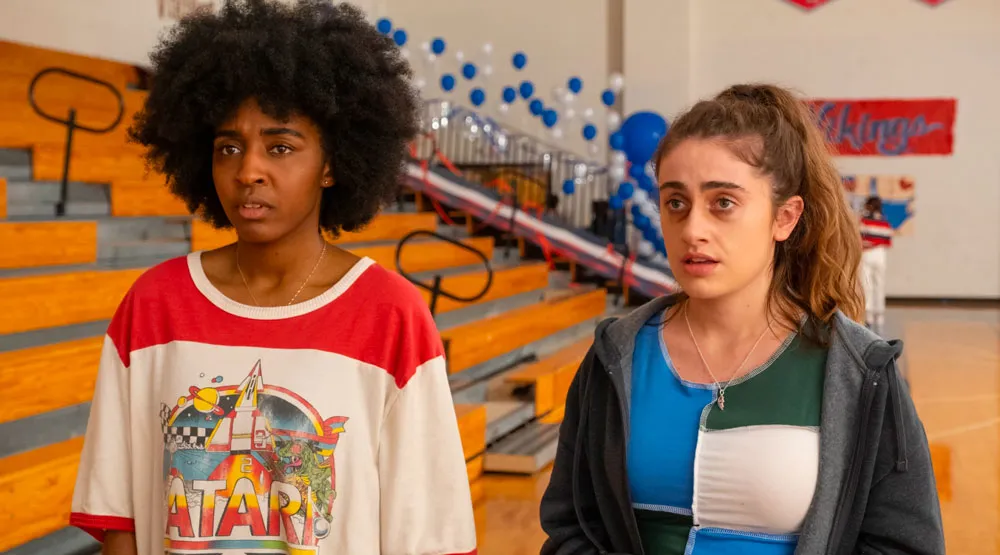 'Bottoms'
It's a tonic to see two young queer female high schoolers' sexual desires at the core of a throwback teen comedy. In the zany, hilarious, and lacerating film "Bottoms," PJ (Rachel Sennott) and Josie (Ayo Edebiri) are desperate to lose their virginity before senior year. Sound familiar so far? They would also love to shed their "loser" monikers. A plan is hatched to cozy up to the hot cheerleading squad: They will start a fight club. But one should expect the unexpected as director Emma Seligman (and her co-writer Sennott) invert stereotypes, subvert themes, and fuck with established tropes, resulting in irreverent insanity that keenly satirizes the "Porky's"-like movies of yore.
Sennott, so good in "Shiva Baby," kicks ass as a girl who will destroy to get what she wants. Edebiri proves to be the perfect yin to her yang. Yummy Nicholas Galitzine, also starring in "Red, White & Royal Blue" (mentioned above), is sidesplittingly funny as the one-dimensional jock hero. Galitzine manages to find nuance where there shouldn't be any. Scene stealer Ruby Cruz kills as Hazel, a young terrorist in the making. Check your sensitivity at the door; "Bottoms" can be raunchy and offensive, but in the most fabulous way!

"Bottoms" releases in theaters August 25, 2023
'Rotting in the Sun'
Let the genitalia overwhelm! The first 20 minutes of Sebastián Silva's cinematic mind-fuckery, "Rotting in the Sun," contains a multitude of cocks and asses, as well as much gay sex. It's an orgiastic sense assault. Silva plays a depressed version of himself who thinks about suicide and, on a getaway at a nude resort, meets over-the-top social media influencer Jordan Firstman (based on Silva's real encounter with the gregarious dude). Firstman wants to work with Silva and will not relent, allowing for a keen, biting look at two different types of artists: The writer who creates, and the social media star who... posts.
Midway through, "Rotting" takes a wildly unexpected and dark turn. Silva's opus is a biting, meta satire on class, social media, queer life and desire. You might be scratching your head at the dramatic shift, but you will also want to go along for the unique, deceptive, and surprising ride. This is the stuff of cult films.
"Rotting in the Sun" opens in U.S. cinemas September 8, 2023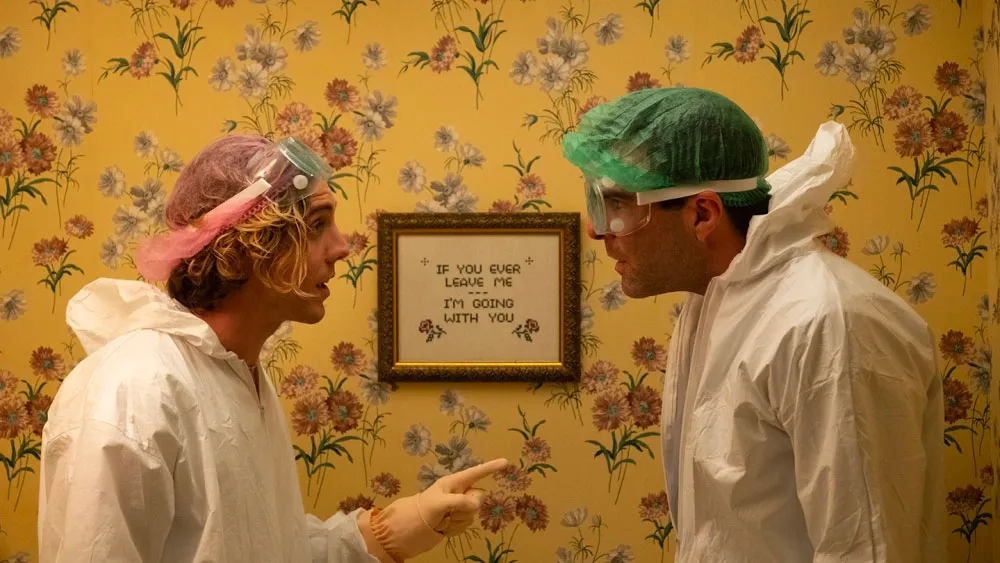 And a Special Mention to:
One of the most divisive Fest films, Rightor Doyle's "Down Low," starring Zachary Quinto and "White Lotus" rim-boy Lukas Gage (who also co-wrote the fab script with Phoebe Fisher), is not for the squeamish, but the film had me entranced for 90 minutes. A highly ambitious, super-dark comedy, "Down Low" is that rare indie that continues to up the lunatic ante and pile on the outrageous and audacious until the last frame. It's easily the funniest film of 2023 to date, and needs to find distribution.
---
Frank J. Avella is a proud EDGE and Awards Daily contributor. He serves as the GALECA Industry Liaison and is a Member of the New York Film Critics Online. His award-winning short film, FIG JAM, has shown in Festivals worldwide (figjamfilm.com). Frank's screenplays have won numerous awards in 17 countries. Recently produced plays include LURED & VATICAL FALLS, both O'Neill semifinalists. He is currently working on a highly personal project, FROCI, about the queer Italian/Italian-American experience. He is a proud member of the Dramatists Guild. https://filmfreeway.com/FrankAvella https://muckrack.com/fjaklute