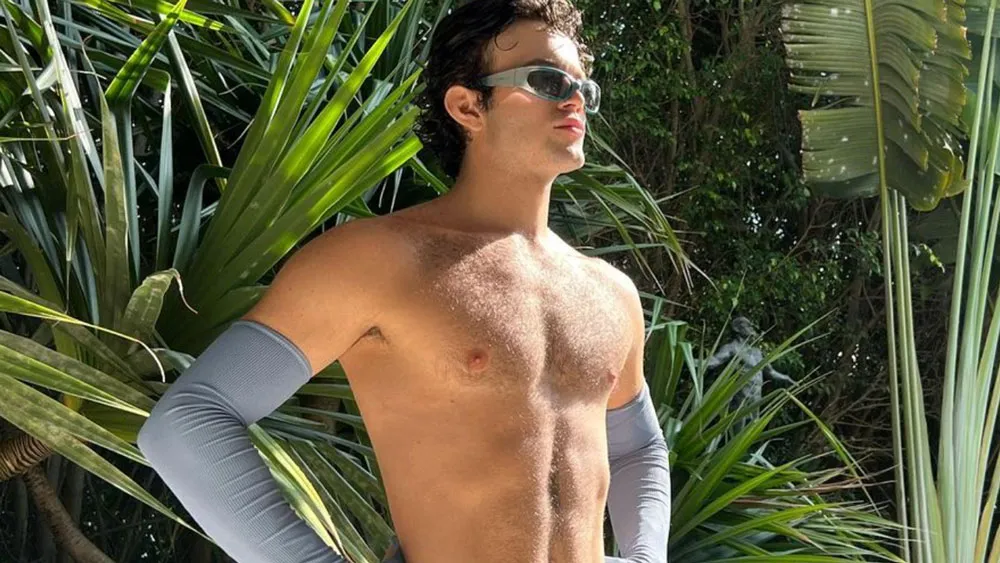 New Hollywood: Eight Rising Proudly Gay Actors to Watch For
If you had a time machine and could travel back 20 years, you would see Hollywood's closet was full of gay actors afraid to emerge professionally for fear of tanking their career. But things are a little different today because, for the past decade, artists are no longer holding to Tinseltown's homophobic status quo. The brave young people below are forging new territories in the entertainment industry where sexual orientation isn't a part of their resume. They are just artists who happen to be gay.
And as you will see, these performers are taking mindful steps into their futures, where they put themselves first and make execs accountable for their own credos and hiring practices which Is also intrinsically changing. Now it is up to us, the audience, to support them.
Jake Foy
Jake Foy has made Hallmark Channel history by portraying its first openly gay regular character in a weekly series. He plays Tuff McMurray, the Colorado cowboy who must help save his family's ranch. It was shortly after he was cast as Tuff that he made the decision to come out. "It was at a time that I was a little more worried about the reception of that information or whether or not that would impede my ability to work," he tells EDGE in an interview, "and honestly the sincerity of my caring for other artists and the other people that I work with, I think is something I try and bring to all the roles that I play."
Foy, 32, is also a singer and director. He showcases the former on "Ride" in a few episodes. He has also made several guest appearances on shows such as "Reign," and "Billy the Kid." As for Tuff McMurray, he has a love interest on the show, but a second season of "Ride" hasn't been confirmed so fans will have to wait to see what develops.
Justice Smith
Perhaps best known for his role as the nervous tech crewmember, Franklin Webb, in "Jurassic World: Fallen Kingdom," Smith came out in 2020 and is in a relationship with fellow actor Nicholas L. Ashe. More recently he played Simon in "Dungeons & Dragons: Honor Among Thieves."
Smith said that one of the reasons he came out publicly is because he wanted to authentically advocate for the community. He told Men's Health in 2021, "It took me 0.05 seconds before I [came out professionally] to be like, 'What if this affects my career?' and just as quickly, I was like, 'I wouldn't want a career in which I couldn't be myself.' I would never accept a career in which they were like, 'You can be an actor, but you can't be Black.'"
Cooper Koch
This young actor got a lot of critical attention for his role in director Carter Smith's "Swallowed." Before that, he was the questioning youth in the Peacock LGBTQ+ horror movie "They/Them." Now he is on a journey to find his next big project. Koch told Edge in an interview that he is not interested in playing only gay roles. In fact, he once thought coming out publicly might have hurt his chances of being cast as a straight man at all. But he has since forgone that thought, "If I can't be myself, then I'm not gonna be able to play anyone else regardless of what they identify as in terms of their sexuality or their gender or whatever."
Brandon Flynn
Brandon Flynn came out at the age of 14 but he says it wasn't until after college that he became confident with his identity. "That was where I really found solid ground like, right, this is who I am. This is who I want to be," he told Today.
The 29-year-old star has had nothing but success in his career which began with Netflix's hit series "13 Reasons Why." Even Ryan Murphy took notice and cast him in "Ratched." Recently Flynn is celebrating Pride with a steamy new Calvin Klein underwear campaign, and he has a few projects in the can set to be released in the coming months.
George Turner
While he is maintaining a lucrative London stage presence, British actor George Turner is trying to get more work on the small and silver screens. His recent endeavor comes in the form of "Peckham Mix," a Dekkoo miniseries created by Marco De Luca. "I want to delve into film now because what's interesting is that you kind of get to a point in theater where you can be the most seasoned theatre actor, but you will be just out of reach for principal leading parts and they will start to get offered to you once you've established yourself to some degree on screen," he told EDGE in a recent interview.
Turner identifies as bisexual and applies some of his real-life experiences to his character, Josh, in "Peckham Mix." As for his future? Turner is hoping to find more opportunities beyond the stage door.
Noah Schnapp
There might not be a more poignant story about coming out in Hollywood than that of actor Noah Schnapp. His most famous role is that of Will Byers on Netflix's hit science fiction series "Stranger Things." In that show, the creators have kept the character's sexual orientation arc ambiguous and at a snail's pace. In season four Will has a crush on his best friend Mike (Finn Wolfhard) and is crestfallen when he finds out Mike is in love with Eleven (Millie Bobby Brown). That scene quickly became a meme symbolizing rejection.
Art then imitated life to some degree as Schnapp declared in a TikTok he is gay in real life. "I guess I'm more similar to Will than I thought," he captioned the video. At the moment, the 18-year-old actor is gearing up for the final season of "Stranger Things."
Frankie A. Rodriguez
Frankie A. Rodriguez, 23, is the newest generation of artists who are coming out publicly without regret. "It honestly was never a question for me to hide my sexual identity, that was never a question, and I think that had a lot to do with where we are in the industry," he told Gay Times in 2019. "I entered at a very exciting and inclusive time, so I do consider myself very lucky." Rodriguez is a part of Disney's "High School Musical: The Musical: The Series" alumni. He has played Carlos in that series since 2019. He is also the first openly gay character on that show.
He has also appeared in a few episodes of "Modern Family," and on the "Will & Grace" reboot.
_SANTI_
There is probably nothing the multi-talented artist _SANTI_ can't or won't do. Taking his inspiration from Madonna, Lady Gaga and other queer icons, _SANTI_ is a performance artist in every sense of the phrase. "I think I'm an original artist," he said in an EDGE interview. "I haven't seen any others that look like me or that represent the queer community or the Latin queer community."
Using religious iconography intertwined with queer sexuality, this 24-year-old Venezuelan native is about to reign over America as its next big talent. His latest video "PerreON," is only a taste of what is coming.
---