Kibbles for Fido? Nope. These days he's getting diced chicken with sweet potatoes and spinach.
The average American will spend 36 years in bed over the course of their lifetime, according to new research.
Online furniture seller Wayfair is expanding its physical presence, opening its first permanent mall store later this year.
Intrepid visitors to the Architectural Digest Design Show here this month braved lashings of chilly rain to get there. But inside, the elements were the source of inspiration.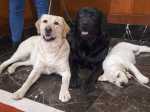 Labrador retrievers aren't letting go of their hold on U.S. dog lovers, but German shorthaired pointers are tugging on the top ranks of doggy popularity.
World-renowned tidying expert Marie Kondo is sparking joy among shoppers feeling the urge to clean out their homes. But once you master the Japanese organizing expert's novel approach to de-cluttering, what do you do with all the stuff you don't want?
Many gardeners are trying to help declining pollinator populations by providing them with the plants they need to thrive.
Want to have the perfect home? It might be time to break out the piggy bank since Americans estimate it would take more than $18,000 to turn their house into a dream home.
Looking to have the best yard on the block? Make sure you have a nice mailbox, a mowed lawn and avoid garden gnomes at all costs, according to new research.
If you're energetic and confident, enjoy cooking and believe in love at first sight, then new research shows you're probably an early bird.