Heading off on vacation this summer? You may want to check your face before you pack. New research has revealed some of the common reasons why passengers are failing checks at border control when using ePassport gates around the world.
Not long after Justin Bieber shared a shirtless selfie showing off his massive tattoo collection, the pop star again took to Instagram Tuesday to share a pic of himself, showing off his new teeth grill and eyebrow piercing.
Over half of men admit to feeling "embarrassed" about their body hair, new research has found.
The last thing the world needs, Lady Gaga says, is another beauty brand. But that's too bad.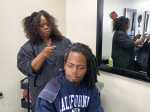 Gov. Gavin Newsom signed into law Wednesday a bill making California the first state to ban workplace and school discrimination against black people for wearing hairstyles such as braids, twists and locks.
Body care brand Nivea was fired as a client by its longtime ad firm, allegedly following a Nivea employee's remark that "we don't do gay at Nivea" during a conference call.
Sitting in traffic, being in the line at the DMV, and walking around with toilet paper on their shoes are some of the things people would rather do than have a bad or unflattering hairstyle, according to new research.
New York City's Barba Men's Grooming Boutique has launched a limited-time fundraising campaign to benefit LGBTQ youth.
Black and other darker-skinned women had long struggled to find makeup that matched or complemented their skin. But a widening array of products is showing up at mainstream retailers with an eye toward the multicultural consumer.
Johnathan Van Ness, best known for being the grooming guru on Netflix's "Queer Eye," came out as nonbinary.