Style influencer Alex Costa returns with his top 10 essentials for Spring 2019.
A woman whose experience of being kicked out of her home as a 16-year-old because she's a lesbian was highlighted on the Netflix show "Queer Eye" has a fresh shot at college after fans raised enough to pay off her student loans.
The wife of convicted drug lord Joaquin "El Chapo" Guzman has launched an appeal to fashion designers to propose designs for a clothing line named after her husband.
According to The Knot's 2018 Real Wedding Study, many couples are going their own way when it comes to longstanding traditions.
Indochino, the global leader in custom apparel, announced a partnership today with the Boston Red Sox in advance of its second Boston location opening in the bustling Seaport neighborhood.
The convicted drug lord and his wife have stylish future plans: Creating clothing with the brand name "El Chapo."
A new survey examining style trends determined that 66 percent of Americans have a cringeworthy look or fashion regret from their past that they can't bear to think about.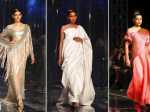 It's fashion season in India's capital, with the country's top designers showcasing their latest collections to lure the rapidly growing domestic and export markets for Indian haute couture.
Spring is here, it's warming up, and it's time to start looking at your wardrobe. Do you have all of these five essential Items for Spring 2019? Picks by celebrity menswear stylist Ashley Weston.
Levi Strauss & Co. is going back to the public markets after 34 years. Here are milestones of this iconic brand whose roots date back to 1853 when its founder Levi Strauss opened his first dry good business.