Top Story
Runway met Broadway when The Blonds took to the stage of the splashy musical "Moulin Rouge."
There were glittery runway shows Monday as London Fashion Week showcased some of its top stars including Burberry and Christopher Kane.
Launched in 2010, the Pets for Life program now operates in at least 27 cities and towns, including Atlanta, where it began in 2012. The program provides free or low-cost veterinarian services, supplies and food.
Being a size 2 came in handy as Hecht was deciding on just the right red carpet look for her big night Sunday at the creative arts Emmys, to air Saturday on FX ahead of the main slate. She didn't win, but she had a ball picking out a dress.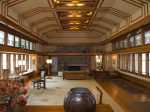 A small but important exhibit at the Metropolitan Museum of Art explores a little-known facet of architect Frank Lloyd Wright's creations: his line of wallpapers, printed and woven textiles, and other home goods designed for the public.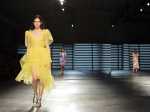 Fashion devotees basked in sunny weather and strong, sometimes whimsical collections as London Fashion Week neared its climax Sunday with runway shows by Roland Mouret, Victoria Beckham, Simone Rocha and others throughout the city.