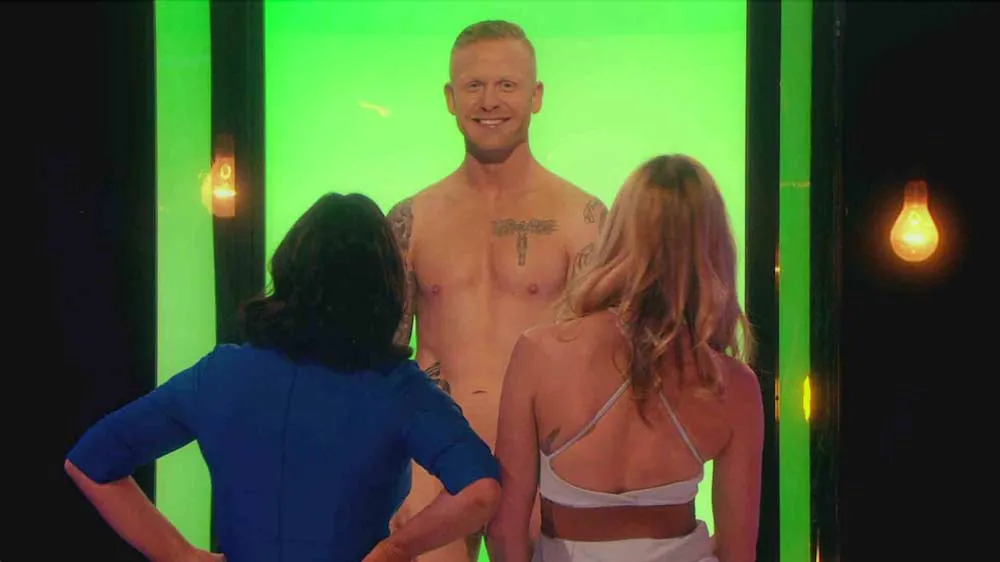 Max's 'Naked Attraction' Dares to Bare It All – and Becomes an Overnight Hit
The British dating show "Naked Attraction" puts it all out there, and droves of viewers have tuned in to the show, its full-frontal format seen as a feature rather than a turn-off.
The Hollywood Reporter notes that the show, which shows uncensored imagery of both male and female contestants in the nude, has been airing for years in Britain. Coming to America, though, it didn't take long to generate controversy – and big viewership numbers – since debuting a week ago on the streamer.
THR noted that the dating show "surged to capture the top spot on Max streaming service's 'Most Popular' series list," and attributed its own reportage as a major driving force behind the numbers.
"Media coverage and online chatter surged following a Hollywood Reporter story over the weekend pointing out that the controversial series had been added to the service," the entertainment outlet said.
"The dating series features singles who judge and eliminate nude prospective dates," THR explained. "The show features close-up, full-frontal nudity and plenty of graphic discussion, though no sex is shown."
Reuters offered a bit more of a peek into the show's format. " 'Naked Attraction' features six nude contestants in glass booths whose body parts are gradually revealed, 'bit by lovely bit,' until a single contestant is chosen for a date," the Reuters writeup detailed. "The show promises, in its introduction, to start 'where a good date ... often ends.' "
The show's format (and its contestants' state of undress) drew the predictable response from America's censorious conservative commentators, THR noted.
"'Delightful,' snarked Ben Shapiro. 'This is the natural outcome of a hedonistic society where the only thing that matters is the sex instinct," the article quoted.
"Meanwhile, the Parents Television Council called it 'pornographic ... a new low' and demanded the show be removed from the service," THR added.
The people, however, are singing a different tune.
"Social media has been surprisingly positive regarding the series, with many pointing out that there's something refreshing about a show that presents and praises ordinary bodies in an age of image idealization," THR noted.
Even high-powered TV presenters unabashedly counted themselves as fans, THR relayed. "On Monday, ABC's 'The View' co-host Sunny Hostin said, 'I'm embarrassed to admit, [my husband, Emmanuel] and I got so obsessed with this show we binged it yesterday...and I learned things I have never heard of in my life.
"It was one of the most fascinating things I've ever seen," Hostin added.
For the curious – but not curious enough to sign up for Max's $9.999 monthly fee – it's possible to sample the show's wares without shelling out, Variety reports, instructing readers that, "You can still watch the risqué show with a free seven-day trial via Prime Video."
In its native Britain, where it airs on Channel 4, "Naked Attraction" provided tabloid fodder two years ago when one female contestant admitted during a highlights episode that a male contestant she chose due to his endowment had actually left her in need of medical care.
That contestant, Tracy, "told the show's host Anna Richardson that she was looking to meet a well-endowed man, saying that the other men in the line-up of naked men just 'couldn't compete with'... Mark and his manhood," reported The Mirror in a May, 2021 article.
"But it seems she got more than she bargained for, as... he was too well-endowed for her, and she ended up in hospital after sleeping with him three times," the article added.
---
Kilian Melloy serves as EDGE Media Network's Associate Arts Editor and Staff Contributor. His professional memberships include the National Lesbian & Gay Journalists Association, the Boston Online Film Critics Association, The Gay and Lesbian Entertainment Critics Association, and the Boston Theater Critics Association's Elliot Norton Awards Committee.