It was a beautiful sunny day as the crowds came out to enjoy the San Diego Pride Parade and to support the LGBTQ community. People cheered as the participants marched through Hillcrest into Balboa Park for the Pride Celebration.
San Francisco Kicked off Pride in Hillcrest, with the Spirit of Stone Wall Rally. Community leaders came out to give motivational speeches, followed by a moving performance by the San Diego Gay Youth Marching Band, while a huge rainbow flag was raised!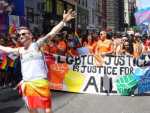 2019 has been a great year for Pride festivals and parades nationwide, many of which commemorated the 50th anniversary of the Stonewall Uprising. Check out our roundup of EDGE coverage and photo albums from this year's events so far!
With Bear Week beginning on Saturday, FUZZ at Boston's The Alley Bar was the place to be on Friday night before heading to the Cape. See who was there.
London's biggest Pride parade ever happened with an estimated 1.5 million people looking on as more than 30,000 people from 600 groups marched through the city's West End, marking the 50th anniversary of the Stonewall Riots.
NYC Pride presented VIP Rooftop World Pride at The Park, with two levels, a beautiful rooftop, hot dancers, and great music from DJ's Grind, Toy Armada, Ben Baker and Kitty Glitter.
There were so many spectators, floats, and parade participants at this year's Pride March and our EDGE photographer captured it all. Here is part three from this exciting event.
This was the first time that WorldPride was held in the US and it did not disappoint. Check out these photos to see some of the fun that was had.
A record number of participants and spectators came out to celebrate their Pride and to remember the fiftieth anniversary of the Stonewall riots. This turned out to be the largest LGBTQ celebration in the world!
The Fire Island Pines held it's annual Invasion on July 4th with a boat load drag queens and plenty of spectators.