Watch: Olympian Adam Rippon Launches His Own YouTube Channel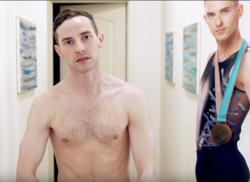 Move over Tom Daily, there's another Olympic champ taking over YouTube.

Olympic figure skater Adam Rippon is launching his own YouTube channel where he promises fans a personal look into his life, off and on the ice rink.

In the description of his first video, aptly called "Welcome to My Channel!" the athlete writes: "I'll be bringing you the healthy dose of everything you didn't know you need right here!"

The clip shows a shirtless Rippon waking up in bed with his Olympic medal around his neck and then introduces his channel.

"Some of you might know me as America's sweetheart from the 2018 Olympics. Others might know me as the winner of 'Dancing with the Stars' or..." he says before the video cuts to clips of news reports about Rippon criticizing Vice President Mike Pence over his anti-LGBTQ views.

"Regardless of how we met, get ready for something spectacular — my YouTube channel!" he says while brushing his teeth. "You guys will now have VIP access to my life on and off the ice."

Preview clips show Rippon about town and even a video with his boyfriend.

Watch the video below and click here to subscribe to the athlete's YouTube channel.
Comments on Facebook