Over 26,000 Cast Early Votes in Nevada So Far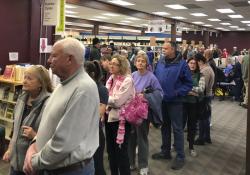 Nevada's Democratic Party says more than 26,000 people cast votes during the first two days of early voting in the state's presidential caucuses.

The state party said Monday that more than half of those voting on Saturday, the first day, were first-time caucus goers.

Nevada Democrats are under intense pressure to pull off smooth caucuses and had to reconfigure their plans after problems at Iowa's caucuses.

For the first time, Nevada's Democratic Party is offering four days of early caucus voting, when voters fill out a paper ballot marking at least their top three choices for president. Those votes will be combined with in-person votes at about 2,000 precincts in caucus meetings next Saturday.

Democratic officials did not report any major problems over the weekend, but party officials were overwhelmed by long lines at some caucus sites.

About 84,000 people participated in Nevada's Democratic presidential caucuses in 2016.
Copyright Associated Press. All rights reserved. This material may not be published, broadcast, rewritten, or redistributed.
Comments on Facebook