Actor Cameron Boyce, best known for his role as the teenage son of Cruella de Vil in the Disney Channel franchise "Descendants," has died. He was 20 years old.
Justin Raimondo, a longtime gay rights advocate and anti-war activist, has died. He was 67.
Gloria Vanderbilt, the intrepid heiress, artist and romantic, died Monday at the age of 95.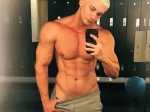 Gay porn star Jay Dymel has died, according to a tweet from Falcon Studios.
Sylvia Miles, an actress and Manhattan socialite whose brief, scene-stealing appearances in the films "Midnight Cowboy" and "Farewell, My Lovely" earned her two Academy Award nominations, died Wednesday.
Legendary New Orleans chef Leah Chase always had problems when customers asked if she served "soul food." Well, that would depend on where your soul was, she'd say. If it was in China, she couldn't really help you.
One of Africa's best-known authors and gay rights activists, Binyavanga Wainaina, has died at age 48, a colleague and friend said Wednesday.
Herman Wouk, the versatile, Pulitzer Prize winning author of such million-selling novels as "The Caine Mutiny" and "The Winds of War" whose steady Jewish faith inspired his stories of religious values and secular success, died on Friday at 103.
The legacy of American architect I.M. Pei stretches from west to east, from the Louvre museum to his native China, where he helped fuse tradition and modernity as the country opened up after the Cultural Revolution.
Her owners say Grumpy Cat, whose sourpuss demeanor became an internet sensation, has died at age 7.