Architect César Pelli, renowned for designing some of the world's tallest buildings, has died, his firm said. He was 92.
John Paul Stevens, the bow-tied, independent-thinking, Republican-nominated justice who unexpectedly emerged as the Supreme Court's leading liberal, died Tuesday in Fort Lauderdale, Florida, after suffering a stroke Monday. He was 99.
Rip Torn, the free-spirited Texan who overcame his quirky name to become a distinguished actor in theater, television and movies and win an Emmy in his 60s for his comedy turn on TV's "The Larry Sanders Show," has died. He was 88.
H. Ross Perot, the colorful, self-made Texas billionaire who rose from a childhood of Depression-era poverty and twice ran for president as a third-party candidate, has died. He was 89.
Actor Cameron Boyce, best known for his role as the teenage son of Cruella de Vil in the Disney Channel franchise "Descendants," has died. He was 20 years old.
Justin Raimondo, a longtime gay rights advocate and anti-war activist, has died. He was 67.
Gloria Vanderbilt, the intrepid heiress, artist and romantic, died Monday at the age of 95.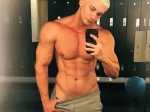 Gay porn star Jay Dymel has died, according to a tweet from Falcon Studios.
Sylvia Miles, an actress and Manhattan socialite whose brief, scene-stealing appearances in the films "Midnight Cowboy" and "Farewell, My Lovely" earned her two Academy Award nominations, died Wednesday.
Legendary New Orleans chef Leah Chase always had problems when customers asked if she served "soul food." Well, that would depend on where your soul was, she'd say. If it was in China, she couldn't really help you.