1 thru 10 of 6081 Stories
Nepal seized the lead in equal rights for sexual minorities in South Asia four years ago with a new constitution that forbids all discrimination based on sexual orientation. Even citizenship certificates and passports now allow a "non-male, non-female" ca
Albert Nabonibo shocked many Rwandans in August when he revealed in an interview with a Christian YouTube channel that he is gay in a country where such a public assertion of homosexuality is unheard of.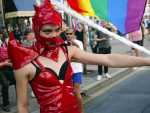 Police in Serbia briefly clashed with far-right supporters who tried to prevent a gay pride parade attended by the country's openly gay prime minister on Sunday.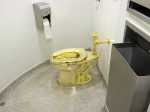 Thieves have stolen a unique solid gold toilet worth up to 1 million pounds ($1.25 million) from the birthplace of British wartime leader Winston Churchill.
Ten years ago, when archaeologists working near the Italian city Modena discovered two human skeletons buried with clasped hands, it wasn't possible to determine anything about who they had been. But now researchers can say this much: They were two men.
A man who admitted to providing GHB to a serial rapist and killer who targeted gay men has been sentenced to 31 years for fatally dosing a victim of his own - but he now will seek gender reassignment in prison, his lawyer told a court.
Sealife London Aquarium has decided to try stepping away from assigning gender when it comes to a chick being raised by a pair of female Gentoo penguins.
The Bahamas was on track for a record year of tourism before Hurricane Dorian hit. Now, the outlook for that vital sector is uncertain
Months after Kenya Cuevas' friend was slain in front of her, a funeral wreath with Cuevas' name on it arrived at her doorstep. The implication was clear: Keep making noise about murdered transgender women and you'll be next.
So far, 5,218 bodies have been exhumed from mass graves or from under the ruins of destroyed buildings around Raqqa, said Yasser Khamis, who leads the team of first responders.
1 thru 10 of 6081 Stories