Gay Palm Springs: The Latest
Jurors in Jussie Smollett's trial are expected to resume deliberations Thursday on charges the former "Empire" actor orchestrated a fake attack on himself, then lied to Chicago police about being the victim of an anti-gay, racist hate crime.
Simon Rex, in town for the recent Gotham Awards, where he was nominated for outstanding lead performance in "Red Rocket," was comparing today's pandemic-scarred New York with the city he knew in the 1990s as a VJ on MTV.
Advocacy groups are criticizing the Florida Department of Education for removing an anti-bullying webpage, saying the decision will harm LGBTQ students.
Mayim Bialik and Ken Jennings will continue as tag-team hosts of "Jeopardy!" through the rest of this season.
The American Film Institute lined up behind many of the end-of-year Oscar contenders, naming Steven Spielberg's "West Side Story," Jane Campion's "The Power of the Dog" and Adam McKay's "Don't Look Up" among the year's 10 best films.
Vaccine makers are racing to update their COVID-19 shots against the newest coronavirus threat even before it's clear a change is needed.
South Asian film and TV actor and Obama advisor Kal Penn shares funny and touching tales of racism in Hollywood and misadventures in The White House, but turns shy in discussing his life as a gay man.
Matador Meggings' founder Valentine Aseyo describe his line of athleisure wear as "men's leggings on steroids" — find out why.
The inimitable Sandra Bernhard will once again grace the live stage at Joe's Pub in New York City for annual holiday run of shows Dec. 26th through 31st with her all new show Sandra Bernhard "Bern It Down".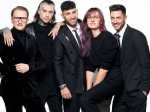 The streaming giant has found its Fab 5 for the German version of its hit show "Queer Eye."

An Idaho woman says her lawsuit challenging the state's ban on transgender athletes should continue moving through the court system because she's enrolled at Boise State University and plans to play soccer on the school's club team next spring.
EDGE contributor Frank J. Avella makes his choices for the best films of 2021.
Here's looking at you, allyship: In response to anti-LGBTQ+ remarks by North Carolina's Lt. Governor, a brewery there has launched a new beer. Cheers!
Vaccinating kids against COVID-19 also means reducing silent spread, since most have no or mild symptoms.
These holiday shopping tips from budgeting and parenting experts can help you find what works for your family.
The new 2021 Bronco SUV pays homage to its predecessors and serves as an intriguing alternative to a well-known off-roading icon: The Jeep Wrangler.
EDGE turns up the heat this holiday season with five of our favorite culinary gifts.
Pfizer said Wednesday that a booster dose of its COVID-19 vaccine may protect against the new omicron variant even though the initial two doses appear significantly less effective.
South African travel bans in response to the omicron variant have hammered the country's safari business, already hard hit by the pandemic.
Sidetrack the Video Bar hosted their 10th Santa Speedo Run to benefit Center on Halsted, the LGBTQ+ community center. Registration began at noon and after a singalong of "Jingle Balls" participants ran a mile through Lakeview East.