Gay Palm Springs: The Latest
A professor of brand responsibility investigates brands and their relationships with social issues, including the importance of both corporate allies and advocates.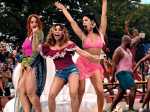 Just when a party was poised to break out in movie theaters, the below-expectation debut of "In the Heights" dampened Hollywood's hopes of a swift or smooth recovery at the summer box office.
The flavor of the year at the Westminster Kennel Club dog show: Wasabi.
A federal judge threw out a lawsuit filed by employees of a Houston hospital system over its requirement that all of its staff be vaccinated against COVID-19.
Vaccine maker Novavax said Monday its shot was highly effective against COVID-19 and also protected against variants in a large, late-stage study in the U.S. and Mexico.
British Prime Minister Boris Johnson is expected to disappoint many people across England later Monday by saying that restrictions on social contact will remain for a few more weeks because of rising infections.
Right Wing Watch reported that Louisiana preacher Tony Spell recently declared that "the world needs to see some manly preachers" like him, before alluding to manly men with grease on their hands and callouses on their knees.
Aurora, Illinois revamped their second Pride celebration with a drive around concept to local businesses and homes, plus a rainbow festival in Water Street Square.
Supporters came together in SF on the fifth anniversary of the Pulse Night Club massacre. Before laying flowers in remembrance for the 49 lives lost., community leaders spoke about gun violence and one of the worst attacks on the LGBTQ+ community.
In the film "School of Rock" Brian Falduto played Billy, or "Fancy Pants," and was quickly labeled the "gay kid" from the hit film. He brought an authenticity to the role, but it also scared him into the closet.
Artist, author, and director Chella Man chats with EDGE about his fashion style, new book "Continuum," and advocating for greater accessibility and representation for the whole spectrum of LGBTQ creators.
This new documentary is a consummate dance film about art as witness, and its vital role to art, culture and humanity.
Billionaire businessman and investor Richard Branson marked the opening Thursday of the new Virgin Hotels Las Vegas, promoting weekend events that kicked off with a show headlined by Christina Aguilera.
Apple's new rules around dating apps won't affect popular platforms like Grindr and Scruff, but are intended to shut down "apps that used dating only as a cover for pornography, prostitution, or human trafficking."
A new platform, created in partnership with SAGE and LifeCents and supported by the Wells Fargo Foundation, is helping LGBTQ elders reduce financial stress and rethink how to budget and strategize for the future.

Leasing a car now provides a number of advantages over a traditional financed purchase. To start with, you don't have to put as much money down.
The 74-year-old luxury carmaker launched a new era as a lifestyles brand, with a runway show unveiling its first ready-to-wear collection targeting a younger generation that might not be aware of its Formula One racing pedigree.
The White House announced the appointment of an out gay man, Harold Phillips, as director of the Office of National AIDS Policy, or (ONAP). The June 5 announcement coincided with the 40th anniversary of the first report on AIDS.
The airline industry's recovery from the pandemic passed a milestone as more than 2 million people streamed through U.S. airport security checkpoints on Friday for the first time since early March 2020.

It's been more than a year since the last FUZZ at Boston's The Alley Bar. And just like that... it was a full post-pandemic house at the downtown nightspot. See who came out.