Topics :: New Year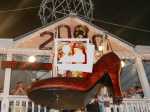 Times Square may have the ball drop, but only in Key West do they hold the annual New Year's Eve High Heel Shoe Drop! Sushi climbs into her red high heel to help the crowd ring in the new year.
Only in Key west will you find the Red Shoe Drop. A six foot tall high heel, carrying Drag Queen Sushi, who descends from the roof of the Bourbon Street Pub to ring in the new year.
Patrons were encouraged to wear onesies or pajamas for this annual Boystown hotspot New Year's Day celebration.
With the theme of "A Night at the Moulin Rouge" The Dark Lady welcomed in the New Year.
"Lights, Camera, Action!" Classic Cinema was the theme at this year's Mummers Fancy Brigade show held inside the Convention Center in Philadelphia.
The Key West annual High Heel Shoe Drop at the Bourbon Street Pub starred Sushi, who at midnight, descended in a giant red high heeled shoe from the New Orleans House balcony.
With temperatures in the single digits when the parade started, thousands took part in the annual New Year's Day Mummers Parade in Philadelphia.
Sidetrack held a New Year's Day One One Onesie Party! Everyone wore their favorite Onesie and celebrated the New Year. Check out all the fun.
Dark Lady's "Blue Ball" New Year's Eve Party was a blast and the cold couldn't keep folks away! Hello 2018!!!!
Local Drag Queen Sushi descended from the balcony of the New Orleans House on Duval Street in the famous red high heeled shoe, keeping up the Key West tradition for ringing in the New Year.