Watch: Iowa Caucusgoer Wants Vote Back After Learning Buttigieg is Gay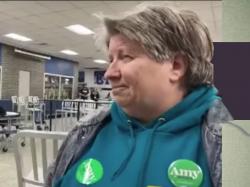 An Iowa woman who initially supported Democratic presidential candidate Pete Buttigieg during the state's famed caucus is going viral this week for asking for her vote back after learning the former mayor is gay and married to a man, TMZ reports.

In the clip, the unnamed woman from Cresco, Iowa in Howard County is seen finding out that Buttigieg is gay and has a partner — Chasten Buttigieg — causing her to ask for her vote back.

"Are you saying he has a same-sex partner?" the woman asks Buttigieg percent captain Nikki Heever, who confirms the news and tells the voter he is married to a man.

"Are you kidding? Well then I don't want anyone like that in the White House. So, can I have my vote back?" the woman asks.

"I don't know, you signed it. We could go ask. The whole point of it is though is he is a human being just like you and me and it shouldn't really matter," Heever said.

"Well, he better read the Bible," the woman responds.

"He does and he says God doesn't choose a political party," Heever said.

"Then why does it say in the Bible that a man should marry a woman then?" the voter asks Heever before asking her again why Buttigieg's sexuality has never been mentioned before.

"It's common knowledge," Heever tells the woman, who says she never knew Buttigieg is gay.

Watch the clip below.
Comments on Facebook