Watch: 'Divorce Court' Clip Featuring Gay Couple Splitting Over Nicki Minaj, Cardi B Beef Goes Viral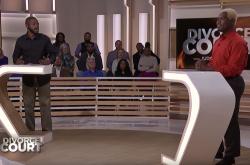 A clip from the daytime TV show "Divorce Court" featuring a gay couple claiming that a dispute between rappers Nicki Minaj and Cardi B is the cause for the men splitting is going viral this week.

The two men, Don'te and D'Andrew Leaphart, recently appeared on the show and explained to Judge Lynn Toler that a feud between to the two musicians was part of the reason why the couple called it quits.

At first, Judge Tyler thought they were joking but D'Andrew said they were discussing "who started what" between the rappers.

"It was silly," Don'te said, adding that he is #TeamCardi while his ex is #TeamNicki.

Don'te admitted that they were "underlying issues before" they got into it about the celebrity beef.

"He likes to blame it on that; it wasn't because of that," Don'te said, adding that D'Andrew was "ungrateful" and "disrespectful" in their relationship. He said their argument about Nicki and Cardi "was one of the moments [D'Andrew] was disrespectful."

Don'te was asking the judge to rule in his favor, suing for half of $1,250, the coast of a rental home he shared with D'Andrew.

The popular pop-culture Twitter account Pop Crave shared a clip of the episode, which earned over 15,000 likes and nearly 3,000 retweets.





Watch the full episode to see the moments play out and how Judge Toler decided to rule.
Comments on Facebook