Doctors in the U.S. and abroad are reporting that a noteworthy number of COVID-19 patients have experienced psychotic symptoms.
Vaccine development in under a year, shattering all records, is a marvel of science. It's also a cause for concern for millions of Americans who fear the uncertainty of an unknown technology.
Experts say it's unclear if that's the case or whether the new coronavirus strains pose any concern for vaccines or cause more severe disease.
As the United States faces out-of-control spikes from COVID-19, with people refusing to take recommended, often even mandated, precautions, our public health announcements feel lame compared with the urgency of the moment.
Early studies finding coronavirus could linger on surfaces for days were conducted under laboratory conditions; the virus likely couldn't survive that long in real life.
More than 8.1 million people in the U.S. have turned their iPhones and Android devices into pandemic contact-tracing tools, but it hasn't been of much use when their neighbors, classmates and coworkers aren't on the same system.
With multiple COVID-19 vaccines rapidly heading toward approval, optometrists and dentists are pushing for the authority to immunize patients during routine eye exams and dental cleanings.
Without rigorous independent studies, experts say it's hard to verify claims of "self-cleaning" or "antiviral" surfaces that have popped up during the pandemic.
In most of the country, diners are left in the dark about which restaurants have been linked to outbreaks of the virus.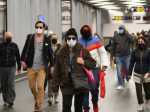 Despite the expected arrival of COVID-19 vaccines in just a few weeks, it could take several months — probably well into 2021 — before things get back to something close to normal in the U.S.