Crowd-Pleasing 'Come From Away' Touches the Heart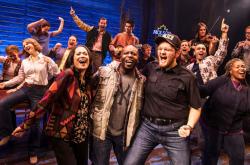 It's hard not to succumb to "Come From Away," the musical set in the days following 9/11 set in the Canadian province of Newfoundland. After all, what else can you say about a heartfelt show where a character rescues a pregnant chimpanzee (and other critters) from the hold of grounded jet?

The reason why the animals are neglected is due to the catastrophe that took place some 1100 miles from a place that for decades has been a flyover location for travelers. It wasn't always that way: Gander Airport was a major refueling stop for international flights before jet planes turned it into an anachronism. But in the hours following the epochal event, 38 flights are diverted to that airport, crowding its runways and expanding its small population of its surrounding towns with 7,000 temporary residents. What are the locals to do? And how will these confused and frightened travelers cope?

What "Come From Away" does best is capture that moment of confusion, not in melodramatic ways, but with brisk, episodic storytelling and lean staging. The locals rally around their visitors, even halting a school bus strike that has divided them; while the visitors adjust to their new normal, which includes staying in makeshift shelters, attempting to contact friends and families, and making do with Canadian culture shock.

If this musical has a documentary-like feel, it is due to it being based upon interviews with the residents of Gander (and its adjoining towns), as well as with the stranded travelers. Their stories are told in folksy, ingratiating charm as they bond with their fish-out-of-water visitors. There is even a literal fish-out-of-water — a mackerel that is used in a bonding ceremony in what is the closest to a big production number in which visitors must kiss the fish to become a Newfoundlander.

There are also incidents that evoke trending phobias of the day: a gay couple worries if they should reveal their relationship amongst their hosts whom they perceive may not be so open to them, and a Muslim man endures harsh treatment based solely on the fact he practices his religion. The gay couple learns they are wrong in their judgment in one of the show's more humorous scenes, while the Muslim learns the unhappy truth of prejudice in 21st century America in what turns out to be its most chilling.

There is also a burgeoning romance between a Texas woman and a British businessman in a scenario right out of "90-Day Fiancé," a mother of a New York City firefighter desperately searching for information about her lost son; and the aforementioned Gander resident on her one-woman crusade to save the trapped animals. No characters take the lead, though a female American Airlines pilot (who loses a colleague in the attack) turns out to have the fullest backstory, telling how she was part of breaking the glass ceiling in her industry expressed in show-stopping fashion in a crowd-pleasing, feminist anthem.

With just 12-actors playing multiple roles, this national company boasts a talented ensemble who speedily move from character-to-character with seamless skill. One of the best things about the show is how adept its cast is at sketching these characters with believability; in turn, giving this small-scaled show the scale of a Broadway musical. It is closer in style to something like "Once," but doesn't feel lost (as that show did) in the sprawl of the Opera House. Much of this has to do with Christopher Ashley's inventive staging that, with Kelly Devine's occasional, but well-placed choreography, moves the story along at a no-nonsense clip. It is abetted by Beowulf Boritt's minimal settings, which include an abstracted back wall that offers a clever, visual backdrop (and doubles as a jet plane when necessary), large trees dotted with spotlights and wooden chairs and tables that are reconfigured by the actors who spin on a turntable.

The Celtic-hued score (by the husband and wife team of Irene Sankoff and David Hein, who also wrote the libretto) often sounds that it would be right at home in "Riverdance," especially when played by the fine, feisty onstage band. There are also moments of tender lyricism that enhance its emotional trajectory. It is easy to see why "Come From Away" has become such an audience favorite; though it triggers haunting memories, it does so with charming folksiness, humor and theatrical smarts. It celebrates the human spirit in a time of great stress, a message that is certainly well worth hearing during these contentious times.

"Come From Away" continues through November 17 at the Citizens Bank Opera House, 539 Washington Street, Boston, MA. For more information, visit the Broadway in Boston website.
Comments on Facebook