Kill Chain: The Cyber War On America's Elections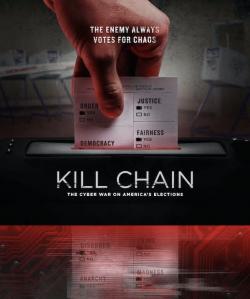 HBO continues its series of informative, yet depressing, documentaries about the seeming collapse of our democracy. The 90-minute "Kill Chain: The Cyber War on America's Elections" premieres on March 26, following the recent "After Truth: Disinformation and the Cost of Fake News."

A kill chain is the structure of an attack, a term borrowed from the military, now applied to cyber warfare:

1. Learn about the target using reconnaissance, often via social media
2. Deliver infected documents or phishing emails
3. Install malware and gain control of target's system

Unable to beat Western democracies militarily, Russia's GRU military intelligence service uses internet attacks to successfully sow chaos by cracking the foundation of a free society: Voting.

In the months leading up to the 2020 election, directors Simon Ardizzone, Russell Michaels, and Sarah Teale have interviewed lawmakers, experts, and genius Finnish hacker-cum-cyber security expert Harri Hursti about the chaotic and vulnerable U.S. voting systems.

Last century, most voting was done on glorified adding machines. Now all systems use removable media that store instructions as well as data, which are extremely vulnerable to undetectable hacking. Voting databases are, by law, open and available on the internet, so operatives can extract info as well as insert code to manipulate results. Address numbers can be quietly scrambled, causing long lines at the polls, often in communities of color. Chaos is created whether votes are changed or not.

NSA worker Reality Winner was jailed for sharing secret documents that Russia was, and is, actively hacking election systems in Florida and elsewhere. All U.S. security agencies have confirmed that the assaults continue.

"Everything is hackable. Always," says one of the interviewees.

The peaceful transfer of power is under attack, and this film attempts to shed light on the problem as America careens headlong into a tainted election.


"Kill Chain" premieres on HBO on March 26, and is available On Demand on March 27. For information, click here.
Karin McKie is a writer, educator and activist at KarinMcKie.com
Comments on Facebook