Watch: Gay Couple Star in New Cottonelle Ad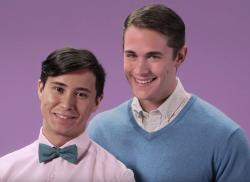 A gay couple is appearing in a new Cottonelle ad — a first for the toilet paper company.

The commercial follows a man who's about to meet his partner's parents for the first time.

"Before they sit you down, give your booty a confidence boost with cleaning ripples that remove more at once for a superior clean," the announcer says in the clip, which shows a peach sitting in a chair. "And make you feel like the kind of guy he takes home to mother."

The ad then shows the happy couple smiling together.

Comments for the ad on YouTube have been disabled so haters can't sour the silly commercial. Check it out below.
Comments on Facebook