Honey Boy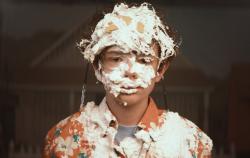 On Prime Video today!

- - - -

Therapeutic art has led to some of the most fascinating concepts in cinema history, immersing audiences into something that is at once a visual story and an attempt at soulful catharsis by its creator. Most of the time, they aren't as on the nose as "Honey Boy" is. Written by Shia LeBeouf, the film tells the story of a young actor named Otis (Noah Jupe) and his father (played by LeBeouf). For those unaware of the backstory, LeBeouf based his script on his own childhood experiences with fame and being on the road with his father, so "Honey Boy" immediately takes an interesting approach by having the actor assume the role of his patriarchal trauma and use it as a device for dealing with it.

One could imagine how even more personal this film would've been had LeBeouf also directed, but instead, we get the feature directorial debut of Alma Har'el, which is probably for the best, as the filmmaker's eye helps add an extra vision to LeBeouf's immensely personal project. The film is affectionately observed and well-directed, and LeBeouf's script is certainly compelling, but at the end of the day "Honey Boy" is far more interesting to discuss in concept than to experience in execution.

The story bobs in and out between Otis' childhood and relationship with his father. The two live in a garden-court motel home, and we soon learn a few things about Otis' father, James Lort. He's an ex-rodeo clown and a convicted felon. He's abrasive. He's arrogant. He can snap from being Otis' best friend to worst enemy in an instant. And Otis is just there to soak it all in. When we're not centered in LeBeouf's memories of childhood, we're observing the adult version of Otis (Lucas Hedges) as he stars in mindless action films, gets arrested while drunk, and lands himself in rehab.

As he's dealing with recovery, Otis begins exploring the past between him and his father, which even leads to a dream sequence where Hedges sits down next to LeBeouf at the edge of a pool and exclaims, "I'm going to make a movie about you." I think this is the movie's greatest weakness, as it juxtaposes Otis' childhood with Otis' recovery when the former is far more interesting. The film itself is Otis' recovery (or LeBeouf's, that is). "Honey Boy" is a hugely singular work that falls short in its approach at times, even if its approach is coming from a place of deep, deep feeling.

I loved thinking about "Honey Boy" after watching it, but I wish I could say the same about the act of watching the film itself.
Honey Boy
When 12-year-old Otis begins to find success as a television star, his abusive, alcoholic father returns and takes over as his guardian, and their contentious relationship is followed over a decade.
Info
Runtime :: 93 mins
Release Date :: Nov 08, 2019
Language :: Silent
Country :: United States

Cast
James :: Shia LaBeouf
Otis (22) :: Lucas Hedges
Otis (12) :: Noah Jupe
Percy :: Byron Bowers
Dr. Moreno :: Laura San Giacomo
Shy Girl :: FKA Twigs
Mom :: Natasha Lyonne
Sandra :: Maika Monroe
Tom :: Clifton Collins
Alec :: Martin Starr

Crew
Screenwriter :: Shia LaBeouf
Producer :: Brian Kavanaugh-Jones
Producer :: Daniela Taplin Lundberg
Producer :: Anita Gou
Producer :: Christopher Leggett
Executive Producer :: Fred Berger
Executive Producer :: Rafael Marmor
Executive Producer :: Daniel Crown
Executive Producer :: Bill Benenson
Cinematographer :: Natasha Braier
Film Editor :: Dominic LaPerriere
Original Music :: Alex Somers
Production Design :: Jc Molina
Set Decoration :: Tatiana Sauter
Casting :: Chelsea Bloch

Comments on Facebook