Review: 'Gay Chorus Deep South' Should Not Be Missed (But Have Tissues Nearby)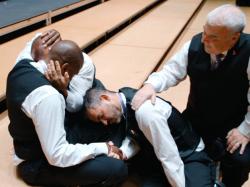 Director David Charles Rodrigues lays out the origins of his film "Gay Chorus Deep South" - and of the musical tour that it chronicles - at the start of the film when the text tells us that "A resurgence of faith-based anti-LGBTQ laws have taken America by storm."
Adds the text: "Especially in the South."
After the 2016 elections, with newly energized right-wing extremists in office and in the streets, the San Francisco Gay Men's Chorus put together what it called The Lavender Pen Tour - a four-state concert series intended to address prejudice and hatred where it lives. The states in question were selected on the strength of their own discriminatory legislation: Alabama, Tennessee, North Carolina, and South Carolina.
It's not a surprise that many of the members of the Chorus had survived deeply scarring episodes of rejection from family, community, and churches in their younger days. Even so, it pierces the heart to hear the stories of Chorus members who hail from the South, and who share tales like that of Jimmy, whose father once told him that he wished his gay son had never been born; or of Steve, who, at on point on the tour, was able to point to a specific building belonging to the campus of the high school he had attended and recall, "That gym right there, Mr. McDaniels, who was our principal, made fun of students who were perceived to be gay in front of the entire school."
Perhaps the most shocking and infuriating story we hear, though, is told to the camera by Dr. Timothy Seelig, the SFGMC's artistic director, who grew up in a family of professional Southern Baptist ministers and only came out at age 35 - by which time he had a wife, two children, and a job with a Southern Baptist megachurch. The church rejected him, Seelig explains, but also went much father than that and "made a very conscious decision to not only fire me but to finance litigation against me. They were not going to stop until I had lost everything." After specifying a litany of the horrific things he and his family suffered, Seelig says, "I hate the church for all the things they did to my family." It's impossible to fault him for that. It's impossible not to burn with hatred on his behalf.
The Chorus encounters ongoing rejection from churches, with pastors denying them permission to sing at their churches. Even before they leave San Francisco, the Chorus is targeted with hate, such as that spewed by one caller in a voice message in which he calls the Chorus membership "a buncha perverts," and denies that sexual minorities in America face discrimination. Similar select blind spots show up in the protestors who picket the Chorus in Alabama, their signs denying that LGBTQ equality is a civil rights issue.
But confronting hatred - both in ourselves and others - is only the first step in any voyage of reconciliation, and the film is far more about healing than about placing blame. Seelig, in meeting with various pastors - and even with a conservative radio host - states his case calmly, but bluntly. Homophobia must be called out, but the idea isn't to shame anybody. Rather, the point of the tour is to reach people by acknowledging the walls they have built and the prejudices they cling to, and then to coax those walls down with music and a sense of celebration.
Along the way, Chorus members reconnect with family; are greeted with hospitality by people who don't necessarily agree with them but are willing, all the same, to take them in; and, eventually, perform at the same sort of Southern Baptist megachurch that set out with vicious premeditation, all those years ago, to destroy Seelig. Addressing the question of why he's allowed the Chorus to perform at his church, the pastor tells his flock, "Because I am a Christian and a follower of Christ."
His words ring true, and they matter. As we watch currently-dominant political forces strip away our rights and freedoms by degrees - attempting to erase trans people and, most recently, with Supreme Court justice Clarence Thomas going full-bore judicial activist in sending out signals that the Court ought to reverse itself on the legality of marriage equality - it's hard, sometimes, to hold on to hope, much less nurture a sense of optimism for the future. History tells us that when the world lurches toward authoritarianism, minorities of all kinds suffer - religious and racial, as well as sexual. Extremity becomes the new normal, ordinary people become accomplices in unforgivable atrocities, and faith itself becomes little more than an enabler to harsh regimes.
But where weapons of mass marginalization proliferate, the message of love must be heard. Whether personal or divine, the truth will be told. There is no better way to communicate that truth than through song. When Seelig, at the film's end, vows that "we will fight" to the very end, he's not talking about swords; he's talking about artistic plowshares, the act of creating music to counter slogans and shouts that are dedicated to destruction.
This movie is not to be missed, but before you go be sure you stuff your pockets with tissues. You'll need them.
- - -
"Gay Chorus Deep South" airs Sunday, December 20 at 9:00PM ET/PT on Pop, Logo and Pluto TV
Kilian Melloy serves as EDGE Media Network's Assistant Arts Editor. He also reviews theater for WBUR. His professional memberships include the National Lesbian & Gay Journalists Association, the Boston Online Film Critics Association, The Gay and Lesbian Entertainment Critics Association, and the Boston Theater Critics Association's Elliot Norton Awards Committee.
Comments on Facebook