Top Story
From its first days, the Trump administration has eroded LGBTQ rights and visibility in a number of ways. But a recent Supreme Court decision could open the way for the legal chall...
1 thru 10 of 53879 Stories
A man who plotted to attack last year's gay Pride parade in London in a knife and gun rampage has been jailed for at least 25 years.
Running between June 13 and 21, the nine-day festival consisted of a job fair, an open day for LGBTQ groups, three panel discussions, a Pride run and a "Rainbow Brunch."
Eichner introduced Harrison with a "Golden Girls" reference, and Harrison dissed Graham as being a "relic" of the "Old South" that's ripe for replacing as a diverse "New South" rises.
"We've definitely seen homophobic, heteronormative and racist values seep into AI," says Lesbians Who Tech Founder Leanne Pittsford. Find out how in EDGE's latest investigative feature.
The regional strongman leader of Russia's province of Chechnya on Thursday blamed unidentified foreign spy agencies for the recent killing in Austria of a Chechen man who criticized him.
The Supreme Court kept a hold on President Donald Trump's financial records that Congress has been seeking for more than a year. The ruling returns the case to lower courts, with no clear prospect for when the case might ultimately be resolved.
A report by a UN Independent Expert who specializes in LGBTQ-related discrimination and violence has come out with a report calling for the end of so-called "conversion therapy" everywhere in the world.
In honor of Pride, the jewelry company Shane Co. put together a comprehensive list of what are the most popular LGBTQ movies from state to state.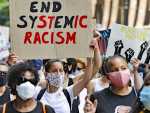 A national coalition of labor unions, along with racial and social justice organizations, will stage a mass walkout from work this month, as part of an ongoing reckoning on systemic racism and police brutality in the U.S.
Authorities say former "Glee" star Naya Rivera is missing and being searched for at a Southern California lake.
1 thru 10 of 53879 Stories