Gay Palm Springs: The Latest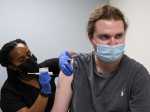 Dozens of Americans are rolling up their sleeves for a third dose of COVID-19 vaccine -- this time, shots tweaked to guard against a worrisome mutated version of the virus.
"Hamilton" creator Lin-Manuel Miranda joined New York City Mayor Bill de Blasio on Monday at the grand opening of a Times Square COVID-19 vaccination site intended to jump-start the city's entertainment industry.
Arkansas lawmakers approved a stripped-down alternative to hate crimes legislation that longtime supporters of such laws have criticized as not providing true protections following a succession of new measures restricting the rights of transgender people.
President Joe Biden on Monday nominated two critics of Trump-era immigration policies for key roles at the Department of Homeland Security.
The Oscars are aiming to be more like a movie than a television show and enlisting A-list stars like Harrison Ford, Brad Pitt, Halle Berry and Reese Witherspoon to help hand out statuettes.
Pacific Theaters, which operates some 300 screens in California, including the beloved ArcLight theaters and the historic Cinerama Dome in Hollywood, said Monday that it will not be reopening.
Fox Corp. is standing behind Tucker Carlson after the Anti-Defamation League last week called for the company to fire the opinion host for his on-air defense of the white-supremacist "great replacement" theory.
The surge, which can be seen across India, is particularly alarming because the country is a major vaccine producer and a critical supplier to the U.N.-backed COVAX initiative
The U.S. is recommending a "pause" in administration of the single-dose Johnson & Johnson COVID-19 vaccine to investigate reports of potentially dangerous blood clots.
Not to be undone by Christopher Meloni, Sebastian Stan showed off his melonis, but this time it's a Full Monty shot he posted on Instagram.
It has been six years since surfer & lifeguard Nick Vallejo came out, but it hasn't been an easy process. Now he is finding more confidence through his OnlyFans account.
On April 22, SF Gay Men's Chorus will present their 15th annual "Crescendo: Voices Rising," an online gala with guest-stars LeeAnn Rimes, Jake Shears, Shangela, Rita Moreno and others.
Despite the strongest public support and the most sympathetic president in years, the American labor movement just suffered a stinging defeat -- again.
The United Arab Emirates named the next two astronauts in its space program Saturday, including the country's first female astronaut.
Unlike investment portfolios, annuities or pensions, Social Security is the only retirement income that is guaranteed for life and backed by the full faith and credit of the United States government.
Edmunds' experts have compiled a list of five SUVs that come in a variety of sizes and have unusually low starting prices for their competitive segments.
Need a new bauble to catch the sun's rays as you finally head outside this spring? Here are seven of our favorite picks.
A jury has awarded $29.5 million to the family of a woman who was left brain damaged after being treated for a severe allergic reaction by an ambulance service in Las Vegas in 2013.
White Party Palm Springs, known as the largest U.S. circuit event, has moved its dates for this year's event from September to Halloween.
During Boston's annual Gay Pride Parade in June, these establishments are much busier than normal. Here are the top 5 LGBTQ bars in B-town.