Top Story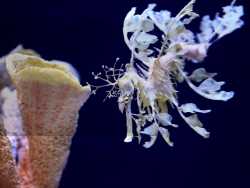 A Southern California aquarium has built what is believed to be one of the world's largest habitats for surreal sea dragons, whose native populations off Australia are threate...
A smartphone app developed by Japanese police is being widely downloaded by women trying to protect themselves from gropers on packed rush-hour trains.
Illegal killings and longstanding political resistance have undercut the return of two species of endangered wolves to the wild, frustrating government efforts that already cost more than $80 million but have failed to meet recovery targets.
Over the past decade, cryptocurrencies like EOS and bitcoin have become popular among investors looking to make large profits from a new and anonymous form of storing wealth.
Long-running research projects credited with discoveries about the harm that pesticides, air pollution and other hazards pose to children are in jeopardy or shutting down because the Environmental Protection Agency will not commit to their funding.
Gov. Jay Inslee signed legislation Tuesday making Washington the first state to approve composting as an alternative to burying or cremating human remains.