South Florida Gay News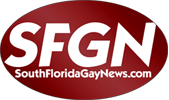 The South Florida Gay News.com celebrates the lives of South Floridians with daily news briefs and storied features, breaking news and lifestyle profiles. Check out their website at southfloridagaynews.com.
A Florida state representative is trying to introduce a law that would allow for businesses to discriminate against LGBT people.
A former worker for Democratic Representative Michelle Lujan Grisham is suing her office for allegedly firing her because she is transgender.
Minority advocacy groups claim newly released hate crime statistics are not telling the full scale of the issue.
A 5-2 vote from Palm Beach County made history today by becoming the first county in Florida - as well as the largest county in the United States - to ban the practice of conversion therapy for minors.
A majority of soccer fans would not mind having an LGBT player on their national soccer team.
Tunisia is now the first country in the Middle East to have a radio station devoted to LGBT issues.
Arkansas Governor Asa Hutchinson directed state officials to allow for same-sex parents to receive birth certificates with both of their names listed.
A jury voted a Los Angeles man to get the death penalty after he was convicted of the first-degree murder of a child he thought was gay.
Quebec will soon teach kids about same-sex relationships and sex education.
In certain terms, Ghana's president Nana Akufo-Addo said that while same-sex marriage is not on the country's agenda as of yet, the issue is sure to be addressed in the near future.
A New Jersey police officer is filing a discrimination lawsuit which alleges her supervisors created a hostile work environment for her.
Bobby Blair had a dream: He wanted to take a small paper and transform it into a worldwide LGBT phenomenon. He tried. He crashed. He burned. And took a lot of people down with him in the process.
Five years ago, David Richardson was the first openly gay state representative elected in Florida. Now the elected official is looking to become the first openly gay Congressman in the Southeast.
The Child Welfare Provider Inclusion Act of 2017, introduced in April by Rep. Mike Kelly, R-Penn., would allow agencies, such as adoption and foster childcare charities, to turn away people because they don't meet their religious standards.
Julian's Fountain of Youth cut its ribbon last week in Fort Lauderdale.
The Mississippi Supreme Court will soon decide if a lesbian couple can both be labeled as the biological parent now that that they are divorced.
After having its ban on transgender military service overturned twice, the Department of Justice is appealing a Jan. 1, 2018 deadline to allow those soldiers to serve.
Last year, SFGN covered five LGBT-friendly stores to support while doing your holiday shopping. This year, we're bringing five more into the spotlight so you can feel twice as good about your purchase.
Transgender life stories and community issues were discussed last Thursday evening inside a petite gallery space on Wilton Drive.
This week, the U.S. Supreme court heard arguments on a 2012 discrimination case involving a bakery denying service to a gay couple due to religious beliefs. But there's a similar battle in Northern Ireland.