1 thru 10 of 6525 Stories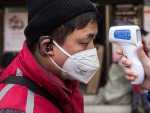 You might have heard that the fear of a new virus from China is spreading faster than the actual virus.
China's leadership sounded a cautious note Friday about the country's progress in halting the spread of the new virus that has now killed more than 2,200 people, after several days of upbeat messages.
A Polish mayor is trying to make amends with a French community that broke formal ties with another Polish town because the latter adopted a declaration against "LGBT ideology."
Two elderly passengers taken off the quarantined cruise ship Diamond Princess because they were infected with the new virus have died, Japan's Health Ministry said Thursday, becoming the first fatalities from the virus-stricken vessel.
As an extraordinary two-week quarantine of a cruise ship ends Wednesday in Japan, many scientists say it was a failed experiment.
The U.S. government made good on its warning to Americans who chose to remain on board a quarantined cruise ship in Japan, telling them they cannot return home for at least two weeks after they come ashore.
Liu Zhiming is at least the seventh health worker to die of the COVID-19 disease among the more than 1,700 doctors and nurses who have become sick.
An adviser to British Prime Minister Boris Johnson resigned on Monday amid fierce criticism of his past comments linking intelligence to race and suggesting contraception should be made compulsory to avoid "a permanent underclass."
The database obtained by The Associated Press profiles the internment of 311 individuals with relatives abroad and lists information on more than 2,000 of their relatives, neighbors and friends.
Britain issued severe flood warnings Monday, advising of life-threatening danger after Storm Dennis dumped weeks' worth of rain in some places.
1 thru 10 of 6525 Stories