Top Story
A gay couple appeared in court Jan. 11 to enter a guilty plea to charges stemming from an alleged threesome that took place aboard a London subway car in February of 2017.
1 thru 10 of 46198 Stories
Second lady Karen Pence has a new gig: teaching art at a Christian school in Virginia that doesn't allow gay students, parents or workers.
For decades, Jackie Shane was a musical mystery: a riveting black transgender soul singer who packed out nightclubs in Toronto in the 1960s, but then disappeared after 1971.
New York is set to become the latest state to outlaw the practice of so-called "conversion therapy" on minors with the signature of Gov. Andrew Cuomo.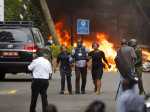 Extremists stormed a luxury hotel in Kenya's capital on Tuesday, setting off thunderous explosions and gunning down people at cafe tables in an attack claimed by Africa's deadliest Islamic militant group.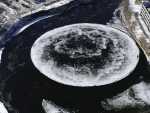 Think of it as a crop circle, but in a river: A curious formation that's getting attention in Greater Portland is actually a spinning ice disk that is roughly 100 yards (91 meters) wide.
The partial federal government shutdown is complicating the already complicated process of getting and managing a mortgage. Here's how the shutdown is affecting homebuyers and homeowners — and what you can do about it.
The Environmental Protection Agency hit a 30-year low in 2018 in the number of pollution cases it referred for criminal prosecution, Justice Department data show.
Musical political satirist Randy Rainbow is back in the faux interviewer's chair with a video that mashes a real news clip of the vice president together with one of Rainbow's signature show tune satires.
British Prime Minister Theresa May faces a no-confidence vote Wednesday, a day after Parliament rejected her Brexit deal by a historic margin.
Despite his seemingly endless string of racist comments and insults about immigrants, Iowa Rep. Steve King had the Republican Party's backing through nine elections. So why the GOP outrage now?
1 thru 10 of 46198 Stories